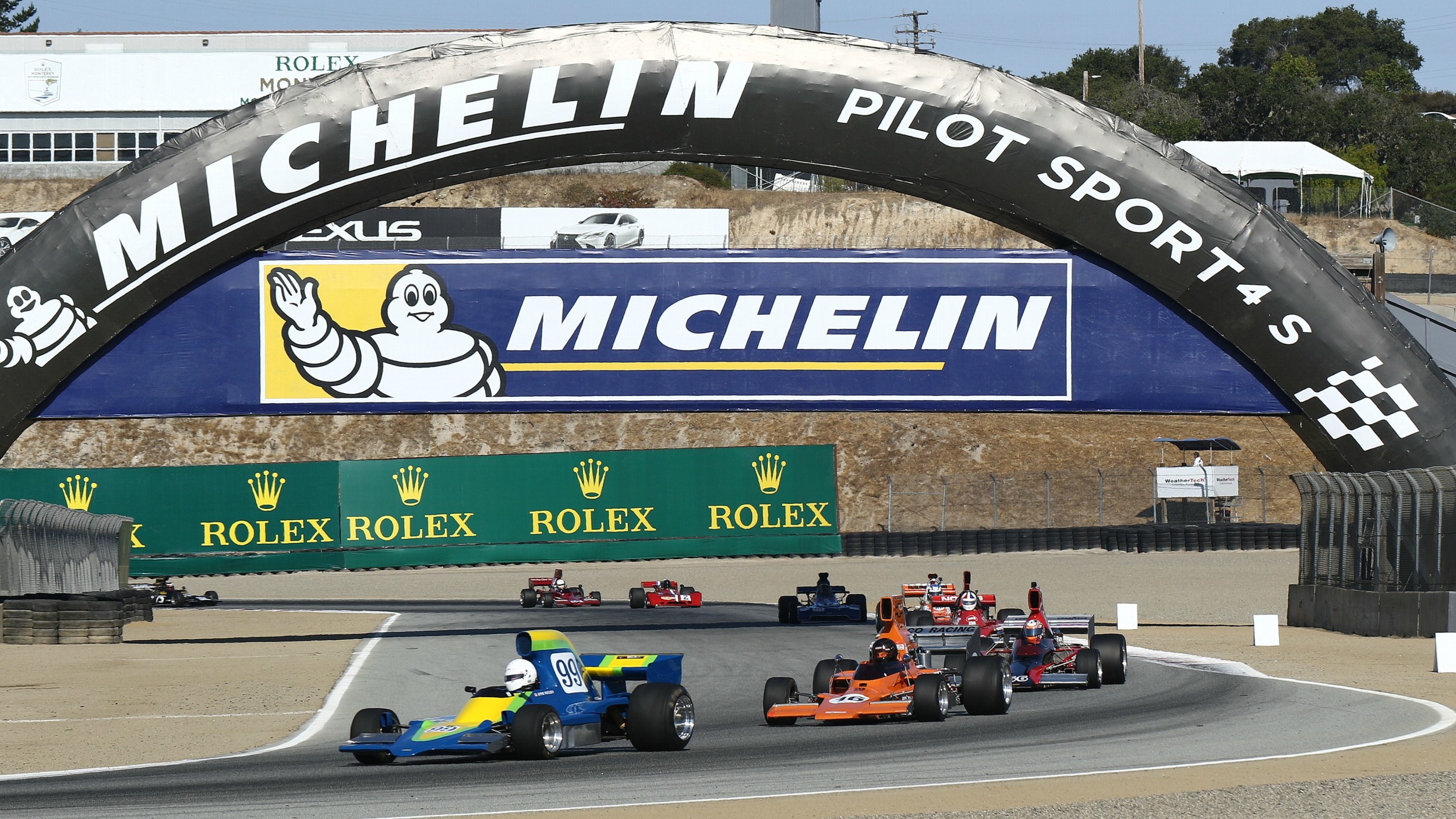 KIWI F5000 FLYERS MAKE BIG IMPRESSION AT FIRST US MEETING
The Kiwis from the SAS Autoparts MSC NZ F5000 Tasman Cup Revival Series who shipped their F5000 cars up to the official US 50th anniversary celebrations of the category at the Laguna Seca circuit in Northern California made a big impression at the Pre-Reunion meeting over the weekend.
The first race was won by series' young gun Michael Collins (McRae GM1) from Melbourne-based series regular Paul Zazryn with the first 'local' drivers, Kyle Tilley (Lola T330) and Craig Bennett (Shadow DN6) third and fourth respectively. Former SAS Autoparts MSC series champion Steve Ross (McRae GM1) joined Christchurch 22-year-old Collins on the front row of the grid, but was caught and passed by Zazryn then Tilley and Bennett to cross the finish line fifth.
Sixth was UK-based SAS Autoparts MSC series regular Greg Thornton (Chevron B24), seventh Aucklander Grant Martin (Talon MR1A). Phillip Lewis was second Aussie home in his Matich A50 in eighth place ahead of US F5000 series regular Mark Harmer in an early model Surtees TS5, and reigning SAS Autoparts MSC series title holder Andy Higgins (Lola T332), fellow Aucklander Aaron Burson (Talon MR1A) and Russell Greer from Blenheim (Lola T332).
The locals got their revenge in the second weekend race on Sunday, won by Craig Bennett from Milford, Michigan in the unique Dodge-engined Shadow DN6, with Australian driver Paul Zazryn (Lola T332) again second and American ace Kyle Tilley again third in his Lola T330.
First race winner, Kiwi Michael Collins (McRae GM1), was in the mix up front in the second race as well but admitted afterwards that the other front-runners got a better run off the re-start after a mid-race Safety Car period.
Still Collins retained his 'leading Kiwi' status with fourth place ahead of fellow McRae GM1 driver Steve Ross from Dunedin, Brit Greg Thornton (Chevron B24) and Kiwis Andrew Higgins (Lola T332), Brett Willis (Lola T330),  Grant Martin (Talon MR1A) and Tony Galbraith (Lola T332).
Like all the first-time track visitors at the Pre-Reunion meeting both Collins and SAS Autoparts MSC Series stalwart Aaron Burson don't mind admitting they are still in awe of the Laguna Seca circuit.
'It's crazy the way it climbs then drops away," Collins said after the second race. "I'm definitely still finding my way around the place and think I probably still will be next weekend. Seeing it on TV just doesn't do it justice, especially  when you drop down off the corkscrew. It's just so steep. There's also a lot of camber in the corners too, something else you don't realise until you get there."
Just being in the 'States with a locally-made car, meanwhile, had Aaron Burson buzzing.
"I said before we left that I was taking the Talon home and one of the first local guys I met here came up and told me he actually built our cars here in California. So yeah, that was a  real buzz for a start. I think I can speak for a all the guys who have made the trip up here from New Zealand, too, in saying that we are all still pretty much pinching ourselves that we are here and racing at such a historic circuit, and one which has so much category history associated with it.
"In terms of driving it is also real bucket list stuff. Michael is right about the elevation changes and the camber in the corners. You watch the MotoGP and Superbike races on TV and you think to yourself, yeah the track goes uphill there but when you get here you're thinking 'man that's steep.' And that's just going up the hill. The corkscrew is so steep going down again that some of the guys on the track walk reckoned they'd need steps if they wanted to climb back up!"
Unfortunately missing from the track for much of the weekend was the man many had come to see – 77-year-old category super-vet, Ken Smith. The evergreen Auckland racer picked up some sort of gastro bug in the week leading up to the Pre-Reunion meeting, and though he went out in Saturday's timed practise session, he only managed a couple of laps in the race later that day before pitting and heading back to his hotel to try and sleep the bug off.
Fellow Aucklanders Glenn Richards (Lola T400) and Frank Karl (McLaren M10B) were also in the wars.
Karl ran up the back of the car in front of him in Saturday's race when its driver hit the kill switch (by mistake) as the pair accelerated onto the start/finish straight, the ensuring contact ripping a rear wheel off the Kiwi's car. Richards, meanwhile, blew an engine (also in the first race).
Fortunately, the Frank Karl McLaren can be fixed in time for the main Rolex Monterey Motorsports Reunion meeting which begins on Wednesday. With just a couple of days to try and source, fit and run in a new engine, however, Glenn Richards has made the hard decision to sit out the rest of the trip and rebuild the engine when the car gets home.
With the Pre-Reunion meeting done and dusted for another year the Kiwi drivers now have the main Rolex Reunion meeting which starts on Wednesday August 22 and finishes on Sunday August 26, to look forward to.
The SAS Autoparts MSC NZ  F5000 Tasman Cup Revival Series is organised and run with the support of sponsors SAS Autoparts, MSC, NZ Express Transport, Bonney's Specialised Bulk Transport, Mobil Lubricants, Pacifica, Avon Tyres, Webdesign and Exide Batteries.
You can follow the series on Facebook at F5000 New Zealand or on the NZ F5000 Association's website www.F5000.co.nz
Formula 5000 50th anniversary celebrations Rolex Monterey Motorsports Pre-Reunion meeting WeatherTech Raceway Laguna Seca California USA Aug 17-19  2018
Results
Race 1 8 laps (Saturday)
1. Michael Collins (NZ) 1972 McRae GM-1
2. Paul Zazryn (AUS) 1974 Lola T-332
3. Kyle Tilley (US) 1973 Lola T-330
4. Craig Bennett (US) 1976 Shadow DN6
5. Steve Ross (NZ) 1972 McRae GM1
6. Gregory Thornton (UK) 1973 Chevron B24
7. Grant Martin (NZ) 1974 Talon MR1A
8. Philip Lewis (AUS) 1972 Matich A50
9. Mark Harmer (US) 1969 Surtees TS5
10. Andrew Higgins (NZ) 1974 Lola T-332
11. Aaron Burson (NZ) 1974 Talon MR1A
12. Russell Greer (NZ) 1973 Lola T-332
13. Bruce Leeson (US) 1969 McLaren M10B
14. Jim Stengel (US) 1973 McRae GM1
15. Johnnie Crean (US) 1969 Eagle Mk 5
16. Tony Galbraith (NZ) 1974 Lola T-332
17. Frank Harris (AUS) 1973 Chevron B24
18. Brett Willis (NZ) 1973 Lola T-330
19. Bill Blake (US) 1968 Lola T140
20. Seb Coppola (US) 1970 Lola T-192
21. Paul Kuhl (US) 1968 Lola T-140
22. Paul Dudiak (US) 1969 McKee F5000
23. Tim Rush (NZ) 1972 McLaren M22/3
24. Dean Camm (AUS) 1974 Chevron B24
25. Bill Hemming (AUS) 1977 Elfin MR
26. George Frey (US) 1969 McLaren M10A
27. Adrian Akhurst (AUS) 1976 Lola T332C
28. Todd Gerstenberger (US) 1973 March 73A
29. Peter Burson (NZ) 1972 McRae GM1
30. Tom Simpson (US) 1972 McKee Mk 18
31. Bruce Marquand (US) 1973 Chevron B24
32. Ken Smith (NZ) 1975 Lola T332
33. Glenn Richards (NZ)  1975 Lola T-400
34. T Martin M Fogel Jr (US) 1969 McLaren M10A
Race 2 9 laps (Sunday)
1. Craig Bennett (US) 1976 Shadow DN6
2. Paul Zazryn (AUS) 1974 Lola T-332
3. Kyle Tilley (US) 1973 Lola T-330
4. Michael Collins (NZ) 1972 McRae GM-1
5. Steve Ross (NZ) 1972 McRae GM1
6. Gregory Thornton (UK) 1973 Chevron B24
7. Andrew Higgins (NZ) 1974 Lola T-332
8. Brett Willis (NZ) 1973 Lola T-330
9. Grant Martin (NZ) 1974 Talon MR1A
10. Tony Galbraith (NZ) 1974 Lola T-332
11. Philip Lewis (AUS) 1972 Matich A50
12. Bruce Leeson (US) 1969 McLaren M10B
13. Aaron Burson (NZ) 1974 Talon MR1A
14. Russell Greer (NZ) 1973 Lola T-332
15. Frank Harris (AUS) 1973 Chevron B24
16. Johnnie Crean (US) 1969 Eagle Mk 5
17. Dean Camm (AUS) 1974 Chevron B24
18. Paul Kuhl (US) 1968 Lola T-140
19. George Frey (US) 1969 McLaren M10A
20. Tim Rush (NZ) 1972 McLaren M22/3
21. Bill Hemming (AUS) 1977 Elfin MR 8
22. Adrian Akhurst (AUS) 1976 Lola T332C
23. Seb Coppola (US) 1970 Lola T-192
24. Paul Dudiak (NZ) 1969 McKee F5000
25. Peter Burson (NZ) 1972 McRae GM1
26. Todd Gerstenberger (US) 1973 March 73A
27. Kirt Bennett (US) 1974 Lola T-332
28. Martin M Fogel Jr (US) 1969 McLaren M10A
29. Tom Simpson (US) 1972 McKee Mk 18
30.  Bill Blake (US) 1968 Lola T140
31. Jim Stengel (US) 1973 McRae GM1
Release: Fast Company
Caption: Other members of the 14-strong Kiwi group at Laguna Seca to celebrate the 50th anniversary of the Formula 5000 category at the two big Rolex Monterey Motorsport Reunion meetings in the United States are Glenn Richards (Lola T400) and Brett Willis (Lola T330), and Russell Greer (Lola T332). Photo credit: Fast Company/Bob Pengraph