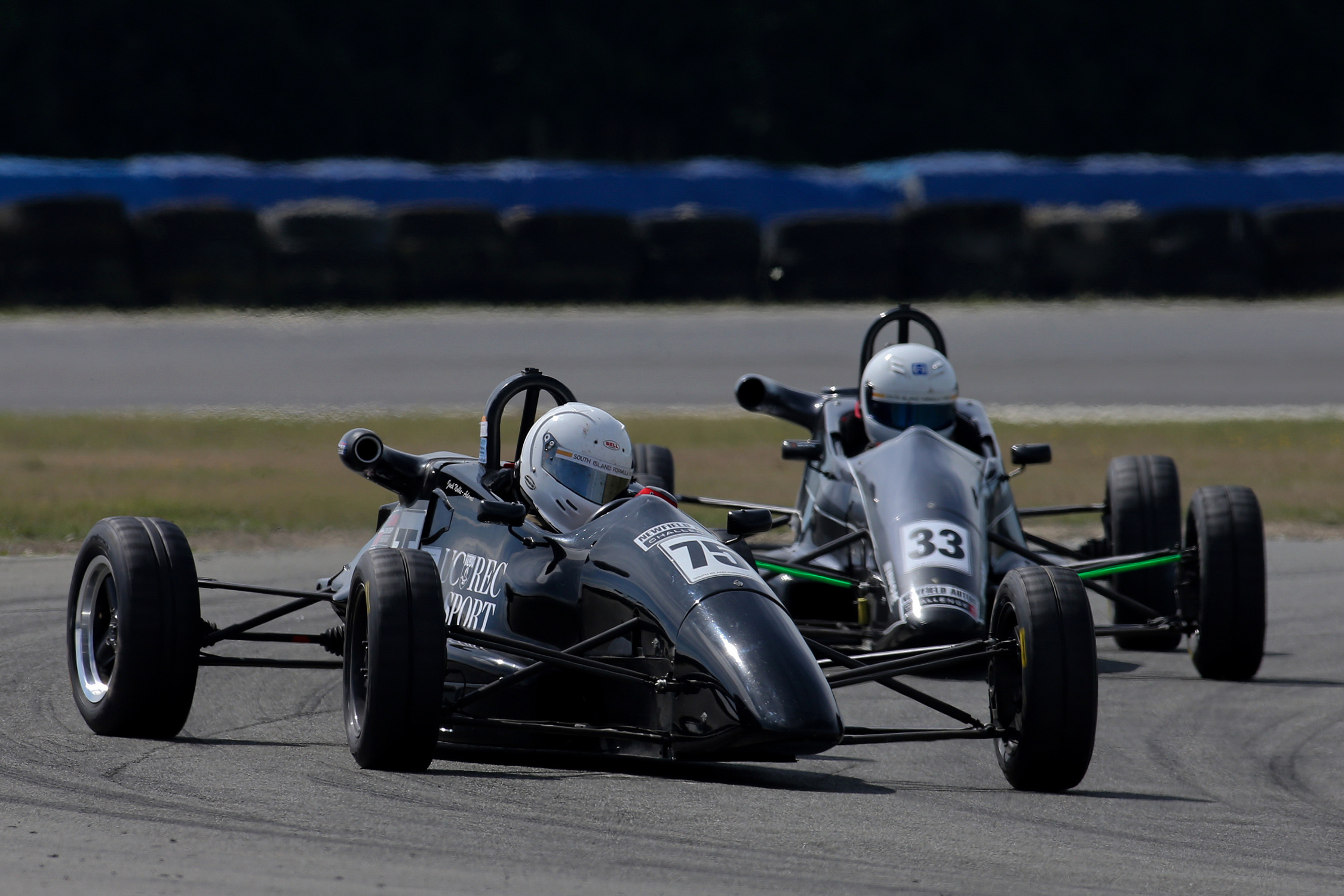 Jack Noble-Adams wins the South Island Formula 1600 title
Jack Noble-Adams is the overall winner of the 2019/20 South Island Formula 1600 Championship after a convincing display at the final round held at the Timaru International Raceway on Saturday. The Canterbury University student won two races and finished second in the third beating nearest rival Dunedin's Cameron Freeman by 52-points. Third overall was rookie Zac Christensen followed by Bailey Paterson and Anna Collins.
"I'm pretty happy as everything has gone as it should have," commented a jubilant Noble-Adams (Van Diemen Stealth).
"I went into the round not just wanting to defend my points lead but to also show I had the speed and was still capable of winning.
"For me the key for the round was getting good starts. I did this in the first race and snatched the lead from Matt (Butchart – fastest qualifier).
Cameron (Dyson) also had got ahead of Matt and was able to hold him off so I got a gap and held it to the end, although heading into the back-markers didn't help.
"I had another great start in the second race. Matt caught me and dived down the inside, so I didn't fight him, and let him go and stayed with him. The championship was at stake and not the race win.
"In the final race (with double points on offer) again, I got a great start and was able to pull two to three car lengths by turn three on the opening lap and pulled away from there to win with a healthy lead."
Freeman (Van Diemen RF92) had pursued Noble-Adams all the way through the series standing on the podium 10/21 races to complete his best season in Formula 1600 racing.
Second for the round and ninth overall was Matt Butchart (Van Diemen Stealth). Butchart only competed in three of the seven rounds and proved that he is very competitive taking two pole positions, winning two races and standing on the podium 6/9 races.
Within the series are three separate competitions for Class titles. In Class 1 (post 2000) Steve Edwards (Mygale SJ08) has provisionally finished ahead of Grant Campbell and Kim Croker. The final round results are still to be confirmed after the completion of a technical inspection.
In Class 2 (1990-1999) Noble-Adams takes the title ahead of Freeman, Christensen, Paterson and Collins. In the Historic Class 3, rookie driver Ryan Low (Van Diemen RF88) won from Noel Atley (Crossle 55F) and Andy Downs (Lola 642E)
"It's been quite a competitive season especially with Matt Penrose, Billy Frazer, and Matt Butchart when he made the rounds. Both Cameron and Dyson Freeman have really stepped up this season, so they were great as well," said Noble-Adams.