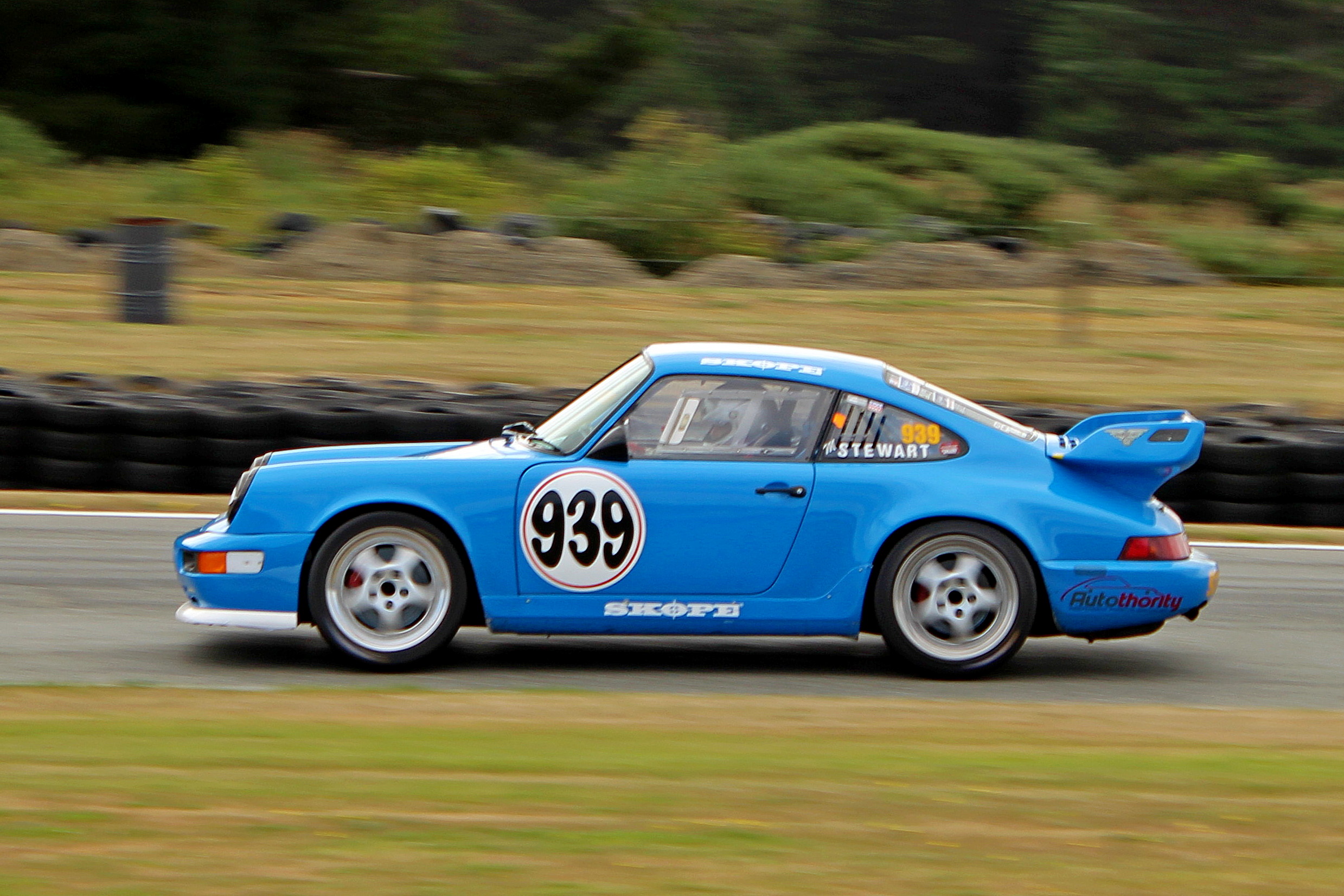 Intense racing on opening day of SpeedFest
There was some intense racing on the opening day of the Mobil 1 Classic SpeedFest at Teretonga Park near Invercargill today.
Conditions were damp for the start of qualifying this morning but dried out in time for some exciting racing.
The Ricoh Historic & Classic Saloons Pre 78 featured a massive field including John McKechnie's Holden Monaro, making only its second appearance at Teretonga Park, 52 years on from its first. The first race finished under Safety Car after Roy MacDonald of Dunedin left the circuit in his Mustang leaving Scott O'Donnell of Invercargill to claim victory in his Ford Capri ahead of Rodger Cunninghame of Te Anau in a Mustang with Bruce Farley of Nelson in his Vauxhall Viva GT third. The second race was a handicap event, Mark McGuinness of Wellington in an Alfa Romeo GTV, taking the race on the line from Neil Greene of Dunedin in a Ford Anglia 100E with John Hudson of Auckland in a BMW 2002 third.
The Archibalds Historic Touring Car class only had one outing today and it was fastest qualifier Arron Black of Dunedin who took the spoils ahead of Scott O'Donnell, in a Ford Mondeo with Stuart Black of Dunedin third in a Toyota Camry.
Steve Ross of Dunedin won the opening Southland Tyre Centre Classic Saloon race in the PDL 1 Mustang after coming from the back of the grid to pip Guy Stewart of Christchurch (Porsche 911 IROC) by .416 of a second with pole sitter Duncan McCrostie of Bannockburn in a Nissan Bluebird Turbo third. Ross could not make it from the back in the handicap race though, finishing third behind Christchurch driver Marcus Stewart (Porsche 964 RS) and Darin Hills of Tauranga in a Ford Escort.
Marcus Stewart also won one of the Downer Sports & GT races, beating home Mike Baker of Picton in a Porsche 911 and his brother Guy Stewart (Porsche 911 IROC) after Baker had earlier won the opening race for the class from the brothers with Marcus second and Guy third on that occasion, the trio crossing the line within .575 of a second of each other.
After making a clean sweep of the class last year Paul Coghill of Dunedin in his Jaguar Special won both races today in the i-Hire Vintage Racing Car class, the first from John Rapley of Wellington in a Brabham BT2 and Russ Haines of Ashburton in a Holden Special and the second from Neil Longman of Invercargill in his Mallock U2 and Haines after Rapley retired.
John Williams of Christchurch comfortably won the sole Formula Libre race today in his Crossle FF2000, leading home Steve Heffernan of Invercargill and Steve O'Donoghue from Tauranga in a Mirage M5, while Invercargill driver Jordan Michels in his Ford Focus V8 won the Noel McIntyre Drainage Club Saloons race from Liam MacDonald in his Ford Falcon and Kyle Dawson (Nissan Skyline).
Seventeen races are scheduled for tomorrow with the first at 9.30am. Gate sales will be dependent on pre-sales due to the Covid-19 Protection Framework (Red Traffic Light setting) and vaccine passports are required for admission to the event. Spectators will not be permitted on the infield and there will be no food vendors on site so please bring your own food.