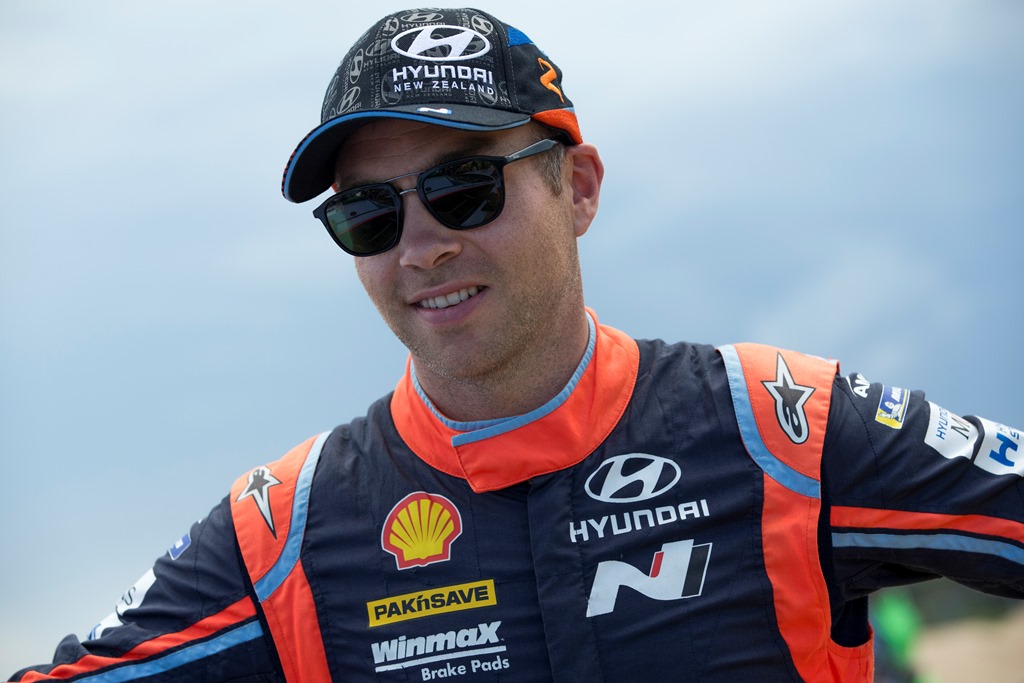 Hyundai NZ extends partnership with Paddon and confirms 2019 calendar
Kiwi rally star Hayden Paddon has confirmed a new contract with Hyundai New Zealand, with the New Zealand-owned company increasing their support of both Paddon personally and Paddon Rallysport as they undertake a swathe of new projects.
Paddon will continue to represent the Hyundai brand with all his and the team's motorsport endeavours, as he dives into some exciting and challenging projects – national and international – with the now six-strong Paddon Rallysport crew based in their new facility at Highlands Motorsport Park in Cromwell.
A busy 2019 driving programme will include three New Zealand events – the team will enter the New Zealand-built Hyundai i20 AP4+ car in the new format FIA Asia Pacific Championship category at Rally Otago in April and May's International Rally of Whangarei, followed by Paddon's 'home' event, the South Canterbury Rally in June. Blenheim-based John Kennard will co-drive for Paddon at Rally Otago with the co-driver for future events still to be announced.
Paddon then joins the new Global Rallycross series in Europe, the first round taking place in late June. Back in New Zealand, the team will convert the Hyundai into its 800bhp hillclimb spec to tackle the Ashley Forest Rallysprint in September plus some other iconic local rallysprints. Other events yet to be confirmed but are on the radar are San Marino's Rally Legend (October) and some events in Australia.
"I'm incredibly proud to be part of the Hyundai New Zealand family," says Paddon. "Without the Hyundai New Zealand team, we would never have made it into the World Rally Championship initially and then achieved what we have done so far."
Paddon describes the partnership with Hyundai New Zealand, first established in 2014, as 'more like family than strictly corporate', and pays credit to the company's management for the pivotal role they have played in his career to date.
"That well-established partnership offers a platform for us to continue to build on long term," says Paddon. "It's fair to say, that between Paddon Rallysport and Hyundai New Zealand, we have some big ambitions! Short term that involves a heavier motorsport presence here in New Zealand, but longer term, we are working together for an international campaign run by a 100 per cent Kiwi team."
Hyundai New Zealand General Manager, Andy Sinclair says: "Hayden is an exceptional individual with business nous and sporting prowess. We, along with our nationwide dealer network, have been proud to support Hayden's national and international endeavours over the last four years. Our commitment to Hayden and his team is unquestionable and we are thoroughly excited about the busy year ahead and our collective aspirations."
Paddon has also recently renewed partnerships with long-term supporters Z Energy, Pak'nSave and Winmax Brakes.
Paddon says he continues to seek options to contest future World Rally Championship events in either a WRC or an R5-spec car.
"While we would obviously still like to be in the WRC, that was a decision that was outside our control," Paddon says. "The team at Hyundai New Zealand have been nothing but supportive and that's something I will never turn my back on."
"We have certainly not given up on the ultimate goal of being back in the WRC. This is something that Hyundai New Zealand and our other valued partners Z Energy, Pak'nSave and Winmax Brakes all remain committed to. When I had to call them the night after receiving the news of no WRC contract for 2019 late last year, I was amazed by the response from all our partners: that they will continue to back and support us. That is a sign of true dedication and belief in what we are all working towards – business and sporting."
Sinclair adds: "We were disappointed for Hayden when he did not secure a contract with Hyundai Motorsport, however he is talented and driven and has a long future in motorsport ahead of him."
Paddon is making sure he's ready to compete at the highest level, whenever he gets the opportunity. "Physical fitness and mental training, driving practice during our 2019 season and pace notes are all aspects of my sport that I continue to work on and improve, so if there is a chance to compete in WRC events, we will prove once and for all that we do belong there."
Keep up with news from Hayden Paddon and Paddon Rallysport by joining Paddon's Pack at https://www.paddonspack.co.nz or follow them on social media: https://www.facebook.com/haydenpaddonwrc/, https://www.facebook.com/paddonrallysport/, https://twitter.com/HaydenPaddon or https://www.instagram.com/haydenpaddon/.
Media release: Relish Communications
Photo: Marcin Rybak