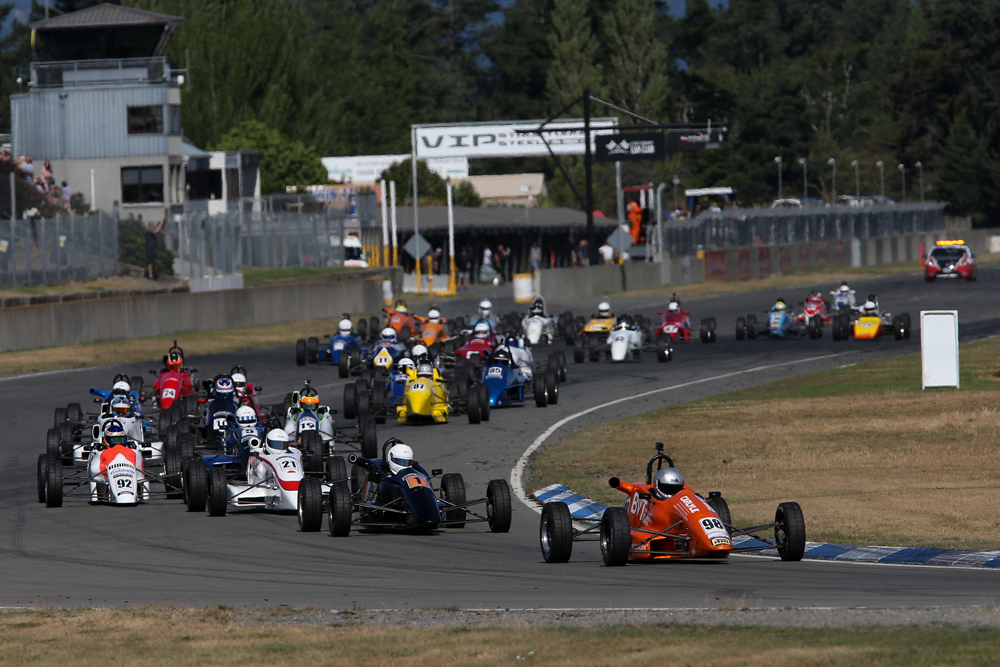 Over 60 entries for Formula Ford Festival
A huge entry list of nearly 70 drivers and cars will take part in the Formula Ford Festival celebrating both the 40th anniversary of the South Island Formula Ford Club and the 50th anniversary of Formula Ford racing in New Zealand. Entries have rolled in from all over New Zealand including a returning Kiwi driver from Sydney, Australia.
The Mike Pero Motorsport Park in Christchurch will host the New Zealand festival 1 May which will see an array of class racing throughout the day including two parades. The entry consists of many different marques including Crossle, Dulon, Elden, Hawke, Johnston (x4), Lola (x5), Mallock, Mygale, PRS, Ray (x8), Reynard, Royale, Swift, Titan, Trident and Van Diemen, being the most popular with 26 entries.
A final feature race will see the fastest 26 cars, plus four-wildcards, from across the classes, compete over 18-laps. A program has been set up to help the winning driver to head to the UK and take part in the 50th running of the world-famous Formula Ford Festival at Brands Hatch in Kent, England.
Low Dempsey Racing, previously known as Cliff Demsey Racing, a team with a winning pedigree having won four previous Festivals, will provide a car and professional services for the Brands Hatch Festival in 2021. This has been organised by John Crawford from Motorsport Solutions in NZ, in conjunction with Ray Racing Cars, UK.
Also included in the one-day celebration is the final round of the NZ Formula Ford Championship which will see a dual between Aucklander Matt McCutcheon (Van Diemen) and local James Penrose (Van Diemen Stealth) for the 2021 title.
Cars will be split into six different classes. Group 1 will feature current Class 1 (post 2000) and 2 (1991-1999), also incorporating the NZ Formula Ford Championship competitors who will be competing in their final round of the 2021 season.
Historic Class 3 (pre-1989) cars will be split into three groups. Group 3 will feature pre-1978, Group 3 1979-1983 and Group 4 1984-1989. Invitational, modified Formula Ford, Formula Ford 2000 and historic sports cars will compete in Group 5.
Entries and inquiries can be made to ff.festival2021@gmail.com