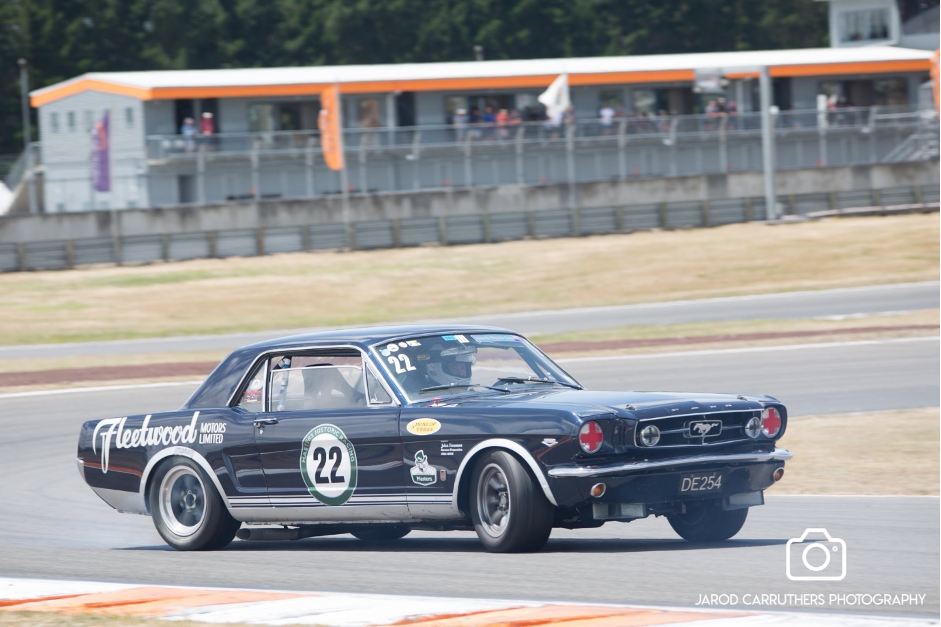 Ford New Zealand to support Historic GP meeting
The announcement today of Ford Motor Company of New Zealand's support for the fifth annual Taupō Historic GP meeting over the Wellington Provincial Anniversary weekend, 23/24 January is as important for the sport in this country as it is welcome news to followers of historic motor racing generally, says Garry Jackson, who was deeply involved in Ford New Zealand's racing and rallying programmes from the late 1970s to the mid '90s.
"To say motorsport, like so many other sports, has been hit hard by COVID-19 is an understatement," says Jackson, now semi-retired in North Canterbury after a long career with the famous blue-oval that included stints in senior management of Ford South Africa and extensive consulting assignments in Ford's China operations.
"For Ford New Zealand to come on board and support what will probably be a once-only opportunity to celebrate Ford's lengthy heritage and legendary status in New Zealand motorsport is a wonderful boost to historic racing and a recognition of its importance and contribution to motorsport generally."
"We are so incredibly lucky in this country that, while painful at the time, the COVID-19 lockdowns earlier this year meant we are now free to meet-up with old friends and share memories of the many iconic cars that will be on display, being demonstrated and being raced. It's something that, it seems, other countries will have to wait for, possibly for quite a long time yet."
Working with COVID-19 lockdowns and patiently waiting for them to be relaxed is something Garry Jackson had to become skilled at in his role as president of the Canterbury Mustang Owners' Club who hosted the 2020 National Mustang Owners' Convention in October. Despite many anxious moments awaiting lockdown updates, careful and cautious planning allowed the convention to go ahead. A record 280 cars and their owners attended what turned out to be a huge success.
"It was touch and go there for a while. We had to be brave and commit to venues and bookings without knowing what state of lockdown we would be in when convention-time came round. The Taupo Historic GP has been through the same thing and it was a day of huge relief when the event was finally able to be confirmed" says Jackson.
"After the Taupo Historic GP meeting got the green light, the momentum has been amazing and continues to build with support from competitors, owners of historic and legendary Fords, famous Ford drivers, Ford owner clubs, and Ford fans and enthusiasts. I'm absolutely sure that that the line-up of Fords on track and on display, and the famous legends who wrote this great history, will never again be achieved. It is a must-be-there event for all Ford fans and motorsport enthusiasts."
Ford New Zealand Managing Director, Simon Rutherford is throwing his company's and dealer networks' full support behind the event.
"Our Head Office Team and our local dealers will be there in full force," says Rutherford.
"When Garry and the Bruce McLaren Motorsport Park Team first approached us back in March, it was only a few days before lockdown. While I liked the idea of celebrating Ford at what is now clearly one of the country's major motorsport gatherings, COVID-19 was, to put it mildly, something of a distraction for the next few months. However, we never forgot the ideas presented to us back in March and we were delighted when we were finally able to press the green light and confirm our support. Ford fully recognises and treasures its proud motorsport history in New Zealand across now, seven decades, and we know that these successes and memories underpin the ongoing strength of our Ford Performance brand image".
"Alongside the fantastic collection of iconic racing and rallying Fords that will be on display and being demonstrated, we plan to have our Ford Performance models there supporting the race meeting organisation. Particularly pleasing is being able to show-case our market success with the latest Mustang because it is the Mustang that probably first comes to mind when people talk about Ford's "factory" involvement in the NZ saloon car racing scene in the 1960s and 1970s."
"While the names of many of the iconic models that raced here over the last 60 years, Cortina, Falcon, Escort, Capri and Anglia, are no longer with us, it is the Mustang that rightfully still holds pride of place in our dealers' showrooms."
It is therefore fitting that next month's Taupō Historic GP will see the first-ever circuit-racing Mustang imported into New Zealand, the famous 1966 Fleetwood Mustang now lovingly maintained and raced by Kerikeri's Sean McCaughan, alongside one of the latest Mustangs in the country, the Mustang GT; surely any Mustang enthusiast's ultimate photo-opp.
For more information, including ticketing, for the Taupō Historic GP Celebrating Ford, visit: www.taupohistoricgp.com
For more information about Sean McCaughan's 1966 Fleetwood Mustang, contact:
Steve Holmes – theroaringseason@gmail.com, Mob. 021 201 5858
Bruce Dyer – bruced105@gmail.com, Mob. 021 025 45167
For more information about the 2021 Taupō Historic GP Celebrating Ford, contact:
Chris Abbott – TMP Ltd, registry@tmp.net.nz, Mob. 021 994 77