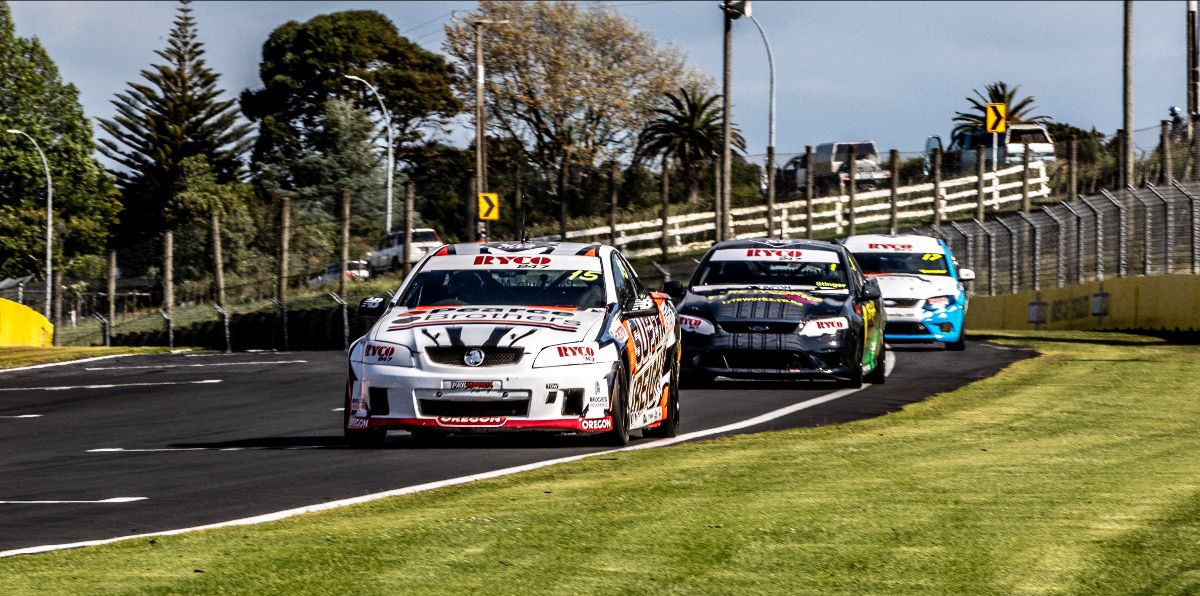 Early points lead for Manuell in RYCO 24•7 V8 Utes Championship
Three action-packed races at Pukekohe heralded the start of the 2019-2020 RYCO 24•7 V8 Utes Championship over the weekend and it was experienced campaigner Paul Manuell who took advantage of almost three decades worth of experience racing at the circuit to take the championship lead.
Quick from the first practice session, Manuell established himself as the man to beat and put the disappointments of last season's V8 ute racing campaign behind him with two wins and a second place finish in his Super Freight Holden Commodore. He didn't quite have it all to himself over the weekend, however, with arch rival Glen Collinson in his Panorama Motorsport Ford Falcon FG winning one race and finishing second twice to complete the round just four points behind Manuell.
The early initiative in the championship, however, is with the former two time NZV8 champ. "It was a challenge for me and I am sure for most of the drivers to figure out the best way round the track this weekend," he explained. "There were some very high track temperatures and varying grip through the corners that had been resurfaced. It was a question of understeer then the car gripping up through the final mountain section and I had to put all of my knowledge of the track – probably 10,000 plus laps after 28 years of racing there – to good use to figure out how to make the most of it and be quick.
"It was great to see so many utes back out racing. There were 17 and we still have more to come, and there are some very competitive guys out there who will play a role in this season. Glen of course, Andrew Porter, Matt Spratt was unlucky to retire from Race 2 but as the champion we all know how fast he is. Wardy looked quick all weekend and Brett Rudd seemed to be well into his racing groove again. James might be the new boy, but he showed he has tons of pace too.
"It's a great category and as a group we owe a big thanks to our new management for pulling everything together so well in between seasons. I think we've made a good step forward and we are in for three more cracking rounds of racing."
Reigning champion Matthew Spratt was fast, but had a weekend to forget after damaged suspension at the start of a dramatic second race forced him to retire. There was plenty of drama over the weekend. Simon Ussher put his car into the tyre barriers on Friday, giving the Stoneman crew plenty of work to do before qualifying on Saturday. Engine gremlins also kept Brent Main out of the races and ended Bruce Gay's weekend early.
Sunday morning's race – the second of the weekend – saw a reverse top ten starting order from Saturday afternoon's race. Front row sitter Stu Monteith jumped the gun then backed off as he realised what he had done, unfortunately coinciding with the rest of the pack getting off the line. Spratt was caught up in the bunching and clashed with Porter leaving his driver's side front wheel at a crazy angle, and him out of the race.
Former championship contender Brett Rudd proved he has the speed to win this year, as did Andrew Porter who has swapped his Holden for a Ford Falcon FG. Newcomer to the category James Parker also impressed on his first weekend in the category, running on the leaders' pace and being a factor every time he was out on track.
Dave Lowe showed he has made a significant step forward, running easily in the mid field throughout the weekend in his BF Falcon. USA racer Joe Farre scored a top ten too and newbies Greg Kroef, Roger Nees and Paul Fougere all settled into the championship category seamlessly and will be looking to improve their relative pace now every time they head out onto the track over the remaining three rounds of the 2019-2020 championship.