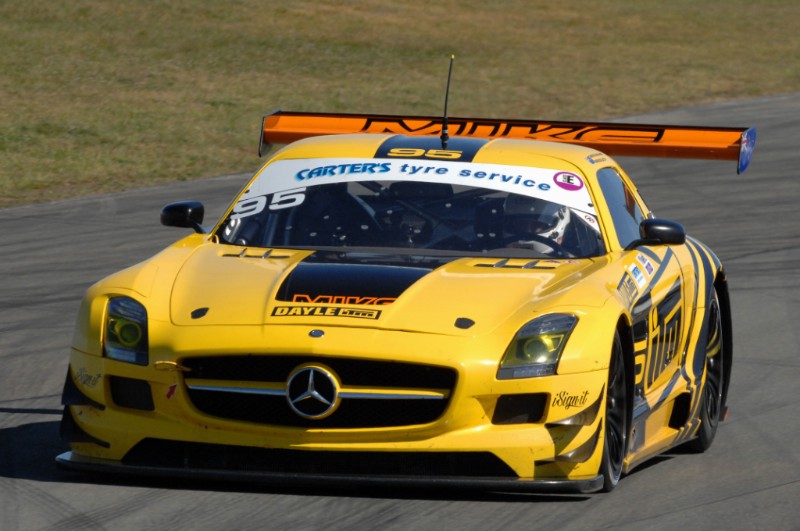 Dayle ITM Mercedes fit and ready for the NZ Endurance Champs
New Zealand Endurance Championship drivers beware – the Dayle ITM Mike Racing team has got to the bottom of the recent issues that have been hampering the Mercedes SLS AMG GT3 and it is fighting fit for the winner-takes-all final this Saturday.
The Dayle ITM Mercedes' gearbox has been replaced, eliminating the problem that had been causing torque glitches and forced the team to retire early at the second round of the South Island Endurance Series (SIES) at Ruapuna. The car is now back up to its full, fearsome performance and ready to take on its rivals in the Highlands Motorsport Park-hosted New Zealand Endurance Championship, in Cromwell.
Driver Brendon Leitch was also in fine form and ready to run the Queenstown Half Marathon, held two days ago, at blistering pace, when a recent white tail spider bite left him with a serious injury.
"It bit me on the bum while I was in Auckland for the Scott McLaughlin GP and volunteering at the ITM V8 meeting at the beginning of November," Leitch says.
After feeling increasingly unwell the following day, he went to have it checked out at a medical centre and was sent straight into surgery to have an abscess removed. The wound has required regular attention over the past week and will have only just healed enough, in time for Leitch to feel comfortable sitting for his 90-minute driving stint next Saturday.
In his favour is the fact that he is more than familiar with every aspect of the Cromwell circuit, having completed an estimated 10,000 laps around it in his role of Highlands' resident track driver over the past few years.
"After having some tough luck with the two South Island endurance rounds, [Dayle ITM Mike Racing team mate] Christina and I feel we have some unfinished business to attend to at the national endurance final. We've now got a really good car that we will be going for a podium finish in," Brendon says.
Orr-West is at the opposite end of the experience scale when it comes to the Highlands' circuit, having never raced there.
"My big thing will be quickly trying to learn the track. I'll be taking advice from Brendon and his brother Damon who have both worked there. I'll probably do most of the testing on Friday," she says.
Orr-West has been able to keep her driving hand in by racing in the SsangYong Racing Series at the Hampton Downs 500 meeting in October. She took a race win, two seconds and a third, which gave her second overall for the season-opening meeting.
After a test day at Manfeild in the Dayle ITM Mercedes, she was impressed with the changes the Mike Racing team have made since the Ruapuna SIES round in September.
"She's back to how I remember her, when I first drove her. They dialed some horsies into her because she's pretty happy and I was happy too," Orr West laughs.
The 600hp 6.3 litre V8 Dayle ITM Mercedes qualified for the New Zealand Endurance Championship courtesy of its impressive second place overall in the North Island Endurance Series earlier this year. It will line up against the top 20 qualifiers from both this championship and its South Island equivalent in what is likely to be the best line-up of Kiwi endurance cars that have ever raced in New Zealand.
The Highlands' race meetings feature access to the pits for the public and also a grid walk before both races, which are both great opportunities to see the mighty Dayle ITM Mercedes SLS AMG GT3 up close and personal.
The one-hour and three-hour racers will be practising on Friday and Highlands is open for business that day. On Saturday, qualifying for the three-hour race starts at 9.15am and the race itself is due to start at 1.45pm.
Tickets are available at the gate for $30 per person, with children under 16 free.
Carter's Tyres South Island Endurance Series calendar:
Round 1: Invercargill – Tertonga Park – 14-15 September 2018
Round 2: Christchurch – Mike Pero Motorsport Park – 28-29 September 2018
Round 3: Timaru – Levels Raceway – 12-13 October 2018
Carter's Tyre Services New Zealand Endurance Championship:
Final: Cromwell – Highlands Motorsport Park – 23-24 November 2018
Release: Catherine Pattison for Dayle ITM Mike Racing