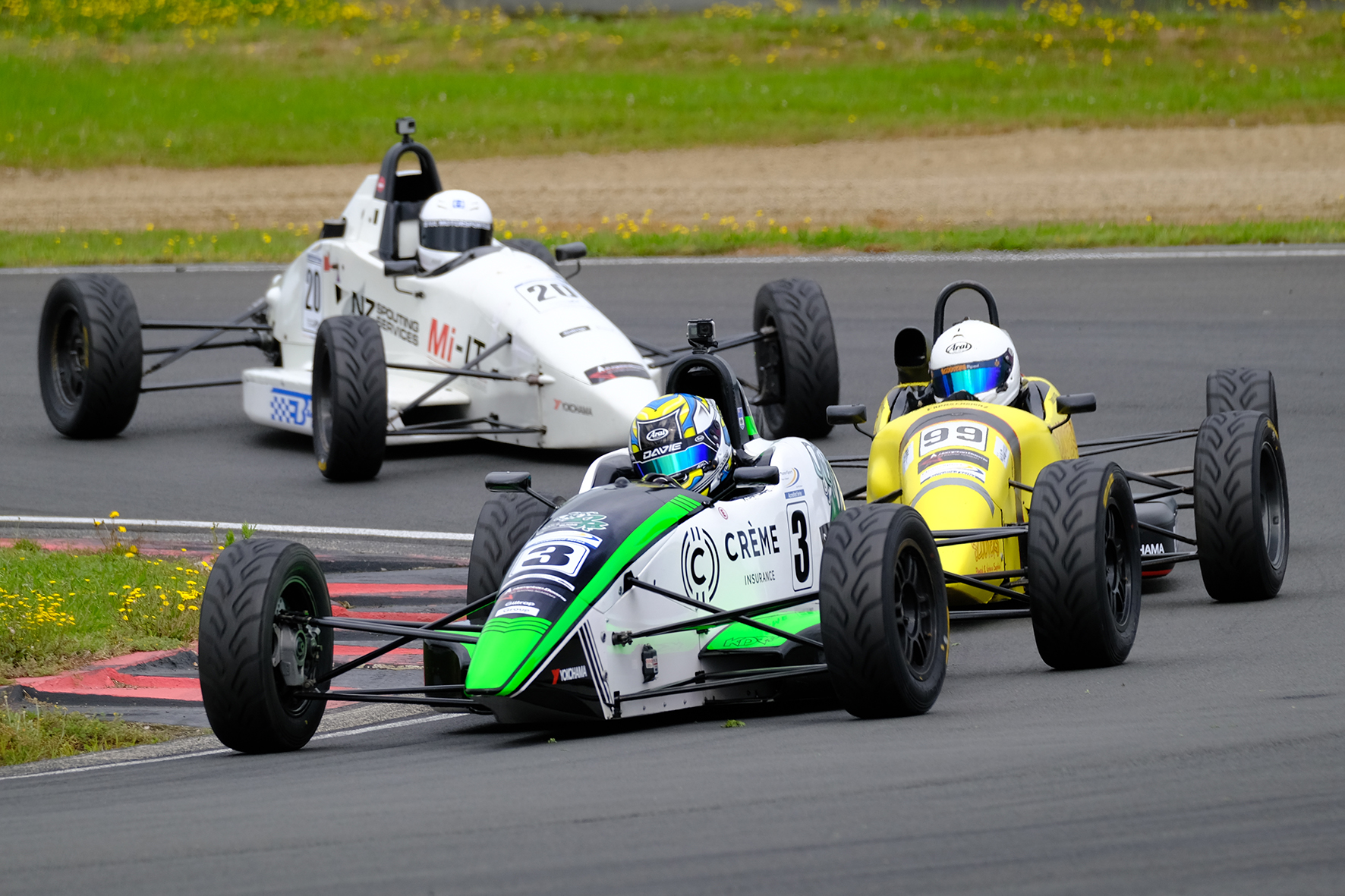 Davie looks to extend lead in North Island Formula Ford Series at Taupo on Sunday
Rookie drive Kyan Davie heads to Taupo Motorsport Park this Sunday hoping to increase his lead in the Giltrap Group North Island Formula Ford Series (NIFF). It's the second of five rounds with extra pressure on the field with the entry of two seasoned drivers as well as the importance of preparation for the New Zealand Formula Ford Championship.
Davie (Spectrum 015) made an impression at the first round in late December winning not only one of the three races but also the round and now leads the series. Two other rookie drivers were to the fore with wins also for Hayden Bakkerus (Mygale) and Sebastian Manson (Spectrum 015).
Seasoned drivers Daniel Gaunt (Van Diemen Stealth) and Callum Crawley (Spectrum 015) have entered Sunday's round and are expected to be very competitive. Crawley has campaigned at the top level for several seasons and knows how to win races while Gaunt won the South Island Formula Ford Series in 2001 and then went on to win three consecutive Toyota Racing Series titles (2005-08).
Performing well at Taupo on Sunday is vital for a number in the field who will also be competing in the two-round 2022 New Zealand Formula Ford Championship. Taupo hosts the first of two NZFF rounds (25-27 March 2022) with the second and deciding round in Christchurch 1 May 2022. Heading north to compete this Sunday and gain track time and experience is Christchurch driver Simon Hunter (Mygale SJ08A). In his rookie season, Hunter sits fifth overall in the South Island Formula 1600 Championship and expects to be competitive this Sunday.
Also making a first appearance in the 2022 NIFF is Bree Morris (Ray GR17). Along with Kyan Davie and Leo Scott, Morris recently competed in a round of the Yokohama South Island Formula 1600 Championship at the Mike Pero Motorsport Park in Christchurch finishing fourth overall.
Veteran competitors Kim Crocker and Keith Miller will also make their NIFF debut as well as Formula Ford debutant Judd Christiansen from Palmerston North. Bailey Cruse will swap out his regular Spectrum ride to debut his 85 Van Diemen in preparation for a new car later on in the series.
Supporting the event is the NIFF Technical Academy with a number of young engineers from the University of Auckland's Formula SAE program helping teams throughout the NIFF pits. Four students were at the first round supplying expertise in mechanical, composite and electrical engineering while gaining hands-on experience from the Formula Ford category.
Up for grabs is a $500 cash prize sponsored by the Hampton Downs NZ Racing Academy for the fastest qualifier. The award is part of the $60,000 prize pool from the Tony Quinn Foundation with funding for travel and testing opportunities with TOYOTA GAZOO Racing NZ.
After qualifying, drivers will compete in three races across the day. The Giltrap Group North Island Formula Ford Series is also supported by Yokohama.