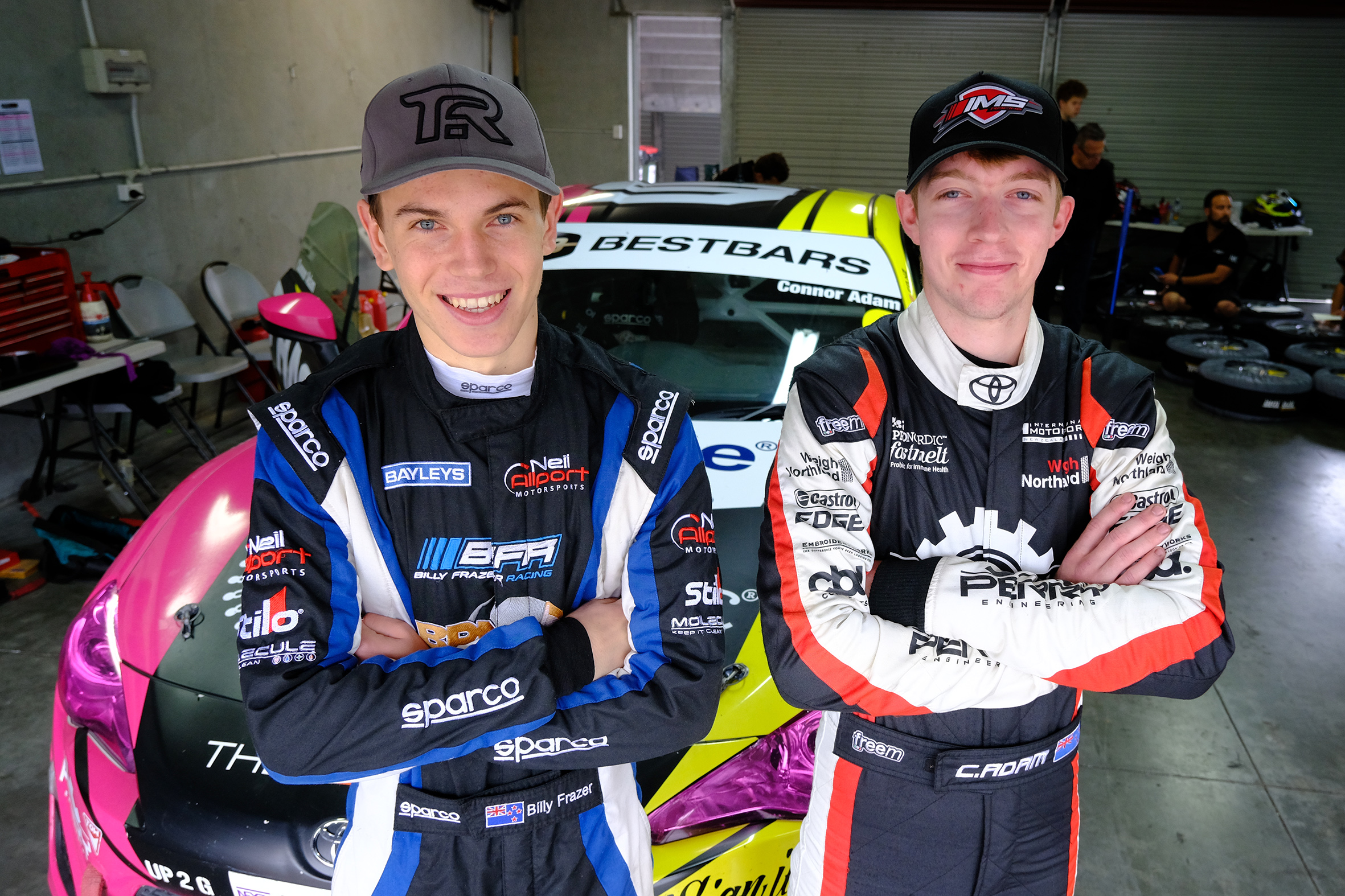 Connor Adam and Billy Frazer win first Toyota 86 enduro
Hampton Downs Raceway this past weekend ( 30th October) provided all the Toyota 86 teams with plenty to think about as the Spring weather was just that. A combination of rain, sun and everything in between made race track conditions testing even for the long-standing series drivers, let alone those making debuts in the Toyota Gazoo Racing 86 Endurance Series on Saturday.
The pairing of the four-year veteran, to the Toyota 86 car and not in age Connor Adam and the current F1600 (Formula Ford) NZ Champion Billy Frazer was a perfect mix. Both past graduates of the Motorsport NZ Elite Academy and both drivers with great futures ahead of them.
Combine that in what many regard as the most highly visible and stand out colour scheme on a race car in terms of the multi-coloured Poste Haste entry and its the recipe for great racing. Both drivers are very similar in size a great factor when it comes to endurance racing and both share the passion and desire to win. This combination made the key factors such as pitstops flow well and notably quicker than many in the pitlane and the combination actually became the fastest in the lane all day when it came to the driver changes. Not that this wins races but it most certainly helps and it was a well-rehearsed game plan that brought results.
For Billy, it was to be his first event in a car with a roof and doors and his first impression was simply how hot it gets compared to that of his normal single seater but the young driver from Pukekohe took it all in his stride and equally learnt from his teammate as they tackled the weekend.
For Connor, more so in race 2 of the two race schedule, he passed cars in places that you normally wouldn't dare try let alone in the damp and greasy track conditions and he completed two very daring moves around the outside of turn 1 on the semi-blind turn in corner at Hampton Downs.
It all led to a great nailing biting finish in the final race run over a shortened 50 minutes. From a solid performance at the start and early race by Connor, it came down to the closing stages of race 2. Billy faced an extremely hard-charging Christina Orr -West / Rowan Shepherd entry and it went right to the wire but in favour of Frazer. The pressure was poured on in those closing laps from Shepherd as the track dried and the Adam/ Frazer entry was set up for the more damp track conditions but having been given a nice lead from Connor, Billy fought hard and used all his race craft skills to bring the car home in a fine first place.
It capped off a great performance with a second-place finish in race 1 held over the full length of 60 minutes and then the win in race 2 to give the team a series lead after round one of the two-round mini endurance series.
Connor Adam – Quote – "Rowan (Shepard) was coming at us fast in that second race. We were most likely quite lucky that it had been shortened to 50 minutes and not the hour as otherwise, he would have caught us. Billy did a great job for his first real race event in the car and overall we were a strong team so very happy with the weekend."
Billy Frazer – Quote – "It was awesome to have the opportunity to be part of Connor's team and equally run under the International Motorsport banner. With Connor starting the races it meant I got delivered the car in a great position in the race and for me then it was a matter of bringing it home. It was very enjoyable even when it got close in race 2. I am really looking forward to the next event next month at my home track of Pukekohe."
This all-new two-round Toyota Gazoo Racing 86 Endurance Championship will now move on to its final round at Auckland's historic Pukekohe Park Raceway on 4 – 6 December with two more 60-minute enduros.
These events are stand-alone and fall outside of what will become the Best Bars 86 Championship series during the summer of 2020/21 hosted by SpeedWorks Events.