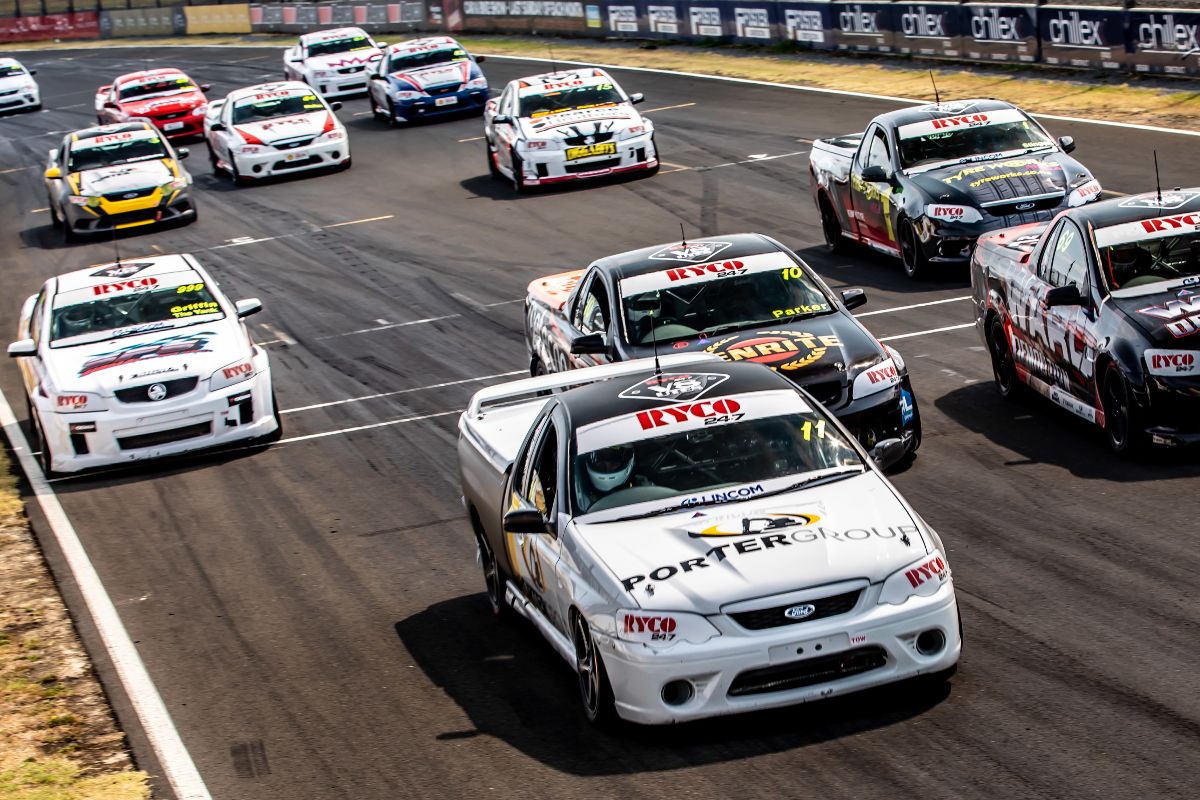 Clock ticking for Ryco 24•7 V8 Utes showdown
The countdown is on to the final of the RYCO 24•7 V8 Utes Championship and with one round of four to go, the field of 14 plus drivers are raring to go at Hampton Downs in September.
The spectacular big machines are back in action for the conclusion of their 2019-2020 championships season – finally – having last raced back at the New Zealand Grand Prix meeting in early February.
Former champion Paul Manuell has a handy 34 point lead with three of the four championship rounds done and it's old rival Glen Collinson who is the nearest challenger in a classic Holden vs Ford battle. The Superfreight Holden racer reckons everyone is simply stoked to be getting back onto the track.
"It seems like an age ago that we were out racing and obviously we've all been parked up itching to go again ever since," explained Manuell. "I think everyone will just love being out on the track in these great machines. That'll be the something we are all looking forward to and of course as soon as we hit the track, it's going to be heads down and total focus as we all try and finish off the season on a high. It should be a lot of fun."
Both Manuell and Collinson have won at Hampton Downs before and the final weekend of racing – which features the series' usual three races and single qualifying session – is certain to be close. As well as the two main protagonists, big performances can be expected from the other top five contenders – Andrew Porter in his Ford, Peter Ward in his Holden and Simon Ussher, enjoying by far his best season in the category aboard his Ford FG Falcon.
Reigning champion Matthew Spratt will not be racing, but it is hoped Jake Stoneman, the owner of the title holding Ford, will be out racing again as he was at Manfeild, where he stunned the field with a debut win after years of running and engineering V8 utes racing in the category. All the regulars should be there, Liam Porter will be looking to maintain his impressive first season form while there is a great battle between Dave Lowe, Roger Nees, Stu Monteith, Paul Fougere and Greg Kroef for the final placings in the championship top ten.
RYCO 24•7 V8 Utes Championship 2019-2020 Calendar
Round 1- 29 November – 1 December 2019 – Pukekohe Park (completed)
Round 2- 31 January – 2 February 2020 – Hampton Downs Motorsport Park (completed)
Round 3- 14 – 16 February 2020 – Circuit Chris Amon, Manfeild – NZ GP (completed)
Round 4- 5 – 6 September 2020 – Hampton Downs Motorsport Park