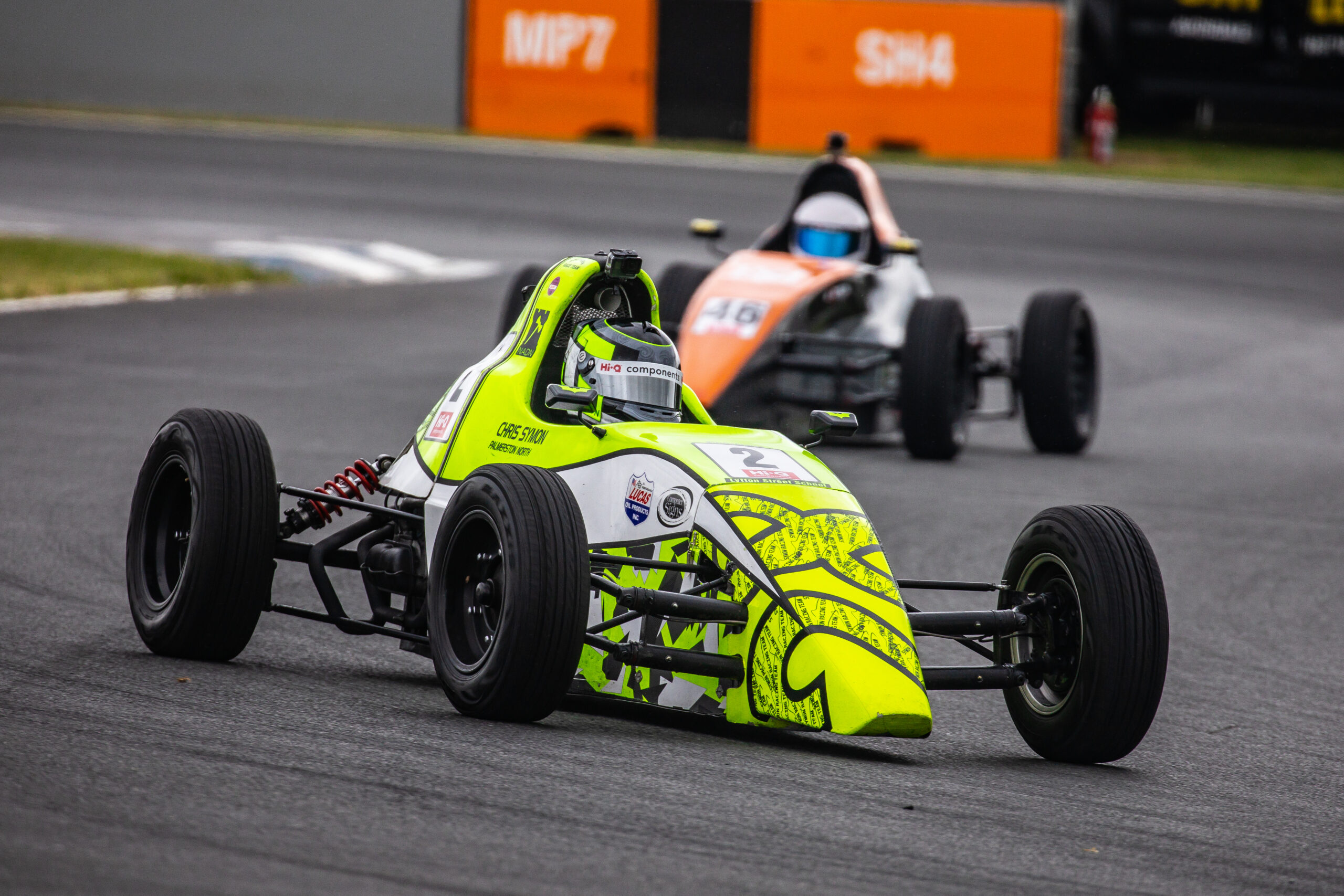 Chris Symon clean sweeps Pukekohe Park
Chris Symon has completed an impressive clean sweep of Pukekohe Park at the weekend, taking pole position and all three race wins in Hi-Q Components NZ Formula First Championship.
The event at Pukekohe Park played host to the third round of the 2020-21 NZ Formula First Championship and the last round before the Christmas and New Year break.
Saturday morning's 15-minute qualifying session was a typically tight affair, Symon setting the fastest lap by only 0.088s over Amy Smith. The second-fastest result marked Smith's first front-row start of the season. Third fastest was series returnee Brody McConkey who rejoined the championship after a season-long hiatus. Symon's nearest championship rival, Liam Foster, set the fourth-fastest time in the session.
Come Saturday afternoon for the first of three races it was Symon once again proving the best. Once again the winning margin at the line was incredibly small, just 0.008s! Foster would be the one falling just short of victory, taking second place ahead of McConkey. However, McConkey would eventually receive a post-race disqualification for a technical infringement which promoted Smith to the podium.
A massive crash involving rookie racer Mason Potter and Liam Nicholson put an early end to Sunday morning's race. The incident, which occurred at the end the drivers' sixth lap, saw the two cars tangle along the front straight, sending both into the outside concrete wall at high speeds. The incident was investigated by race control and deemed to be a racing incident.
The incident prompted a red flag which robbed the race of a traditional finish, instead, the results were taken from the finishing order at the end of lap six, leaving Symon with the win over McConkey and Foster. Amy Smith finished fourth with Zac Blincoe taking fifth place and the first rookie home.
The final race of the weekend was another near photo-finish at the chequered flag. Symon's winning margin just 0.057s this time over McConkey. Smith finished third ahead of Louis Sharp who also was the best of the rookies in fourth.
Blincoe crossed the line in fifth with Hayden Bakkerus, also a rookie, in sixth while championship hopeful Liam Foster only managed seventh place.
Symon's clean sweep, coupled with Foster's final race misfortune, saw his championship points lead extend dramatically to 78-points. Holding third place is still Leo Scott but Blincoe is within striking distance, just 15-points astray.
Blincoe also holds the advantage in the prestigious rookie of the year title, sitting 41-points clear of Sharp who sits just two-points ahead of Bakkerus.
The Hi-Q Components NZ Formula First Championship will recommence on 9 January 2021 at Bruce McLaren Motorsport Park in Taupo for the fourth round of the championship. Following that the championship will head to Hampton Downs on January 22-24 for the New Zealand Grand Prix event.