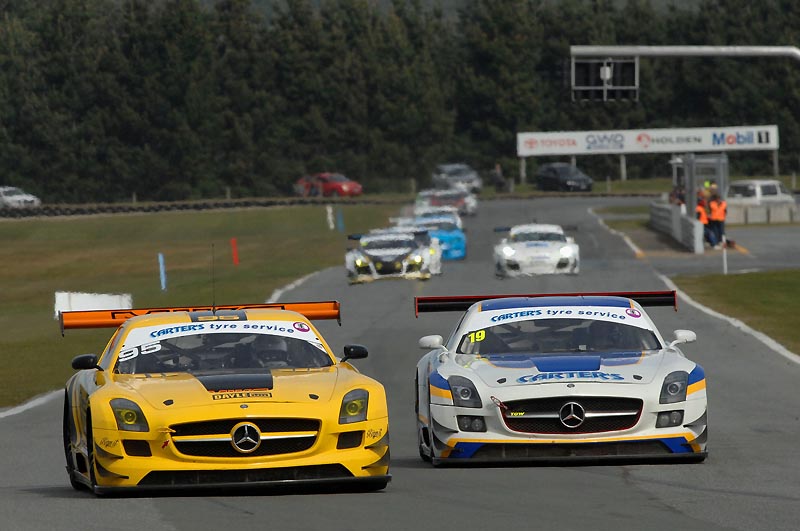 Carters Tyres SI Endurance Series invades Ruapuna this weekend
The Carters Tyres SI Endurance Series hits Christchurch's Mike Pero Motorsport Park at Ruapuna this Saturday with nearly all of the top teams, drivers and cars in NZ Endurance racing set to battle it out in the annual SIERDC 3 hour endurance race. At the Series opener earlier this month fans witnessed an incredibly fast paced race with a dramatic finish, and with even more top GT3 spec cars set to join the field for Round Two teams will need to be at the peak of their game to increase their points-score for both the Carters Tyres SI Endurance Series and qualification points for the upcoming New Zealand Endurance Championship event at Highlands Motorsport Park, Cromwell, in November.
The predicted battle at Teretonga was reduced during testing when the thumping SaReNi Camaro GT3 of John McIntyre/Simon Gilbertson suffered brake failure, ending its series participation against the unforgiving Teretonga tyre walls. However the race still had all the hallmarks that Endurance racing is renowned for and in one of the most controversial finishes in the series history it was the event Stewards that ultimately determined the race winners. The fabulous Aston Martin Vantage GT3 of Tony Quinn/Damon Leitch crossed the finish line first followed by Neil Foster/Johnny Reid (Audi R8 LMS GT3), who had set a new endurance and outright saloon car lap record with a blistering 55.471 second lap during the race. With a lap to go it was the ITM Mike Racing Mercedes SLS GT3 of Brendon Leitch/Christina Orr-West sitting in 3rd place however a slight miscalculation on their fuel strategy seen the Merc splutter to a halt with the finish line in sight. However some brotherly love seen older brother Damon give younger brother Brendon a push along the track, sending the Merc over the finish line to the roars of the big local crowd. However after the champagne had been sprayed it was the Motorsport NZ Stewards who consulted the rule book to find the little known ruling Schedule Z Article 10.6 that not only resulted in the disqualification of the Mercedes SLS from 3rd, but surprisingly also the Aston Martin from 1st.
This shake up in the results seen the win awarded to the Foster/Reid Audi R8, with the Carters Tyres Mercedes SLS GT3 of Dwayne Carter/Shane Hodgson in 2nd and the new pairing of George McFarlane/Jack Milligan (Porsche GT3R) in 3rd.
Despite these controversial results, all these teams return for the Series' second round, plus more. For Ruapuna there is also a second International Motorsport (IMS) entry with Andrew Fawcett/Gene Rollinson teaming up in another current spec Audi R8 LMS GT3 as well as the magnificent McLaren 650S GT3 of Glenn Smith/John DeVeth, fresh from their win in the final round of the NIERDC Series. This will see 8 GT3 cars go head to head in what will be the highest number of GT spec cars ever assembled for a NZ series and the makings of an incredible showdown.
So in Class E Tony Quinn/Damon Leitch (Aston Martin Vantage GT3) will be looking for redemption at Ruapuna, but more importantly looking for points as this is their last shot to qualify for the NZ championship event and they will be desperate to take top points. However IMS will be looking to repeat the one-two finish they took at Ruapuna last year with their pair of Audi RB LMS GT3's, whilst the Mike Racing ITM Mercedes SLS GT3 will just want a few more litres of fuel. You can also never discount the Carters Tyres Mercedes SLS GT3 of Carter/Hodgson that finished on the podium at Teretonga despite suffering from ABS issues and they are always fast on the Ruapuna circuit. Ben Byers debuted his new Audi R8 Ultra GT3 at Teretonga, that he shared with young gun Jaxon Evans. They had a strong showing down South and Ben will be looking forward to his more familiar home circuit at Ruapuna, along with McFarlane/Milligan (Porsche GT3R) who will also be looking forward to strutting their stuff on home turf.
The Scott O'Donnell/Allan Dippie Porsche 991 Cup car took the early points lead in Class D at Teretonga ahead of the two V8 SuperTourer Falcons of Paul Rhodes/Graeme Rickerby and Darryl Barrett/Hamish Frew. However the class pace setter was actually series rookie Marco Schelp teamed up with Matt Hamilton (Porsche 997 Cup S) whose race came to a cruel end just before half distance with a broken throttle cable, after the team had been punching well above their weight. Another to endure misfortune at Teretonga was the stunning GT4 spec Ford Mustang of Rick Cooper/Dean Cooper who suffered a wheel bearing failure in qualifying and couldn't make the race start. This played into the hands of Rob Williams/Phil Blythe (Porsche 997 Cup) whose points disadvantage was limited with their Porsche not attending the Teretonga round.
The "Kiwi built" Class C (3501cc+) was dominated by the twin turbo Toyota 86 of Scotty McDermid/Tony Head at Teretonga as they mixed it with the higher class cars and this team revert to their usual father & son Craig & Scott McDermid for Ruapuna. The Grant Williams/Ben Williams/Rick Matheson RX8 V8 had a very strong race debut at Teretonga finishing 2nd in class despite losing a number of laps in a gravel trap. This team is another looking forward to having a home town advantage at Ruapuna. Taking 3rd in class at Teretonga was the local combination of Kevin Underwood & Jordan Michels in the NZV8 spec Ford Falcon who will be hunting another podium in Christchurch. This class was subject to endurance racing attrition in Round One and those not to finish included the Holden Monaro of Bruce Tinnelly/Ryan Tinnelly who devastatingly stopped just a few laps from the end with broken suspension and the Mazda RX7 V8 of Ben Coffin/Sam Bushell who suffered a myriad of issues all weekend. With all these cars returning for Ruapuna the battle will well and truly be alive and getting to the chequered flag Ruapuna is now even more important in the Class C championship fight. Especially as this class is bolstered by the NZV8+ spec falcon of Darryl Clarke/Brett Niall at Ruapuna who will be one of the V8 powered teams looking to win the prestigious BJ Lloyd Memorial trophy for 1st V8 home at the Ruapuna round.
The Class B (2001-3500cc) winners at Teretonga were Tim Mackersey/Barry Moore in the awesome TCR spec VW Golf GTi however they were given a run for their money early in the race with Simon McLennan leading the class for a number of laps in the Seat Leon Supercopa he shared with Mike Driver. Third in class was the Toyota Sprinter Turbo of Pat & Ryan Heagney ahead of the VW Golf GTi of series stalwarts Ron Mackersey/Warren Good. The only other finishers in class was the Darryl & Jared Pyke Mazda RX8 with the similar car of Jarrod Parmenter/Andrew Brunton suffering a broken diff after some early race contact. The North Island teams didn't fare well with Thomas Sutton/Shane Holland (RX7) retiring with a punctured radiator and the immaculate BMW E30 M3 turbo of Shane Helms/Rob Bolland also not making the chequered flag, so it will be exciting to see how Class B plays out at Ruapuna.
Defending NZ Class A (0-2000cc) champions Arron & Stu Black (BMW E46 WTCC) again dominated this class in the Series opener with an amazing 10th place overall. Darryl & Terence Phillips (Integra) took 2nd in class ahead of Rodney & Michael Parkes (Honda S2000) and the super reliable Peugeot 106 MC of Tim Stanton/Leyton Tremain. This class suffered more attrition than usual with both the Mark Taylor/Vaughan Moloney (Integra) and the Toyota Altezza of Grant & Matt Moore both recording DNF's. However any of these cars could easily put the cat amongst the pigeons, making Class A just as competitive as any other within the entire Series.
As the quick-fire three round Carters Tyres Series passes its half way mark after Ruapuna, there is no rest for the teams as they then tackle the tight & twisty Levels Raceway circuit in Timaru on 13th October for the Series Grand Finale where the overall series champion will be awarded the 'South Canterbury Toyota Cup' as Carters Tyres SI Endurance Series winners. Thanks to Series sponsor Carters Tyres Service as well as Allied 24/7/fuel, the Series will again have a massive prizemoney pool of over $30,000- that will be paid out for 2018, as well as major spot prizes up for grabs to a competitors in either the One Hour or Three Hour Series.
There are entries are still available for the Ruapuna round and for more information, or to be added to the South Island Endurance Racing Drivers Club's e-mailing list, please contact Chris Dunn via e-mail at sierdc@xtra.co.nz  Club information and live updates on race day can be found on the clubs facebook page www.facebook.com/sierdcnz, and for more information on the series sponsor Carters Tyre Service, please visit www.carterstyres.co.nz. The Ruapuna action starts from 10.30am Saturday and gate entry is only $20-00.
Media release: SIERDC
Caption: Brendon Leitch/Christine Orr-West (#95 Mercedes AMG SLS GT3) and Dwayne Carter/Shane Hodgson (#19 Mercedes AMG SLS GT3) during the opening round of the 2018 Carters Tyres Endurance Series (3 hour) at Teretonga Park Invercargill September 2018.
Photo: Euan Cameron