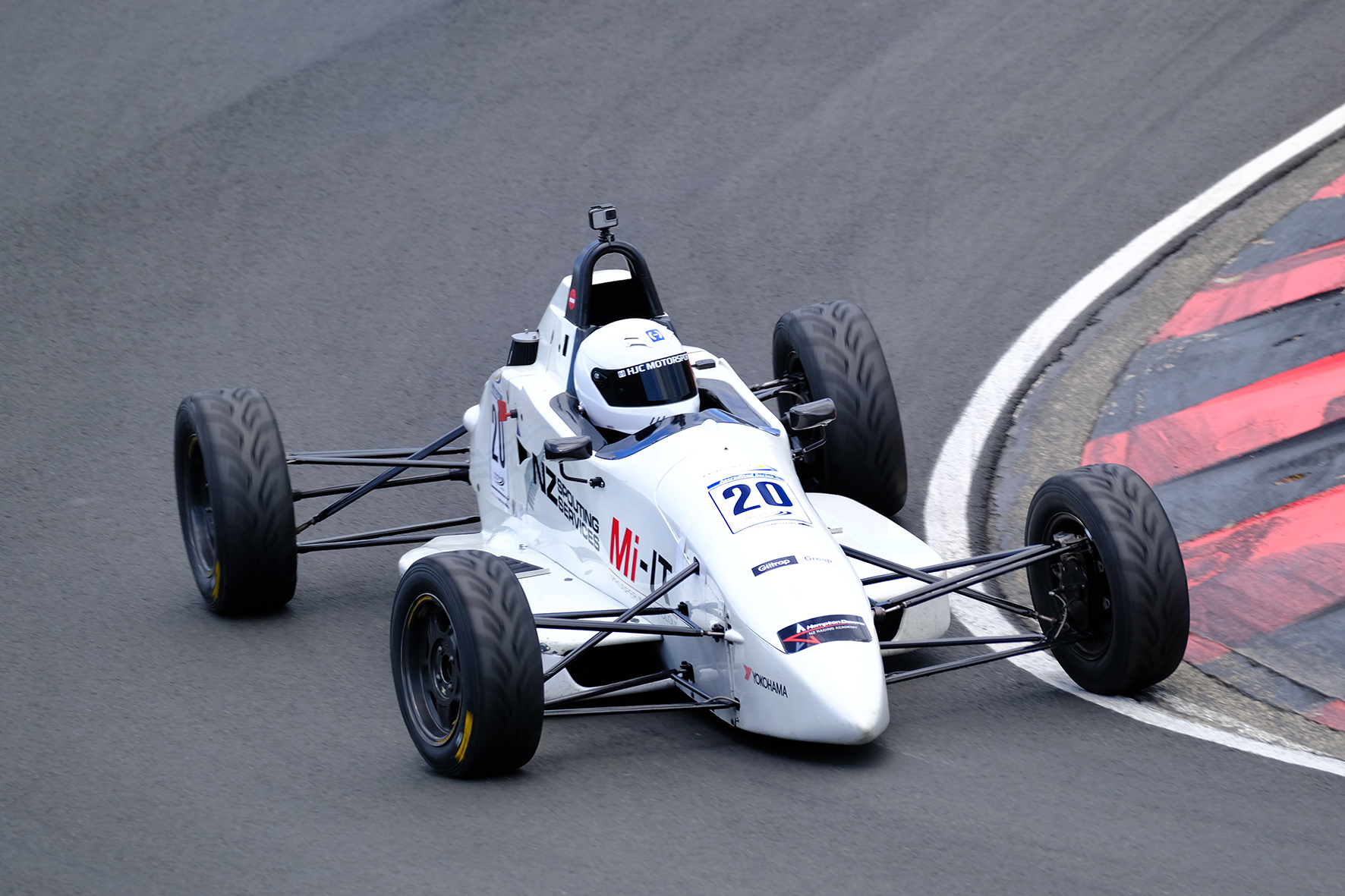 Advantage to Bakkerus heading to penultimate North Island Formula Ford Series round
The 2021/22 Giltrap Group North Island Formula Ford Series (NIFF) title is wide open heading to the penultimate round this Saturday at Hampton Downs. While Hayden Bakkerus may have a 93-point lead over Kyan Davie, the title may ultimately be fought out between the top four drives including Bree Morris and Leo Scott who sit third and fourth overall.
Bakkerus (Mygale SJ08A) has a win and two podiums to his credit and has kept collecting points across the three rounds this season. Second-placed Kyan Davie (Spectrum 015) missed the second round but has stayed in contention, never being out of a top five finish, including a win and two podiums.
Morris (Ray GR17) missed the opening round and has gone on to win three of the six races she has competed in so far while Leo Scott (Spectrum) won the last round at Pukekohe Park Raceway, three weeks ago. However, this season has been all about finishing every race in which Bakkerus, the current leader, has been the only top driver to have achieved this so far.
Throw into the mix the very quick Liam Sceats and we have a very competitive penultimate round. Sceats put his Van Diemen Stealth on pole position at Pukekohe at the last round and went on to win two races. The following week Sceats showed that he is the in-form driver to beat with the perfect opening round of the national championship in Taupo with fastest qualifier and three straight race wins. Unfortunately for the Auckland teenager, he has only finished in three races so far in this North Island Formula Ford season and sits tenth overall on the points table.
Fifth overall is Sebastian Manson (Spectrum) who will be fighting for an overall podium. Manson has already recorded a race win in the opening round and when he has finished, it has always been in a top five position. NIFF scholarship winner, Joshua Andrews (van Diemen RF01) sits sixth overall even having missed all three races at the third round due to a mechanical issue.
With the final NIFF round at the end of May, this Saturday is a crucial last hit-out for those also competing in the national series with the final round in Christchurch 1 May 2022. Joining the grid will be Shane Drake (Van Diemen RF92) as well as a handful of Historic Class 3 cars.
Up for grabs is a $500 cash prize sponsored by the Hampton Downs NZ Racing Academy for the fastest qualifier. The award is part of the $60,000 prize pool from the Tony Quinn Foundation with funding for travel and testing opportunities with TOYOTA GAZOO Racing NZ.
After qualifying, drivers will compete in three races across the day, including two eight and one-12 lap races, with a maximum of 225-points on offer (75-points for a race win and 2-points for fastest qualifier). The Giltrap Group North Island Formula Ford Series is also supported by Yokohama.