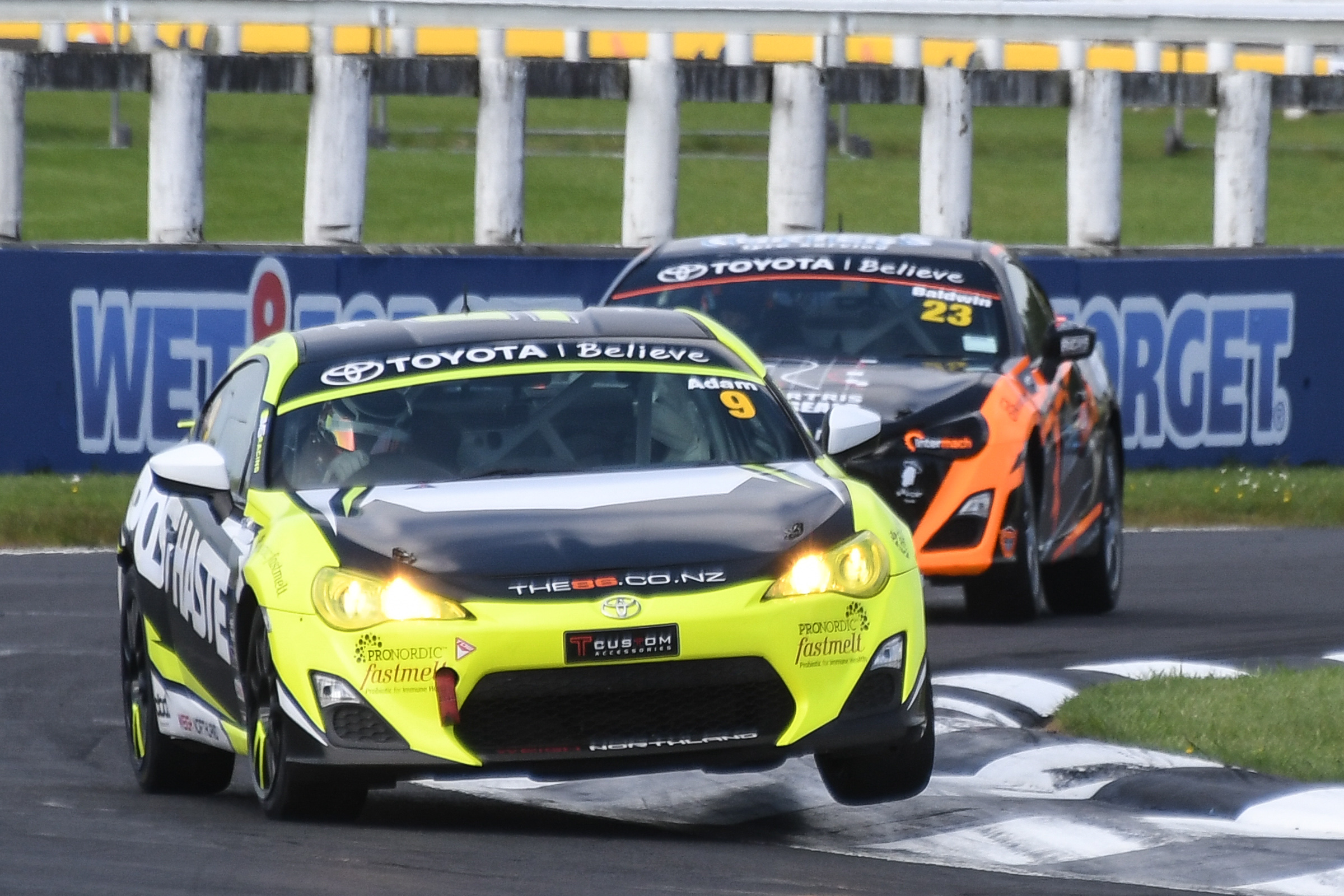 Adam takes early points lead in Toyota 86 Championship
Connor Adam has won the first round of the 2018-2019 Toyota 86 Championship after an intense weekend of racing that brought two wins and a second place for the Post Haste-backed International Motorsport racer.
Three fiercely contested races went largely incident free and produced some of the best racing of the Supercar Championship curtain raiser for the Toyota series in front of an official crowd figure exceeding 100,000.
Experience was the name of the game at this early stage of the championship with Adam, Jordan Baldwin in the Intermach car and Jaden Ransley in the Miles Toyota car all shining over the weekend.
Baldwin bounced back from missing Friday practice due to exam commitments with a blistering qualifying session that saw him lock out pole position for both Race 1 and Race 2 while Ransley crossed the line first in the final race on Sunday, only to drop to third after incurring a five second penalty for a jumped start.
It was Adam who put the three best races together, however, and he left Pukekohe as the early leader in the points. "I would have loved another win in that last race," he commented. "But regardless it was a great weekend for us and a great start to the season. We'll go on from here and try and win the championship."
CareVets Scholarship racer Callum Hedge proved his class as best of the rookies over the first weekend showing pace and good race craft in all three races. Second in the final race became his first win after Ransley's penalty and was a nice reward after an eye-catching opening weekend in the category. And it left him sitting second in the points too and ahead of more experienced rivals Baldwin and Ransley. CareVets team mate Arran Crighton had to play catch up all weekend after damaging his car beyond immediate repair in qualifying and he had to jump into a back-up car for the weekend's three races.
Australian Toyota 86 ace Jake Klein impressed on his first visit to a New Zealand race track and went quicker and quicker each time out to take fifth for the round while young Brock Gilchrist never put a foot wrong as he bagged a trio of top ten finishes on his debut weekend.
Peter Vodanovich showed great speed in the CMC Markets car, but a retirement after contact with Kaleb Ngatoa in the first race required a long afternoon and evening of work for his crew and set him back for the rest of the weekend.
Of the rest, Justin Allen in the Battery Town car, Andrew Jackson in the North Shore Toyota and Campbell Stewart in the NZPGS car all showed consistent form to finish in the top ten for the round.
Barring his Race 1 clash with Vodanovich and the resultant penalty, Kaleb Ngatoa would have finished higher up the points than tenth. The youngster – mentored by Kenny Smith – did show enough pace to indicate he will be a factor at future rounds, however.
Toyota 86 Championship 2018-2019 Driver Standings
1 Connor Adam  217
2 Callum Hedge 189
3 Jordan Baldwin 188
4 Jaden Ransley 174
5 Jake Klein  143
6 Brock Gilchrist 130
7 Andrew Jackson 111
8 Justin Allen 101
9  Campbell Stewart 95
10 Kaleb Ngatoa 92
11 Sam Wright 90
12  Arran Crighton 85
13  Mitch Hughes 84
14 Jacob Cranston  84
15 Peter Vodanovich 81
16 Connor Davison  66
17 Tony Austin  56
The full schedule for the Toyota 86 Championship is as follows:
November 2-4  – Pukekohe (with Supercars) – COMPLETED
December 7-9 – Pukekohe short track (no back straight chicane)
January 11-13 – Highlands Motorsport Park, Cromwell (with Castrol Toyota Racing Series)
January 18-20 – Teretonga Park, Invercargill (with Castrol Toyota Racing Series)
February 8-10 – NZ Grand Prix at Manfeild, Manawatu (with Castrol Toyota Racing Series)
March 9-10 – Hampton Downs Motorsport Park, North Waikato
Caption:  Connor Adam has the points lead after the first round of the 2018-2019 Toyota 86 Championship.
Picture Bruce Jenkins
Release: Toyota Racing NZ