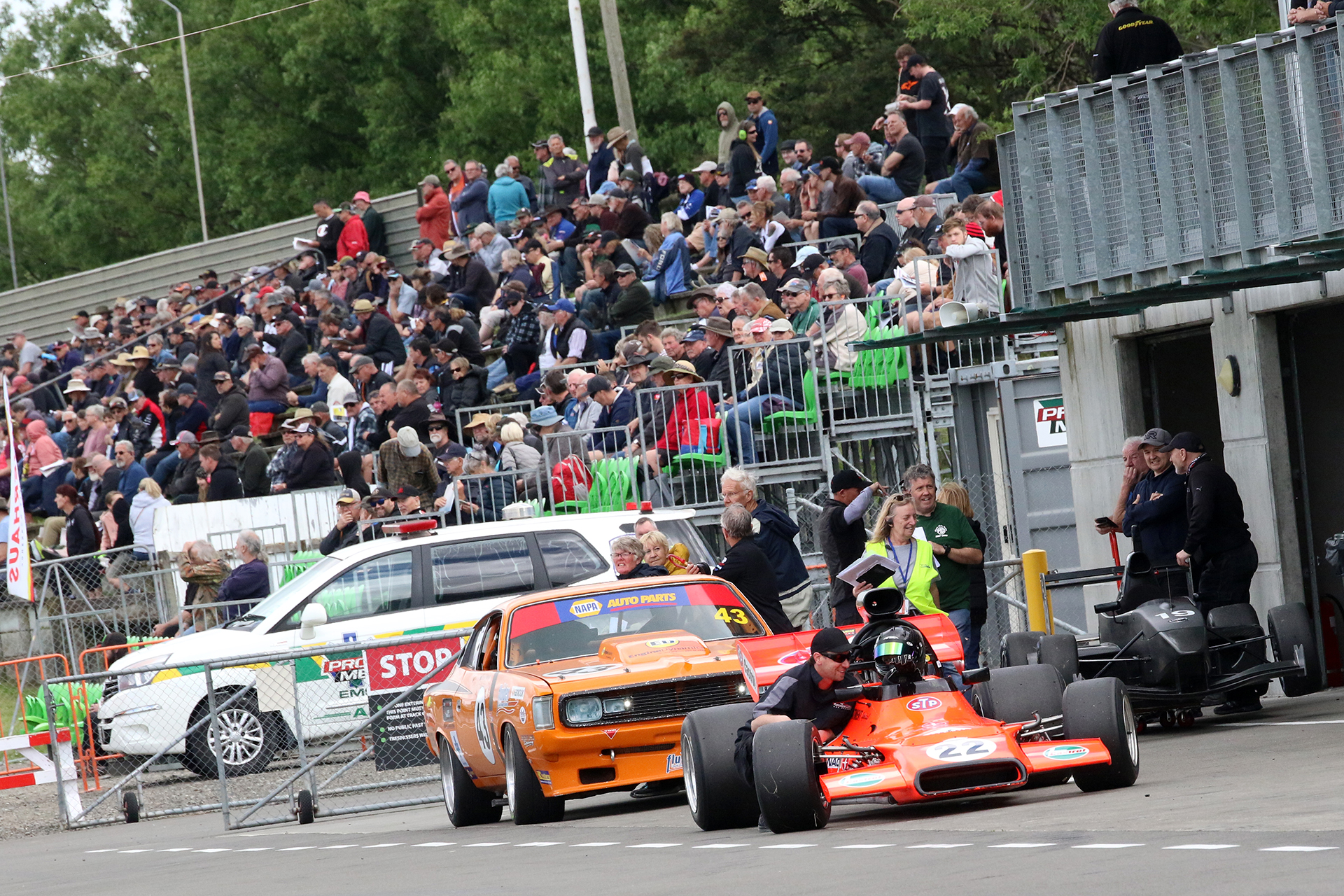 35th MG Classic a great success
What a fabulous weekend! With over 300 entries, (305 to be exact), and a consummate range of 11 Historic and Classic car classes, 47 races, perfect weather and 10,000 plus spectators, it was an amazing weekend and the first major meeting on the Historic Calendar for the season. Ron Robertson, Naomi Bray and the MG Team have been organising this meeting since 1986 and it shows with a very well run race meeting and quick fire, entertaining races. Congratulations for the effort and time put in to this event for 35 years. Motorsport in New Zealand is all the richer for it.
It was if the racing gods knew we had been suffering under the yoke of Covid 19 and decided for the 35th Anniversary they would give us a perfect three days of Motorsport and the largest crowd in ten years.
The signs were good when we turned up late Thursday to find that Manfeild's Operations Manager, Steve Easthope had left the gates open for people trying to get the jump on the Friday start. Such an accommodating venue! The stadium was full of Historic Muscle and Historic Saloon cars, with a garnish of fourteen F5000 cars down the front wall.
There were four early McLaren cars (all previously owned by Tony Roberts!), a range of Lola T300, T332 and T400's, McRae GM1's and a Talon. It was especially interesting to have a quick young lady driver in a McRae GM1, Anna Collins from Christchurch. Anna also raced Wayne Perkins Viva GT for the Sybil Lupp Race. The race organisers gave free entry for female and MG drivers. This helped to bring out 16 MG's to the track! It was also the first time in the NZ F5000 series 20 year history that a handicap race was attempted. One false start, but very promising!
Historic Muscle & Historic Saloons cars numbered 25 and put on a great show with the leading battles between the diminutive Ford Escorts and Muscle cars. These two classes combined to showcase some excellent scratch and handicap races at close quarters, but no contact whatsoever. Apart from the 3 FIA Group 2 Escorts of Sprague, Goudie and McCarthy, the thundering Hemi Cuda of the Sinclair family bought a taste of early American Trans Am, but the darling of the field was Ewen McPherson in his Broadspeed Replica Anglia all the way from Invercargill.
The Historic Sports Sedans & Invited Allcomers managed to get 22 starters with once again spectacular racing with such a diverse group of cars as the Algie Alfetta driven by Angus Fogg and the Ex Roger Kraus Racing Datsun 240Z V8 powered Scarab.
A large field of Formula Junior and Historic Single Seaters numbering 35 cars looked like they were really enjoying themselves with some good battles right through the field.
Though not a Historic class, the large, 32 car, Central Muscle Car grid are always entertaining. The cut and thrust of this class with old body shells and late model V8 engines always leads to exciting races! There were a number of scraps at speed and some body damage as a consequence.
The TraNZam class put on an exhibition of outright speed and although the field was lacking quantity, it certainly wasn't lacking quality. Nine cars pushed hard through all their races.
So, three days of sunshine and glorious racing at Manfeild. Forty-Seven races running non-stop was certainly a great achievement and everyone went home happy. Thanks again MG, and we'll be there next year for sure for number #36!