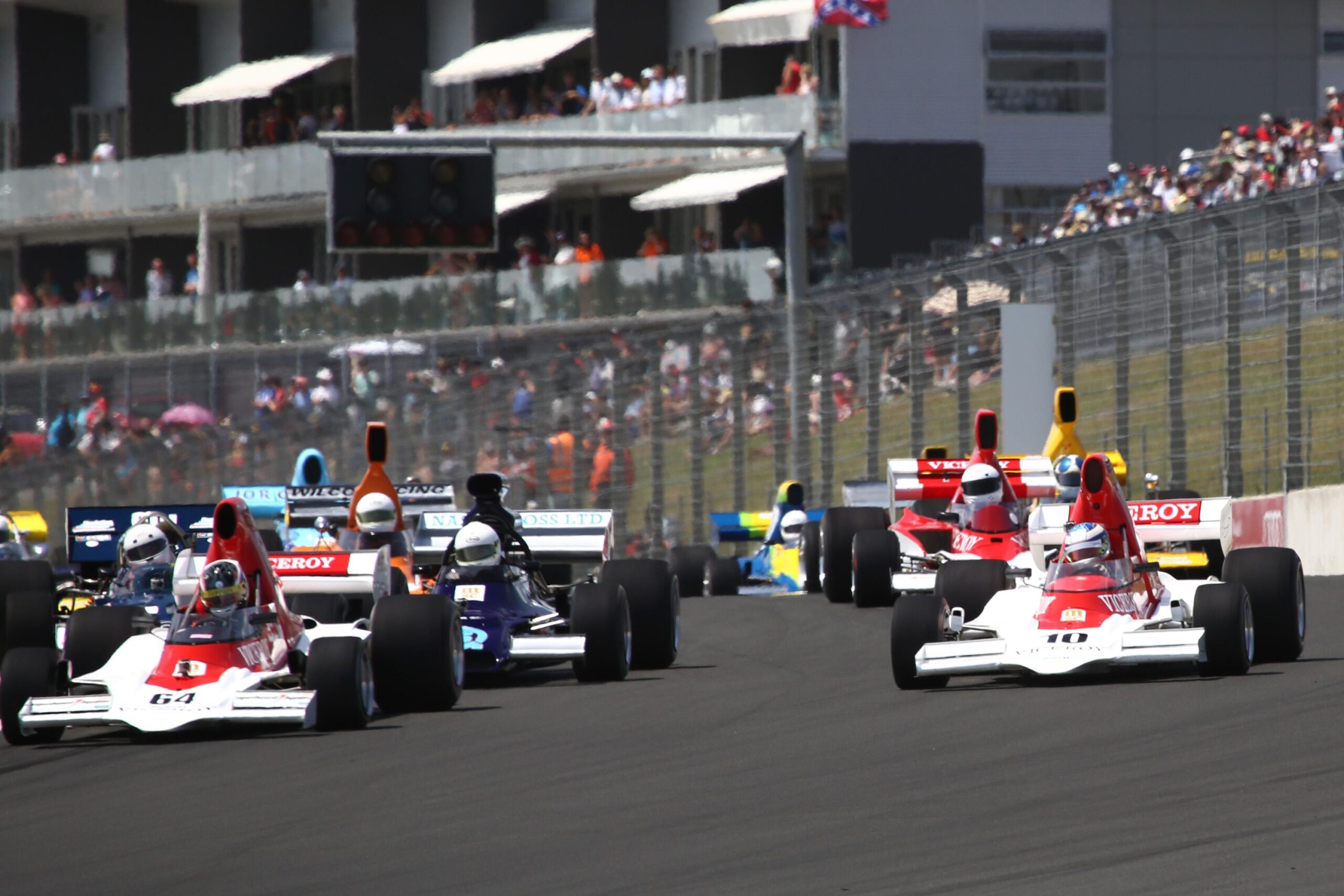 UK racers' arrival provides twin boost for second NZ F5000 series' round at Taupo
The arrival here later this month of family trio Frank, Judy and son Michael Lyons, and fellow British historic single-seater racer Mark Dwyer, will not only help boost SAS Autoparts MSC NZ F5000 Tasman Cup Revival Series field numbers for the second 2019/20 season round at the Taupo Historic Grand Prix meeting at Bruce McLaren Motorsport Park over the January 18-19 weekend. It will also help set some sort of new benchmark – if not a record – for the number of Lola T400s on a contemporary grid.
At the opening round of the 2019/20 SAS Autoparts/MSC Series there were only two of bespoke British racing car constructor Lola's originally very much unloved 1974-75 model T400s on the grid. One was the ex Richard Scott/Bob Evans UK model (HU8) owned and regularly run in the local series by Shayne Windelburn. The other was the ex Eppie Weitzes US series car (HU9) of Aucklander Glenn Richards.
However, with the Lyons family bringing with them the ex-Vel's Parnelli Jones' Lola T400 (HU7) for Michael to drive, and Mark Dwyer also returning with his ex-John Morton/Ed Swart US series' T400 (HU12), four of the 12 cars still in existence will be ready to take the track again at Taupo.
Many – at the time and today – regard the hi-tech T400's immediate predecessor, the Lola T332, as the quintessential F5000 car of the era (with over 30 built by the factory and five set to be on the grid at Taupo later this month). Certainly the T400 had a troubled birth, most of the teams that upgraded to the new model at the time going back to their T332s, or – at the very least – replaced the T400's radical-for-the-time rising rate rear suspension set up with the more conventional and easier to set up system from a T332.
"To be fair," says owner/driver and NZ Formula 5000 Association committee member, Glenn Richards, "the T400 was really the victim of its own success. If you take the time to analyse what the guy who designed the car – and who came up with the rising rate suspension – Eric Broadley, was trying to achieve, you can get it to work, and work very well. It can still catch you out, though, but overall I definitely think he was onto something."
The four T400 Lolas will line up at Taupo alongside five T332s and an earlier Lola T330, three McLarens, a pair of Talon MR1s and pair of McRae GM1s, a locally-made Begg FM5, plus one of only two BRM P207 Formula 1 cars ever built.
Defending series title holder Ken Smith heads the list of Lola T332 drivers heading to Taupo with his familiar red ex-Danny Ongais HU54 model. Joining him will be young Auckland driver Codie Banks in his father David's ex-Johnnie Walker Australian Grand Prix-winning T332, former NZ Formula Ford champion Kevin Ingram in his ex-Charles Haines/Ian Clements HU48R and expat Kiwi Warren Briggs making his SAS Autoparts MSC series debut behind the wheel of the 2017/18 Series-winning T332 owned by Aucklander Stuart Lush and driven to victory by Andy Higgins.
Fellow former SAS Autoparts MSC Series title holder Brett Willis will be driving his similar-looking but earlier model (1973) ex-Colin Hyams/Tom Belso/Tony Trimmer Lola T330 (HU6).
The three McLarens are an early (1969) high-wing M10A (300-09 A) owned and driven by Tony Roberts, a 'low-wing' 1970 M10B (400-18 S) of Aucklander Frank Karl, and the only 1972 M22 still in active use, the ex-Thomas C. Jones/Vic Todia car now owned and raced by Tim Rush from Feilding.
The two Talons will be in the hands of David Banks (the ex John Woodner MR1 74-07.1 recently rebuilt and now presented in the colours of Woodner's period sponsor Interscope) and the later model ex-Chris Amon/Jack McCormack MR1A now owned and raced by Grant Martin from Auckland.
Of the two 'McRae GM1s' is in fact one of the original Leda LT27 models (004) built in 1972, owned since 2008 by Queenstown man Alistair Hey and raced by young Christchurch driver Michael Collins. The other is the 1973 model McRae GM1 (008) originally raced in the US by Jon Woodner and Bill Cuddy and owned and run in the SAS Autoparts MSC NZ F5000 Tasman Cup Revival Series since 2009 by Aucklander Aaron Burson.
In previous years Essex-based Irishman Frank Lyons has shipped down his rare Eagle 74A (004) either for himself or his wife Judy to drive. This time though he will drive his ex-Brett Lunger/David Hobbs/Johnny Rutherford T330-based T332 (HU12), while Judy will be behind the wheel of the ex Allan McCully Begg FM5, now owned by Christchurch enthusiast Lindsay O'Donnell.
The FM5, along with a number of other Begg racing cars designed and built in Drummond, Southland, by the late George Begg, are set to go on permanent display at a new George Begg exhibit in the Classic Motorcycle Mecca museum in downtown Invercargill after the fourth round of the 2091/20 SAS Autoparts/MSC Series at Teretonga Park in mid-February.
So the Taupo Historic GP meeting will be the last chance many category fans in the North Island get to see the car turn a wheel in anger.
With category stalwart Peter (Aaron's father) Burson entering his ex-Larry Perkins 3.0 V12-engined BRM P207 fans will also enjoy a bonus of seeing and hearing a genuine F1 car from 1976 being put through its paces alongside its period 5.0 litre stock block V8 stablemates.
After a dream start to his 2019/20 season, (pole and three race wins from three starts) at the opening SAS Autoparts MSC Series round at Manfeild in November last year Michael Collins holds an early season points lead over Talon MR1A man Grant Martin heading to the Taupo Historic GP meeting round.
Bragging rights in the Class A category for older period cars belong, meanwhile, to Frank Karl (McLaren M10B) after he twice led home Tony Roberts in the high-wing McLaren M10A at Manfeild.