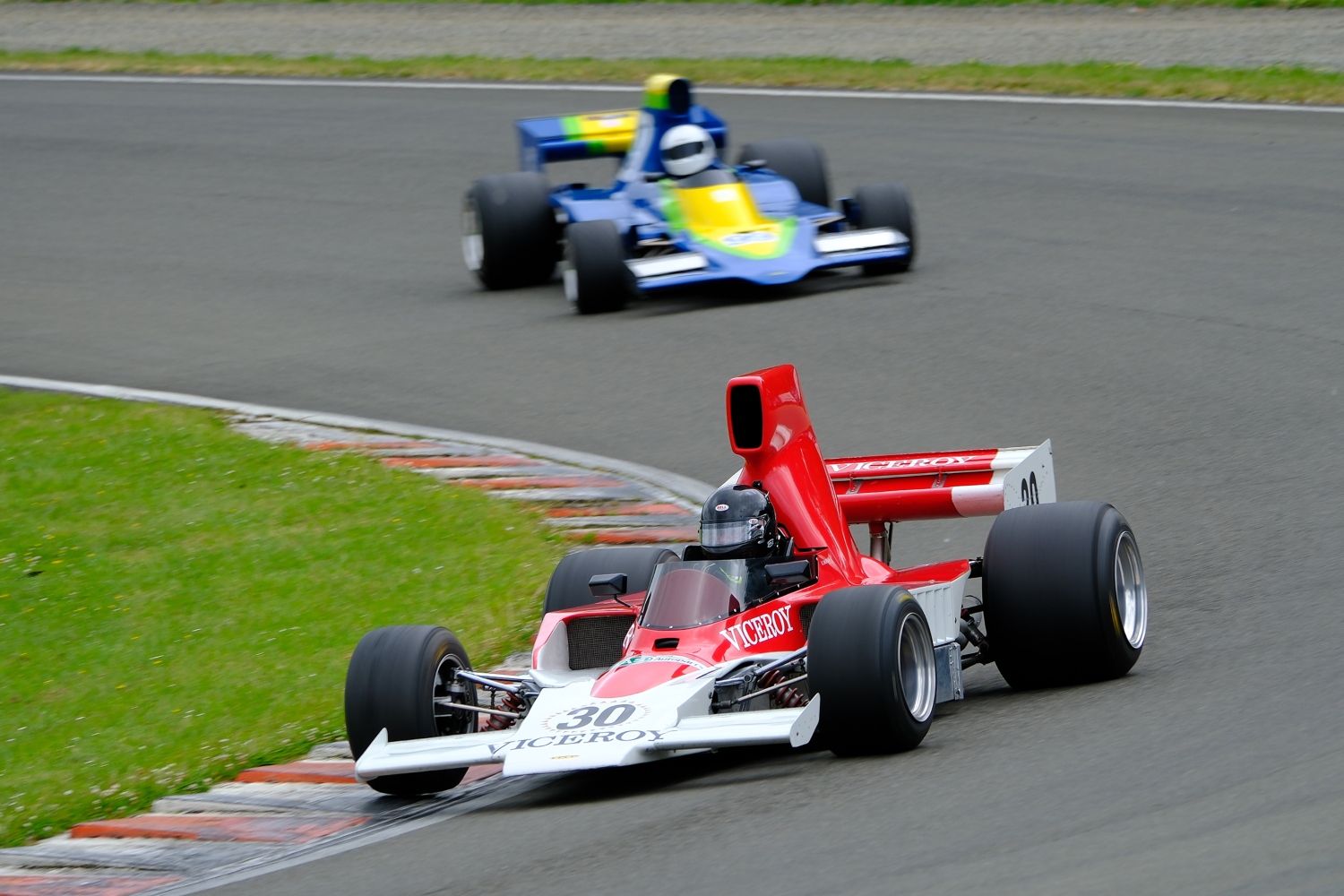 'The Feilding Flier' is back and looking for more wins at Taupo this month
It was definitely 'a long time between drinks' for the fastest qualifier and winner of the first SAS Autoparts MSC NZ F5000 Tasman Cup Revival Series race of the weekend, Feilding man Kevin Ingram (Lola T332), at the third and final round of the 2021/22 series at the Taupo International Motorsport Park track last year.
Ingram won several races on his way to earning the New Zealand Formula Ford championship series title in 1982/83. But reckons he would have won his last one in that 'first-time-behind-the-wheel' era the following season, 1983/84, making it 38 years until he won his first SAS Autoparts MSC NZ F5000 Tasman Cup Revival Series race at the final round of the 2021/22 season at Taupo International Motorsport Park in May last year …. so, definitely "a long time between drinks."
Now 70-years-of-age, retired former small business owner Ingram says that he has really enjoyed his 'better-late-than-never' return to the country's motor racing circuits. And, after another dominant performance (pole and runaway wins in two of the three races) at the opening round of the 2022/23 SAS Autoparts MSC NZ F5000 Tasman Cup Revival Series at his home track, Feilding's Manfeild Circuit Chris Amon in November last year, the man dubbed 'The Feilding Flyer' first time around, is set to add further accolades to his already impressive 'second time around' racing record when he returns to Taupo next week to contest the second round of this season's SAS Autoparts MSC NZ F5000 series at the Taupo Historic GP meeting next (Jan 21/22) weekend.
Not everyone, of course, can simply jump into a 500+hp wings-and-slicks-equipped single-seater racing car and expect to start winning races straight away. And so it was with Ingram who first debuted the car in 2018 and had completed 13 meetings over three seasons before scoring his (and the car's) debut pole and runaway first race win at Taupo in May last year.
"Seriously" he says. "The 5000s are definitely quite demanding to drive fast and as the technology is 40-50 years old they are very heavy in the back, which believe me, takes some getting used to."
As did his Lola T332's almost uncanny ability to scrub off speed and – quite literally – stop on a dime.
"I initially struggled to drive the 5000, " says Kevin, "because I hadn't really raced anything for 25 years and nothing up until then arrived at the corners so quickly."
Perseverence is an oft overlooked quality in a racing car driver, however both Ingram and wife (and on-event crew chief) Helen have it in spades, so, rather than get all despondent when – initially anyway – the times simply would not come, the pair simply doubled down, going right back to basics and coming back from there.
"I am certainly very fortunate," explains Ingram," that Helen, my wife, is very supportive, and as an ex-racer herself she understands a great deal and has her specific areas on the car to work on.
"I am also very fortunate in having Bruce Turnbull and Robbie Rodgers to ask for advice and help on test days. I am also in debt to Graham Gosling for his enthusiasm and help during the race meetings themselves.
"And I also very much appreciate my engine man Ross Dallas for parting with a wealth of knowledge and advice on the engine."
Having already competed in – not to mention won – what was New Zealand's premier single-seater series at the time. the 1982/83 NZ Formula Ford championship, plus been awarded MotorSport NZ's most prestigious trophy, the Jim Clark Memorial one, for his efforts that season, you could be forgiven for wondering why a newly retired fellow like Ingram would even contemplate a return to the tracks in such a 'serious commitment' category as the 'wings-and-slicks, 302 cu in V8-engined F5000 one.
Surely there are other categories which might well provide a similar sort of 'bang' for considerably less (both in $$$ and time terms) 'buck.'
For anyone else there might well be. But not for one of the only drivers to win the New Zealand Formula Ford championship in a car (the Keram FF) he designed, helped build, then engineered and ran himself.
How his life might well have ended up had he persevered with his self-taught driving and spannering career remains something of a moot point. Though it is not one Ingram, in particular, dwells on.
Instead, he prefers to talk about specifics.
Like?
"As the skill developed it culminated in my winning the Formula Ford championship and the Jim Clark award (which I was very proud of as I had seen Clark race here and regarded him highly) in 1983.
He also ended up second to Christchurch's John Crawford in the 1984/85 NZ Formula Ford championships, something of a swan-song performance due to Ingram's decision to retire forthwith, his racing ambitions "ceasing at this stage due to a lack of finance."
Before this though he had taken the opportunity to fly to the UK and take up a job with expat Dick Bennetts' F3 team.
"I was still working full-time here as a parts manager for a motorcycle company, but David Oxton put in a good word for me with Dick Bennetts over in the UK and I worked for Dick there for one full F3 season. Whilst I enjoyed my time with Dick and was invited back to be the No 1 mechanic on an F3000 team, I had decided instead to settle back in New Zealand at this stage so came home, bought a business in Feilding and that was that until…..after I sold the business and retired a friend of mine bought a F5000. I went along to some race meetings to help him run it, and well, what can I say?
"The bug bit again, and, after unsuccessfully trying to "prise" the ex-Graeme Lawrence Lola from Russell Greer I was fortunate enough to be able to purchase the Lola T332 from Ian Clements."
And the rest as they say is history….
Speaking of which, the SAS Autoparts MSC NZ F5000 Tasman Cup Revival Series will once again be providing a 12+ car grid for the event's main race, the 8-lap Taupo Historic Grand Prix next Sunday afternoon.
The SAS Autoparts MSC NZ F5000 Tasman Cup Revival Series is organised and run with the support of sponsors SAS Autoparts, MSC, NZ Express Transport, Bonney's Specialised Bulk Transport, Mobil Lubricants, Pacifica, Avon Tyres, Webdesign and Exide Batteries.