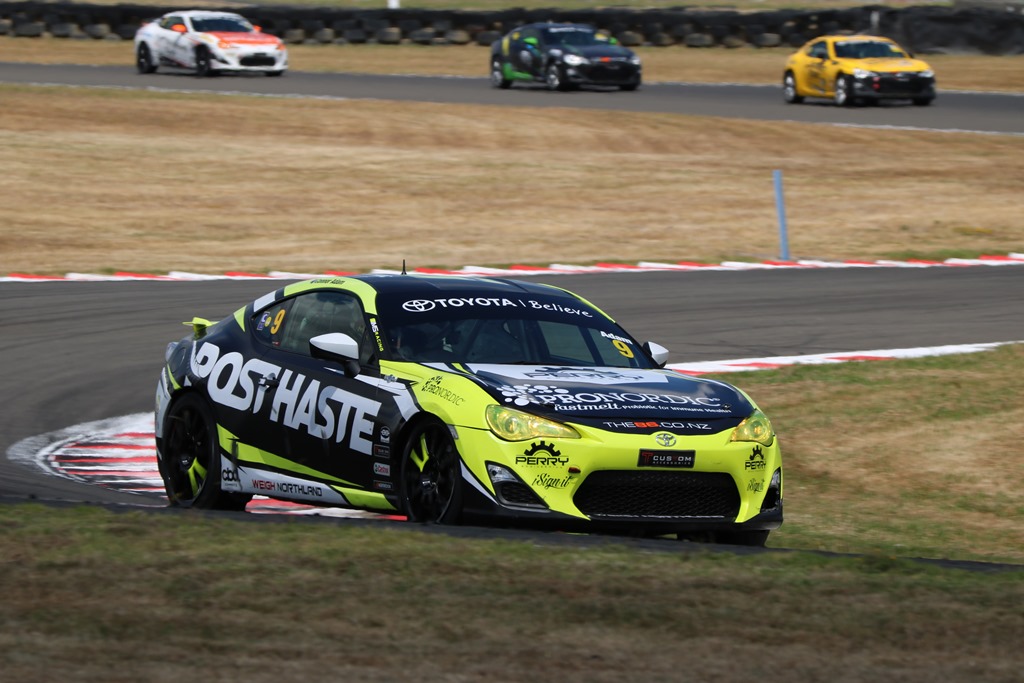 "The Car is fast again" Connor Adam finds speed again at Manfeild
20-year-old Mount Albert driver Connor Adam has left the Round five of the 2018/19 Toyota 86 Championship feeling confident after regaining the speed he had shown in the early part of the season.
Competing at Manfeild Circuit Chris Amon over the weekend in support of the New Zealand Grand Prix event, Adam and his team showed their true pace from the get-go during Friday Practice.
Saturday morning validated Adam's practice pace, setting the third fastest time in the 20-minute qualifying session, just 0.161s from the fastest time of the session. Adam's efforts gave him a third place start for the first two races of the weekend.
"Qualifying was great" said Adam.
"Practice gave us high hopes, but you never really know until Saturday morning if that's your true pace relative to everyone else so to be just a tenth and a bit off pole was great!"
The opening 12-lap race of the weekend saw Adam return to running at the front of the pack, crossing the line second and recording the fastest lap of the race. Unfortunately, a post-race penalty was handed to Adam, bumping him down to fourth in the official results.
Saturday's penalty signalled the fortune to come for Adam as he was also given a grid penalty and was forced to start ninth for Sunday morning's race, also 12-laps. Adam would run as high as fifth during the race but finished seventh.
The final race of the weekend again saw blistering pace from Adam but the close and competitive nature of the racing meant he was unable to charge through the field and finished sixth.
"It was a relief that we got our speed back this weekend. Narrowly missing pole and setting fastest laps are a credit to the hard work we've done as a team between rounds.
"We were very unfortunate with penalties and our track position during the weekend but I'm super stoked heading into the final round now that we seem to be back on the pace."
Adam remains in fifth position in the points with one round renaming at Hampton Downs Motorsport Park in a months time on March 8-10.
Adam's Toyota 86 campaign is supported by Post Haste, ProNordic, Perry Engineering and Weigh Northland.
Toyota 86 Championship points after Round 3 (Top 5)
Jaden Ransley – 939
Callum Hedge – 921
Jordan Baldwin – 850
Peter Vodanovich – 737
Connor Adam – 719
Calendar 2018/19 Toyota 86 Championship:
2-4 Nov – Pukekohe
7-9 Dec – Pukekohe (Short)
11-13 Jan – Highlands
18-20 Jan – Teretonga
8-10 Feb – Manfeild
8-10 Mar – Hampton Downs
Caption: Connor Adam (#9) sits fifth in the 2018/19 Toyota 86 Championship after the fifth round at Manfeild. Image by Tayler Burke.
Media release: Jordie Peters