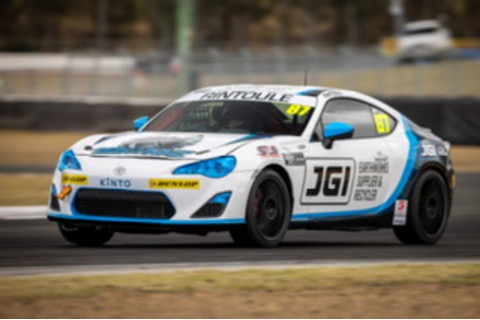 Summer bringing sunny outlook for Toyota 86 Championship
It may be her first major New Zealand circuit racing championship, but Gold Coast rookie Summer Rintoule is optimistic that racing a Toyota 86 is going to help her make major career gains in a busy 2024.
The 16-year-old – currently studying Year 12 and a Diploma of Business at St Stephen's College – will join the championship trail after beginning her career just over a year ago racing a Hyundai Excel in regional enduro races.
Having tested the Toyota 86 in New Zealand at Hampton Downs earlier this year, she was selected for the TOYOTA GAZOO Racing Australia evaluation day and since then has been getting mileage under her belt under the watchful eye of 'Robbo the Whisperer' from On The Pace.
Summer reckons his input has been critical as she prepares for the New Zealand season, which begins in November at the Taupo Motorsport Park and the Aussie Toyota 86 Championships after that.
"Robbo worked with some of the NZ drivers last season, and he is giving me some insight as to what I can expect in the TGRNZ season," she explained. "The Aussie Toyota 86 is slightly different to the New Zealand car and Robbo along with my race engineer and mentor Scott Green have helped me learn how I can prepare for the different specifications.
"I've also been doing a lot of training on the simulator and keeping up my fitness in the gym and on the bike. It's all adding up."
Summer is looking forward to a busy season with optimism. "My main objective for the TGRNZ season is to gain more experience with different tracks, cars and weather conditions. These are all things I need to adapt too.
"I'm driving in the TGRNZ Series, the TGRA Scholarship Series and the TGRA National Series over the 2023–2024 season increasing my on track experience. Seat time in the New Zealand TGR86 will extend my racing season and will give me the experience I need to improve my race craft."
Competing in New Zealand with Action Motorsport with backing from JGI Quarry is all part of the master plan to fast track her experience and skills, so that all-important race craft should improve rapidly.
"I haven't done karting like so many of the other drivers and I recognise that time in the seat is of paramount importance. New tracks and different weather conditions are also a big part of why I chose the TGRNZ Series. I love travelling to new countries and new places and so far everything I've seen in New Zealand is beautiful."