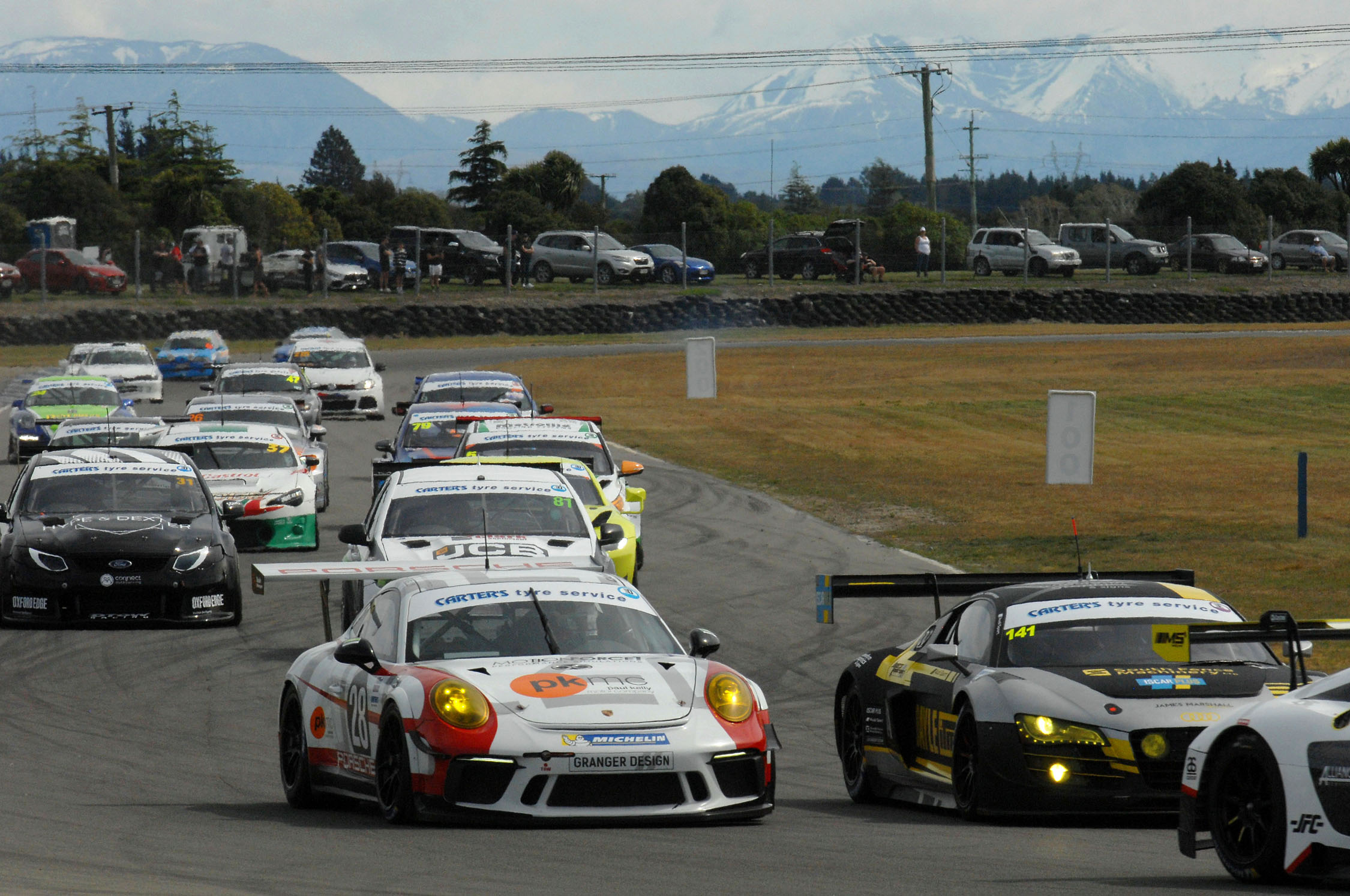 South Island Three Hour finale heats up with Waite/O'Donnell Audi R8 joining the field at Timaru
This Saturday sees the third and final round of the 2020 Carter's Tyres South Island Endurance Three Hour Series at Timaru International Raceway. The competition has markedly increased over the series and joining the field is another Audi R8 driven by the very quick Andrew Waite and Scott O'Donnell.
It has been a one-way show so far with the stunning Aston Martin Vantage GT3 of Alex Riberas and Darren Kelly winning both rounds held this season. It was a narrow win over the current NZ endurance champions Neil Foster/Jonny Reid (Audi R8 LMS GT3) at Invercargill's opening round, five weeks ago, that gave Riberas/Kelly the upper hand heading to Christchurch earlier this month. Again, they crossed the line first, this time ahead of the Dwayne Carter/Greg Murphy Mercedes AMG GT3. Foster and Reid's challenge dwindled with drive shaft issues and even though this was repaired and they returned to the track, they were not able to finish enough laps and were classified as a non- finisher, dropping them down to seventh overall on the points table and out of title contention.
However, as this is a series that rewards those that finish, should the Aston Martin strike trouble there are several title contenders waiting to pounce. First up is the ever-consistent Christina Orr-West/Brendon Leitch Audi R8 LMS Ultra. While this is an older generation R8, two second placings see the pairing just 18-points behind the leaders in the overall standings. Eleven-points further back is the Paul Kelly/Anthony Leighs Porsche Cup S with the Rowan Shepherd/Lochlain Fitzgerald-Symes Audi RS3 LMS TCR in fourth.
Also joining the field for a one-off appearance is ex World Rally Championship driver Hayden Paddon (Hyundai TCR i30N). Paddon has paired up with One-Hour series champion Jordan Michels in an attempt to qualify for the national endurance title race at Highlands Motorsport Park, Cromwell, 7 November.
Five separate Class titles are also to be decided. Riberas and Kelly lead Class E (GT3) from Orr-West/Leitch and Foster/Reid. Kelly and Leighs have all but wrapped up Class D (GT type) from Allan Dippie/Scott O'Donnell. With O'Donnell pairing with Andrew Waite in the Audi R8, Allan Dippie will now co-drive with his brother Martin who will first be looking to win the One-Hour title earlier on Saturday.
In Class C (>3501cc), Scott and Craig McDermid will look to win the title at their home track. It has been a battle of the TCRs' in Class B (2001-3500cc) with the Shepherd/Fitzgerald-Symes pairing with an almost unassailable lead. Second is the Tim Mackersy/Barry Moore pairing (VW Golf Gti TCR) still with a mathematical chance should the leaders fail to finish.
Such has been the retirements and withdrawals over the first two rounds, it has meant that there are two slower Class A cars in the top six overall placings. Noel Simons/David Berry (Honda Integra) sits fifth while the slowest vehicle in the field, the Tim Stanton/Leyton Tremain Peugeot 106 Rallye is sixth. Both entries are fighting for Class A (0-2000cc) honours with one point separating the two.
Qualifying takes place Saturday morning with the 180-minute race set to go at approximately 1:15pm.