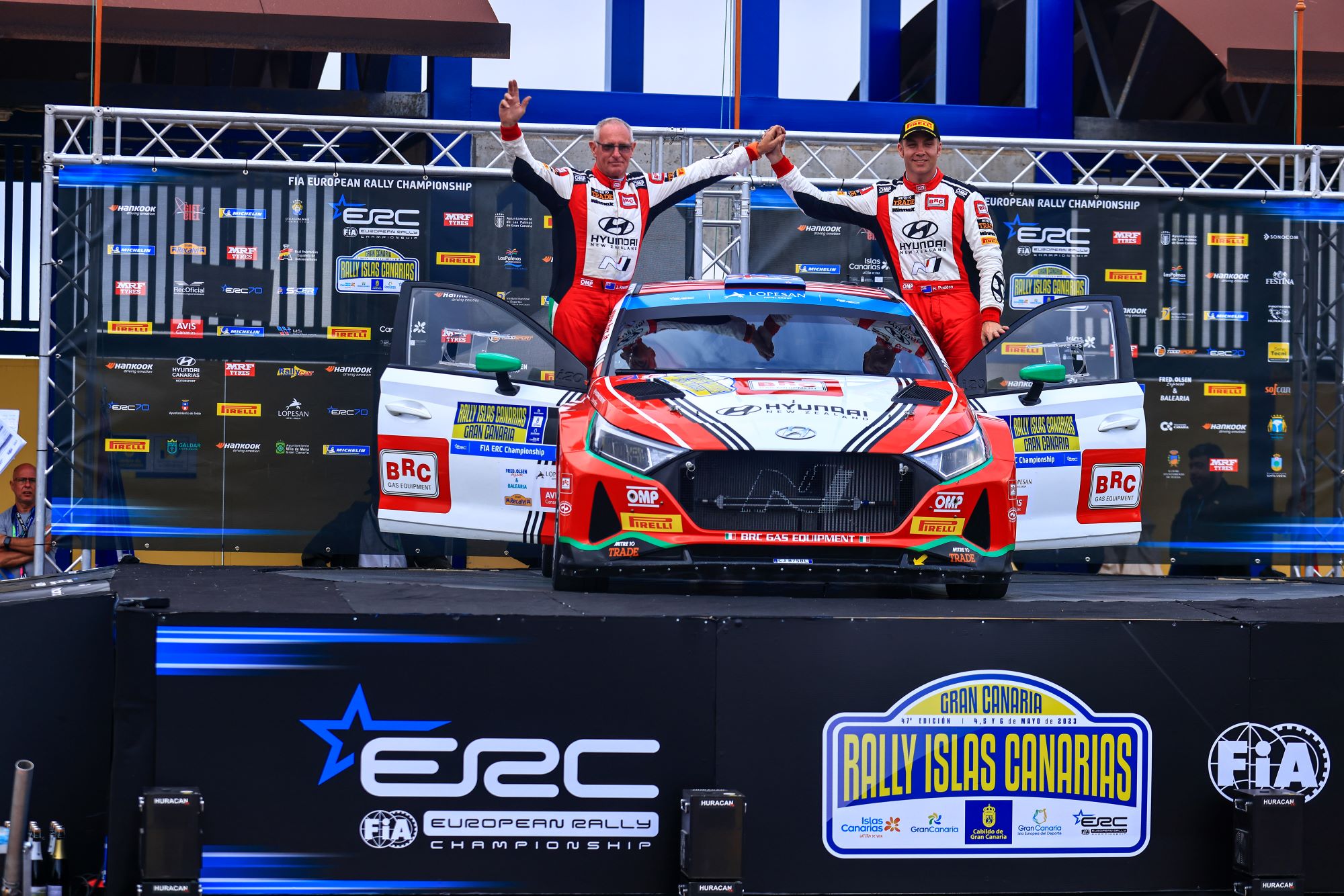 Paddon leads ERC after Canary Islands rally
New Zealand rally stars Hayden Paddon and John Kennard were delighted to secure second place at Rally Islas Canarias, which ran 4-6 May, to lead the 2023 FIA European Rally Championship (ERC) points-table after the first two ERC rounds before flying back to New Zealand for the International Rally of Whangarei starting 12 May.
The second ERC round in the Canary Islands off the coast of Spain was not originally on Paddon's schedule but he and Italian team BRC agreed that it was a good plan to try and earn points at the earlier rounds of the eight-round championship where drivers count their best seven scores from a possible eight.
Paddon and Kennard are really happy with how their first attempt at the all-tarmac Rally Islas Canarias went. They started with a win in Thursday's opening super special stage which concluded on a basketball court. Unexpected rain cost them, and others, some time in Friday's opening SS2 when the road dried quickly for following competitors. Consistency helped the Kiwis get back to second place overall by SS5 and they finished the day 11 seconds off Frenchman Yoann Bonato in the lead.
Saturday's six stages again caught some unexpected rain, making tyre choices challenging, but Paddon and Kennard maintained their consistent focus to hold second place overall through to the finish.
"To come away with second was more than we expected, and it couldn't have gone much better," Paddon says. "If you'd said before the weekend that we'd come away with a podium finish, we'd have definitely taken that with both hands. It's perfect for our championship and allowed us to build a small lead now which is a good way to start the season."
Paddon now has 58 points to Bonato's 47 points having secured the maximum 30 points as the winner of Rally Islas Canarias.
Paddon notes the huge passion for rallying that Spanish fans have. "The tarmac stages are amazing, fast, twisty and hilly. Day one was very good and we were able to stay in touch with the leader Bonato, but the changeable weather conditions on day two made it a bit trickier for us without prior knowledge of the stages and trying to get the right tyre choices. Having said that, the second day (Saturday) was about consolidating our position in second place because we were quite happy with that as our core goal was to secure points in the championship."
Paddon pays credit to BRC and their hard work putting together a very successful weekend in the Hyundai i20 N Rally 2 car. "Now John and I look forward to seeing BRC in Poland in just two weeks following our swift trip back to New Zealand for Rally Whangarei next weekend."
Thinking about the second round of the 2023 New Zealand Rally Championship taking place in Whangarei 12-14 May, Paddon says he always looks forward to this rally which he's contested more than ten times.
"Whangarei always has some of the best stages in New Zealand, they're really cambered and flowing like no other. I think we can expect our New Zealand-based Hyundai i20 N Rally 2 car to perform better on those stages compared to Otago, and hopefully everything we learned about the car in Otago and continued to develop since will help us to extract further performance gains."
Running the same type of Hyundai i20 N Rally 2 car on both sides of the world is a significant aspect of Paddon's busy 2023 schedule with learnings and performance gains being applied to both the New Zealand car run by Paddon's own PRG team and the European car being run by Italian team BRC in partnership with some PRG personnel. Paddon says there are a few small areas they've been working on with the car since Otago, which should benefit the car in Whangarei and also translate to the European car for the next gravel event of the ERC which takes place in Poland the weekend after Whangarei.
Speaking of the Whangarei rally in terms of competitive goals, Paddon says he aims to secure maximum points in the NZRC championship race. "We're missing the following NZRC round in Timaru on 17 June as John and I will be in Latvia, so we need all the NZRC points we can from the first two rounds. With a lot of special stages in Whangarei similar to the 2021 and 2022 events, we have good reference info from the Hyundai AP4 car and data that we can use to continue developing and improving."
The International Rally of Whangarei comprises 18 special stages over 260 km and also counts as a round of the 2023 FIA Asia Pacific Rally championship, an eight-round series which also visits India, China and Japan with a finale in Indonesia.
Paddon and Hyundai New Zealand Rally appreciate the support of Hyundai New Zealand, Mitre 10 Trade, Z Energy, Makita, Open Country, Bars Bugs, Pirelli, OMP/Racer Products, Winmax Brake Pads, South Canterbury Road Safety, Ben Nevis Station, Bailey Caravans, Repco NZ, Highlands Motorsport Park, MITO, ETCO, Jacanna Freight, Pak N' Save, Machinery House, Bartercard, Mike Greer Homes, Provident Insurance, Zealandia Systems, Carters Tyres and Signbiz.
Keep up with news on Hayden Paddon and the Hyundai New Zealand Rally team via the Facebook page https://www.facebook.com/paddonrallysport.