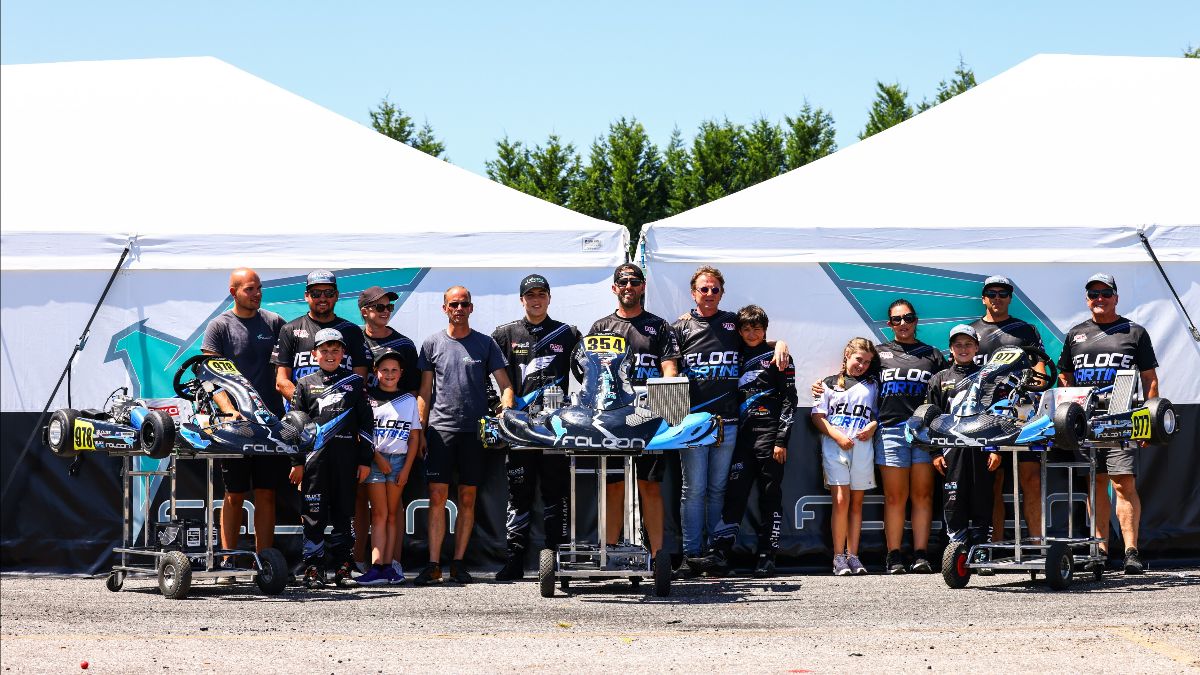 Next Kiwi racing superstars show their talent in European karting championships
Veloce Karting boss and multiple racing champ Chris Van Der Drift says his team's recent campaign in Europe shows there's a wealth of young talent coming through the New Zealand karting ranks ready to be the next Dixon, McLaughlin, Van Gisbergen and Lawson.
Hamilton racers Carson Daly (12) and Braxton Kraayvanger (10), Auckland's Ayrton Williams (16) and Christchurch's Vin Schelp (14) all travelled to Europe with Van Der Drift overseeing their progress over two eventful weeks of intense testing, travelling and competing culminating in the recent European Kart Championship at the Castelletto Circuit in Italy.
As well as securing seats for the drivers with the iconic PDB Racing Team, the campaign had also secured sponsorship from Hamilton Asphalts, Tasman Motorsports Group, Dayle ITM, Cemac Commercial Interiors, Giltrap Group, Winger Hamilton, Radical Sportscars New Zealand and Bimecc UK.
"It's really been a very positive experience in every regard, with plenty of highs and lows as you would expect," explained Van Der Drift. "We went with no expectations other than to give the young team some experience of racing internationally in a major karting championship weekend in a high calibre team with professional backing and support.
"I'm personally super happy with how the boys performed. There's no question that they all have a high degree of talent and are heading on the right trajectory. Hopefully they all now know that they can compete and succeed internationally."
The four young Kiwi karters showed an impressive turn of speed in their first weekend of action in Belgium in the GK4 Kart Series as part of the Belgian/Dutch Kart Championship. A mammoth trip to Italy and a change of engine type to water cooled rather than air cooled Swift engines for the Mini Rok drivers didn't halt progress.
All four quickly got to grips with a new style of track and the high intensity of the on track action at arguably one of the world's most competitive karting and indeed motorsport competitions.
"We had two full days of testing and each driver managed plenty of laps learning the new track and seeing exactly how fierce the competition was," added Van Der Drift. "It was already like full-blown races in practice, unfortunately somewhere along the way Carson and Vin picked up a bug – thankfully not Covid – so they were both battling through that."
Poor weather interrupted Friday qualifying and heats, but the quartet emerged with Carson 15th fastest in his group, Braxton 19th and Vin and Ayrton taking 23rd place on their grids. In the early heats Ayrton impressed in his first race on wet tyres to come home 19th. Saturday's full day of racing brought a nasty looking crash for Braxton in his heat which resulted in a flip and trip to the hospital for a check-up.
Thankfully he was OK, but it wasn't the end of the bad luck for the team with Ayrton not finishing the third heat as a result with a bent axle before a hit from another driver in the next heat put him out of contention for an A final spot.
That left Carson and Vin to carry on the challenge. Carson had a solid semi-final and finished 14th to give him a spot in the main final. Vin made a great start to give himself an outside chance of qualifying for the main final. It was looking good in the first half of the race but he ended getting shuffled down the order to 20th and narrowly missed out.
In the final Carson managed to make significant progress after starting off P23 and was looking good to finish in the top 15 – a remarkable effort in his international debut. With three corners to go, however, he went for a pass but contact sent him through the grass and down to an eventual 28th from 36 runners.
"The racing was fierce, they passed like there was like no tomorrow and they didn't muck around," said the youngster afterwards. "I stayed consistent with my placings all weekend which helped me achieve goal of making the final. I was going well in the final up four places from 23rd but in the last lap I made a sketchy pass and went over the other kart putting me back to 28th. Overall it was the best experience of racing I've ever had and I can't thank Chris and Billie and our sponsors enough."
Ayrton had one last consolation race (The "C" final) where he was starting seventh. In arguably his best race, he moved up through the pack setting the fastest lap and coming home in third at the end.
Van Der Drift hopes to repeat the trailblazing campaign and introduce more young Kiwi karters to an international karting environment which has created so many champions in some many codes of motorsport over the decades.
"It was a huge effort on everyone's part to make it happen but I couldn't be more proud with how everyone adapted to the challenge and took on the best in Europe! said the former A1GP racer. "I think we can all be very happy with the performances over the two race events and I know our drivers would have learned a massive amount which they will definitely be able to apply to their karting in NZ. We definitely want to go back and have another crack.
"I would personally like to thank everyone who got behind our drivers to support them and turn this dream into a reality for these four drivers. Last but not least biggest thanks goes out to my wife Billie for holding the fort at home with our two daughters – she had the more difficult job out of the two of us!"