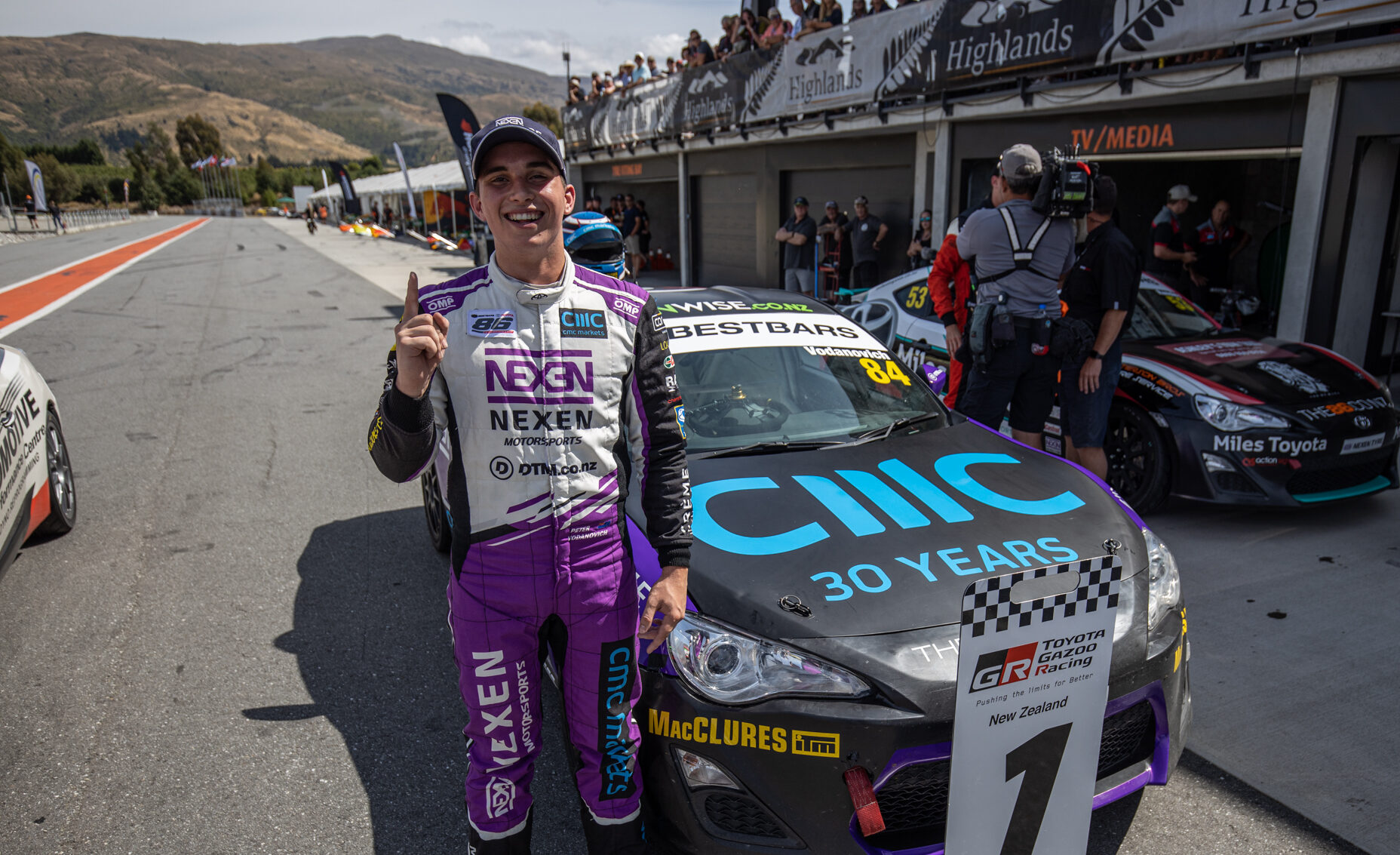 New Zealand's next crop of tin-top stars
New Zealand has a proud history of developing world-class drivers who venture offshore to compete in international championships, often with great success. Think Shane van Gisbergen, Earl Bamber and Tom Alexander.
The key to this success? The Elite Motorsport Academy of New Zealand. MotorSport New Zealand started the MotorSport New Zealand Scholarship Trust to launch the Elite Motorsport Academy in 2004. Since then over 130 graduates have completed the academy with many going on to compete internationally.
So who are the latest graduates from the Elite Academy building their aspiring tin-top careers back home in New Zealand?
Peter Vodanovich – Class of 2018
Peter Vodanovich has made headlines recently after being declared the 2019-20 Toyota 86 Champion.
His journey in motorsport started a little differently to most. Vodanovich came onto the scene in 2017, not from a history of karting but rather no official motorsport history at all. After years of racing online on his simulator, he took the plunge into the real thing.
His first year saw him compete across three different series, the Toyota 86 Championship, SsangYong Actyon Ute Series and BMW E30 Series. After getting copious amounts of seat-time from the three series and scoring podiums in all of them, Vodanovich focused his racing efforts on the Toyota 86 Championship.
In just his second season of racing and first full season of 86 racing, Vodanovich managed to score a race win and finished on the podium seven times. He ended up finishing fourth overall in the 2018- 19 championship.
Once the 2019-20 Championship rolled around, Vodanovich was tipped to be one of the front runners of the class. The championship ended up being incredibly close between Jaden Ransley and Australia's Jaylyn Robotham. Vodanovich nabbed five wins with 11 podiums on his way to a narrow two-point championship victory.
Alexandra Whitley – Class of 2016
Alexandra Whitley is a New Zealand racer who we may have adopted from our mates across the ditch in Australia. Whilst she is a seven-time Australian Women Karting champ, she's cut her teeth in New Zealand's premier tin-top classes and graduated from our Elite Academy.
Whitely spent her first three seasons in New Zealand competing in the SsangYong Actyon Ute Series before moving up to the NZ V8 Ute Racing Championship for the 2017-18 season. In her first season, she managed to finish fifth overall in the championship.
Fast-forward to the end of the following season where she recorded her first race win the NZ V8 Ute Championship alongside three more podium finishes.
The 2019-20 season saw Whitley land a drive in the NZ V8s Championship where she stood on the podium five times and finished second to Supercars driver Andre Heimgartner. All in her debut season in the championship!
Whitley has her sights set on competing overseas, after narrowly missing out on the W-Series in 2019, she was set for a TCR campaign overseas before COVID-19 put a halt on her plans.
Jaden Ransley – Class of 2018
Jaden Ransley is another young gun with a successful karting background who has continued that success through their step up into circuit racing.
Ransley's first step up from karts was in the Toyota 86 Championship. After gaining a season of experience, he came out firing in his second season, finishing fourth in the 2017-18 season with two wins, seven podiums and four pole positions.
The 2018-19 season saw him come agonisingly close to the Toyota 86 title. After five race wins and 13 podiums across the season, Ransley led the championship with three races to go but was taken out of the title fight in a dramatic incident where another car lost control and crash into Ransley's car. The crash meant Ransley did not score any points that race and lost the points lead.
His latest attempt at the championship saw him finish third overall with two wins and eight podiums.
Ransley has identified TCR as his most likely immediate future in the sport, testing numerous cars and lining up domestic endurance series drives for 2020.
Stay tuned next week for a look at our most promising rally competitors honing their craft on home soil.