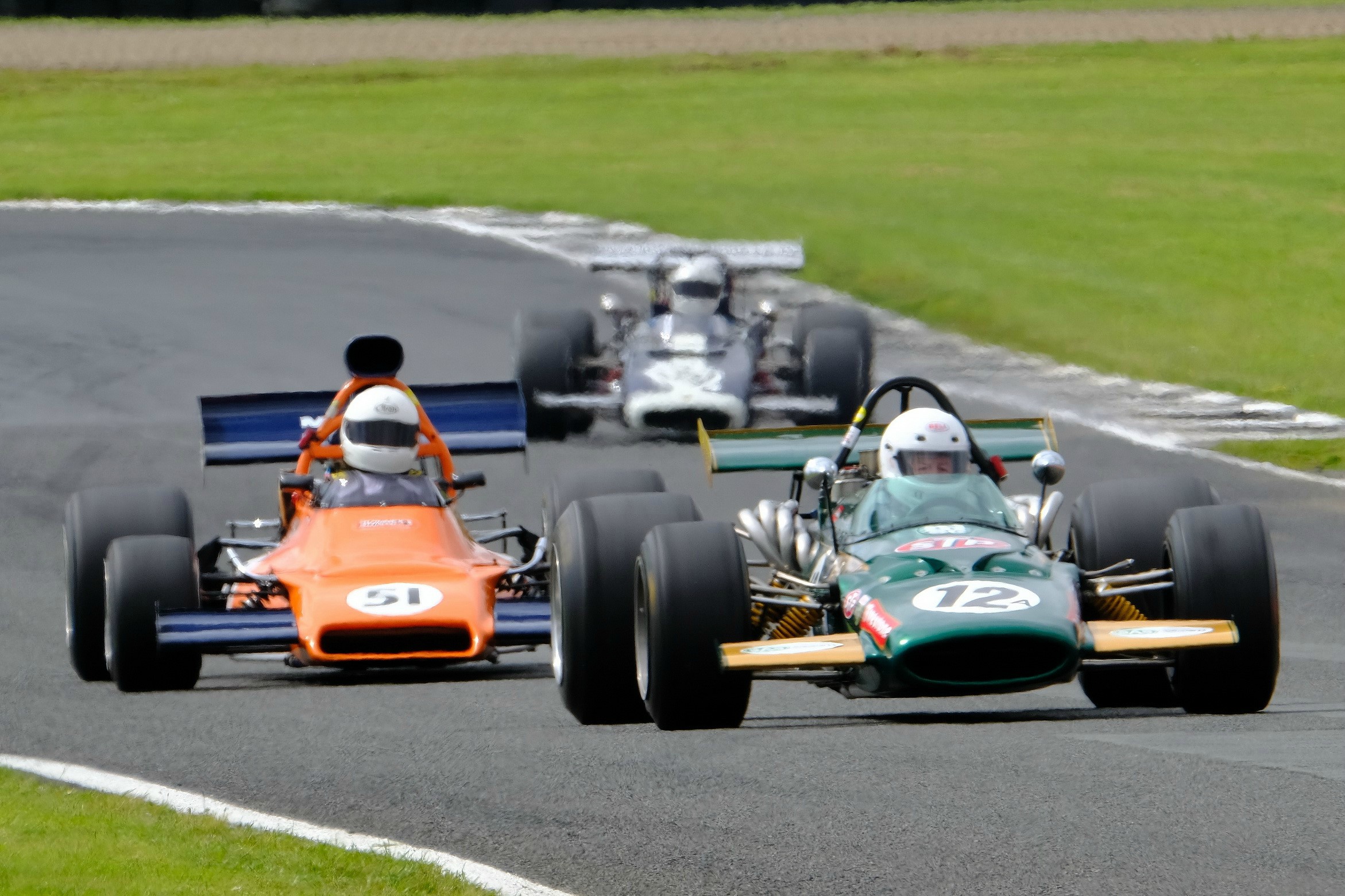 McRAE'S ROLE IN F5000 CLASS ON SHOW AT PUKEKOHE THIS WEEKEND
The pivotal role Kiwi Graham McRae played in the development – and indeed success – of the Formula 5000 category will be on show at New Zealand's annual ITM SuperSprint/Virgin Australia Supercars series round at Pukekohe Park Raceway this weekend.
The Wellington-born designer, car builder, race engineer and driver was the dominant figure in the stock-block 5-litre V8-engine, wings-and-slicks F5000 category between 1971 and 1974, winning the New Zealand/Australia Tasman Series three times (1971, 1972 & 1973) and the SCCA L & M Continental 5000 championship in the United States in 1972.
He did so, first in a McLaren M10B he extensively modified (the 1971 Tasman Series title), then in cars of his own design, the Leda GM1 001, originally built it partnership with the UK designer behind the Leda marque, Len Terry, then the McRae GM1 005 and McRae GM1 014.
This weekend's ITM Super-Sprint meeting at Pukekohe again hosts the opening round of the internationally-acclaimed, New Zealand-based SAS Autoparts MSC NZ F5000 Tasman Cup Revival Series, where – for the first time – there will be four of McRae's incomparable GM1s on the grid.
"We are really incredibly fortunate that we have guys with the passion and drive to seek these cars out, and bring them back to restore and run in our series,"  NZ F5000 Association committee member Glenn Richards said on the eve of the meeting yesterday.
"These days designers design the cars and drivers drive them. The beauty of our category is that it was created and run at a time when, if you had the right set of skills, as Graham so obviously did, you could not only do both, you could do it with the expectation that you could take on the biggest manufacturers in the sport and – if you were good enough – win. As Graham did here and in Australia as well as the UK and US."
Heading the entry of McRae-designed and built cars this weekend are father-and-son Peter and Aaron Burson from Auckland in their matching McRae GM1s. Peter's car is one of the earliest GM1s – chassis 003 – built when McRae was working in the UK with  Len Terry.
That meant it was originally known as a Leda LT27 until McRae bought out his partners and set up his own business, McRae Cars Ltd, and 003 was renamed a McRae GM1.
Before Peter Burson bought it in 2006 the car had spent all of its life in the UK, first – from 1972 until 1999 – with Scottish driver Jock Russell, then from 2000 to 2006 in the hands of British hill climb ace Roy Lane.
Peter Burson's son Aaron's car – 008 – has always been a McRae GM1, being built in 1973 for a customer in the United States. It first came here with Canadian driver Jay Esterer to contest rounds of the 2008/09 MSC NZ F5000 Tasman Cup Revival Series and stayed when Esterer – who also owns 014 – agreed to sell it to the Bursons.
The other two 'McRae' cars which will be on the grid this weekend are both – technically – Leda LT27s, 004 which was originally built in 1972 for American Evan Noyes to drive, then rebuilt here more recently by Christchurch-based category specialists Motorsport Solutions for Queenstown-based category enthusiast Alistair Hey.
Expat Kiwi Chris Lambden bought it in 2011 and competed in it – as a McRae GM1 – in the MSC NZ F5000 series races for two seasons before selling it back to Hey. Last season it was raced with success by young Christchurch driver Michael Collins, a three-time South Island Formula Ford champion, and this weekend it will be driven by Queenstown-based former New Zealand Formula Ford champion LeRoy Stevenson.
That leaves the car that will no doubt make the single biggest impact with fans of both the F5000 category, and the SAS Autoparts MSC F5000 Tasman Revival Series, Leda LT27 001 – or Leda GM1 as McRae himself called it.
The first of McRae's three GM1 cars to run in the distinctive fluro-pink colours of sponsor STP, 001 was arguably the single most successful F5000 car of the 1971-1973 period. With McRae behind the wheel it won the 1972 Tasman Series and the 1972 US L & M Continental Series before being sold and used here in the 1973 Gold Star and Tasman series by Wellington driver Dexter Dunlop.
A trailer fire ended its competitive life back in the 1970s but after a global search for parts by Alistair Hey and Motorsport Solutions it has been rebuilt to original Leda LT27-spec and will run as such this weekend, in the capable hands of Michael Collins, 44 years after it last turned a wheel.
The four 'McRae cars' will join 11 other SAS Autoparts MSC NZ Tasman Cup Revival Series cars for practice & qualifying on Friday, and three races over the weekend, two over 12 laps per race on Saturday and a final 14-lapper on Sunday.
Set to start his 61st consecutive season of top-level single-seater motor racing here, meanwhile, is four-time SAS Autoparts MSC NZ Tasman Cup Revival Series champion Ken Smith, now 77 years-of-age, in his Lola T332.
Set to get back into competitive single-seater racing via the popular SAS Autoparts series, meanwhile, after a break of over 30 years, is 1982/83 New Zealand Formula Ford champion Kevin Ingram.
Fielding man Ingram will be driving one of the six Lola T332s in the field, the ex Ian Clements car he bought earlier this year for his long-awaited – and much anticipated – return to the country's motor racing circuits.
Other T332s will be in the hands of the man behind series' sponsor SAS Autoparts, David Banks, fellow series regular Russell Greer, and 2017/18 series rookie Tony Galbraith. Former series title holder Brett Willis from Rotorua is also back for more with his earlier T330 model as are Auckland pair  Glenn Richards and  Shayne Windelburn with their later model Lola T400s.
Back in a McLaren, but this time a later M10B model – like fellow series regular Frank Karl's – is former Auckland, now Hawke's Bay-based, Tony Roberts. At Pukekohe last year Roberts ran a high-wing McLaren M10A. This year he will be driving the low rear wing McLaren M10B he has recently acquired from David Mitchell.
The SAS Autoparts MSC NZ  F5000 Tasman Cup Revival Series is organised and run with the support of sponsors SAS Autoparts, MSC, NZ Express Transport, Bonney's Specialised Bulk Transport, Mobil Lubricants, Pacifica, Avon Tyres, Webdesign and Exide Batteries.
You can follow the series on Facebook at F5000 New Zealand or on the NZ F5000 Association's website www.F5000.co.nz
Release: Ross MacKay/Fast Company
Caption: Also competing in the F5000 category support races at Pukekohe are Glenn Richards (Lola T400 # 99) and Frank Karl (McLaren M10B #12).
Photo credit: Fast Company/Geoff Ridder