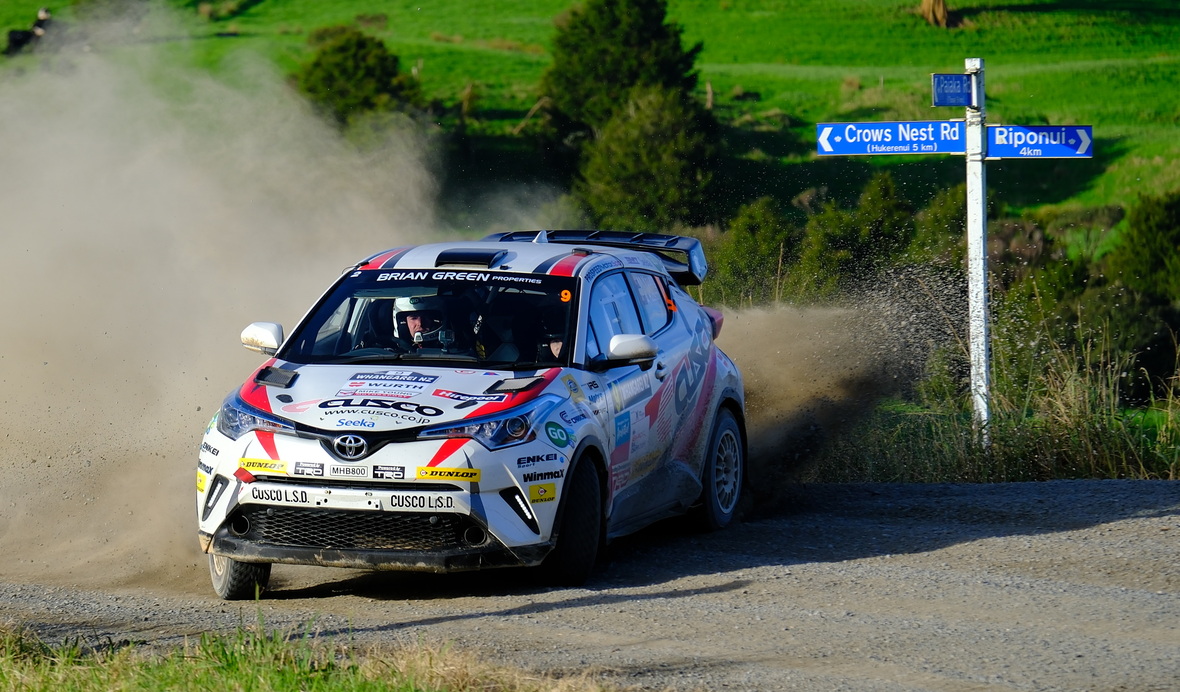 Last Stage Heartbreak for Young in Whangarei
Mike Young and co-driver Amy Hudson survived a dramatic Rally of Whangarei where less than half field finished but the event had it's own challenges for the Cusco Toyota C-HR team.
On the third stage of the day Young clipped a tree on the outside of a corner and bent a rear suspension arm. The part proved more difficult to replace than anticipated and as a consequence over 2 minutes was lost at the morning service break, dropping the team down to 12th overall.
The rest of the event was a fight back to get back into a points scoring position.
By SS17 the penultimate stage Young and and Hudson were back up to 5th overall, however midway through the final test, a rock wedged itself between the brake caliper and the alloy wheel, ripping the sidewall of the tyre open.
With a deflated front tyre Young was lucky to keep the C-HR on the road before stopping and changing the tyre mid-stage. The time lost dashed any hopes of a top five finish, the Cusco pair eventually finishing 10th overall and 4th in the Asia Pacific category.
"Overall it's been a good weekend – the roads up here in Whangarei are awesome and we finished when many others didn't. We've got a long way to go, still trying to find that sweet spot with the car, its heavy and doesn't work as well but we're getting there and gradually fine tuning it. Had a few issues over the weekend and a big thanks to the service crew for keeping us in the event – they did a great job as I kept them busy with the things I broke!".
Young and the team's next event is South Canterbury Rally on the 17th June.
Mike Young Motorsport is supported by Cusco, Dunlop, Seeka, Go Logistics, Wurth New Zealand, PF Automotive, Pacific Toyota, Cooke Howlison Toyota, McDermid Auto Collective, Northland Toyota, Opotiki Tyres Service, Robert Monk Transport, Asia Pacific Sports Media and Yoda Rallying.