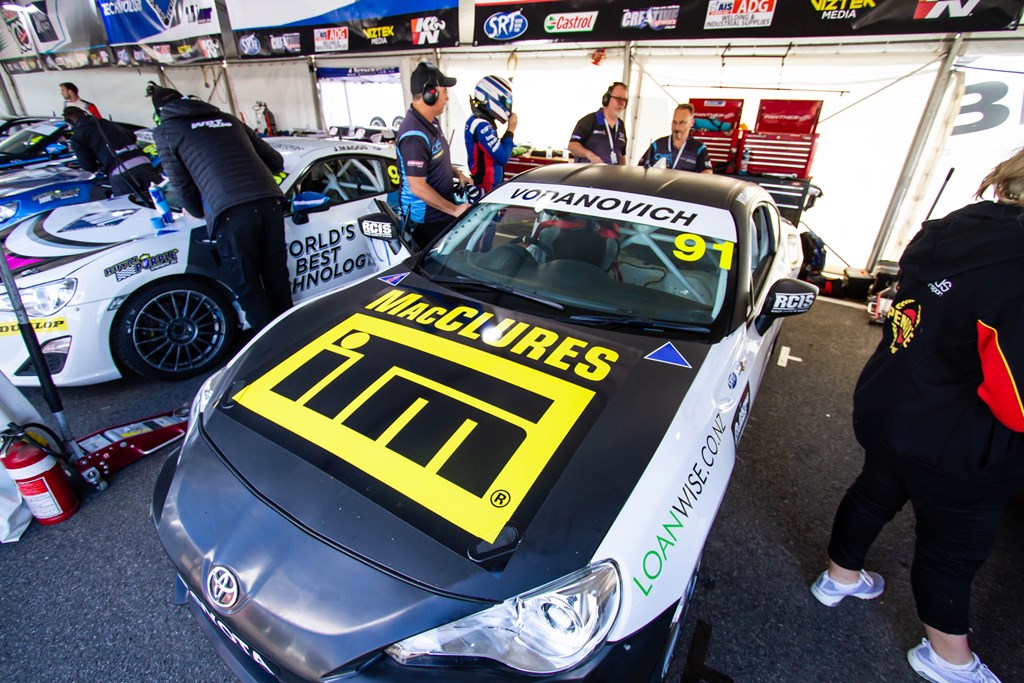 Kiwis fly on Oz debut
New Zealand Toyota 86 Championship racers Jaden Ransley and Peter Vodanovich turned more than a few heads at the first round of the Australian Toyota 86 Racing Series at Philip Island at the weekend, establishing themselves as contenders for race wins and championship placings as the 2019 championship got off to an action-packed start.
After strong showings in practice, Ransley and Vodanovich managed to qualify fifth and 13th in a field of 40 cars. It got even better once racing got underway, with Ransley taking third in the first race after a dice with Garth Tander while Vodanovich drove through the field to fifth and set the fastest lap.
In the second race Ransley went even better and won with Vodanovich taking ninth. In Sunday's final race Vodanovich bagged another top ten finish in seventh, while Ransley was forced to retire.
Both drivers were happy with their performances and determined to build on them as the champion ship moves to its second round in Townsville.
"I'm incredibly satisfied with the performance that myself and the Liam McAdam Motorsport team showed this weekend," said Ransley. "We've shown that we aren't here to play tiddlywinks and we've also shown that we have the pace to fight for race wins and podiums. Winning Race 2 was a moment I will never forget. To be battling wheel to wheel with Garth Tander was an incredible experience and something that I learned a lot from.
"Unfortunately we ended the weekend on a low after being spun out by another driver and getting stuck in the gravel trap. But there are a huge amount of positives to take from the weekend. For now we're counting down the days to continue some more awesome racing in a few months in Townsville!"
Vodanovich too, was buzzing after a solid weekend. "Despite being my first time racing in Australia, we had high expectations after showing pace in our test day a few weeks ago," he explained.
"Qualifying was tough getting pushed back to 13th out of 40 on the last lap when the track dried after running fifth all session. We knew we had pace and coming into the first race moved up to fifth setting the fastest lap, which was only 0.002 seconds off the race track record. In the second race I made a mistake that put me back at the start and after moving back up the field to battle for sixth we lost power due to a faulty cam actuator and finished ninth.
"The third race was a battleground as I moved forwards and backwards in the field to finish seventh. I was happy to consolidate points and finish the weekend fifth overall in a very competitive field. The racing is awesome and I still think I've got more in me so I can't wait to show what the Kiwis can do at Townsville!"
The performance of the two drivers in the huge and competitive field was notable as both have just completed the New Zealand Toyota 86 Championship.
"As we know both Jaden and Peter were competitive in the Toyota 86 Championship in New Zealand and Jaden was extremely unlucky at the final round when in contention for the title," said Category Manager Geoff Short.
"The performance in Australia by both not only shows how competitive the New Zealand series is, but also how much the drivers have learned from it as they have been able to transfer their skills to a series and circuits which they are not familiar with. That bodes well for their championship campaigns across the Tasman.
"We're very proud that a domestic series in New Zealand can produce such performances and of course, there is no question that the performances of both drivers, and particularly Jaden, would have caught the eye of Supercars teams and management over the weekend."
Media release: Toyota Racing NZ
Caption – Peter Vodanovich prepares to race. Picture supplied