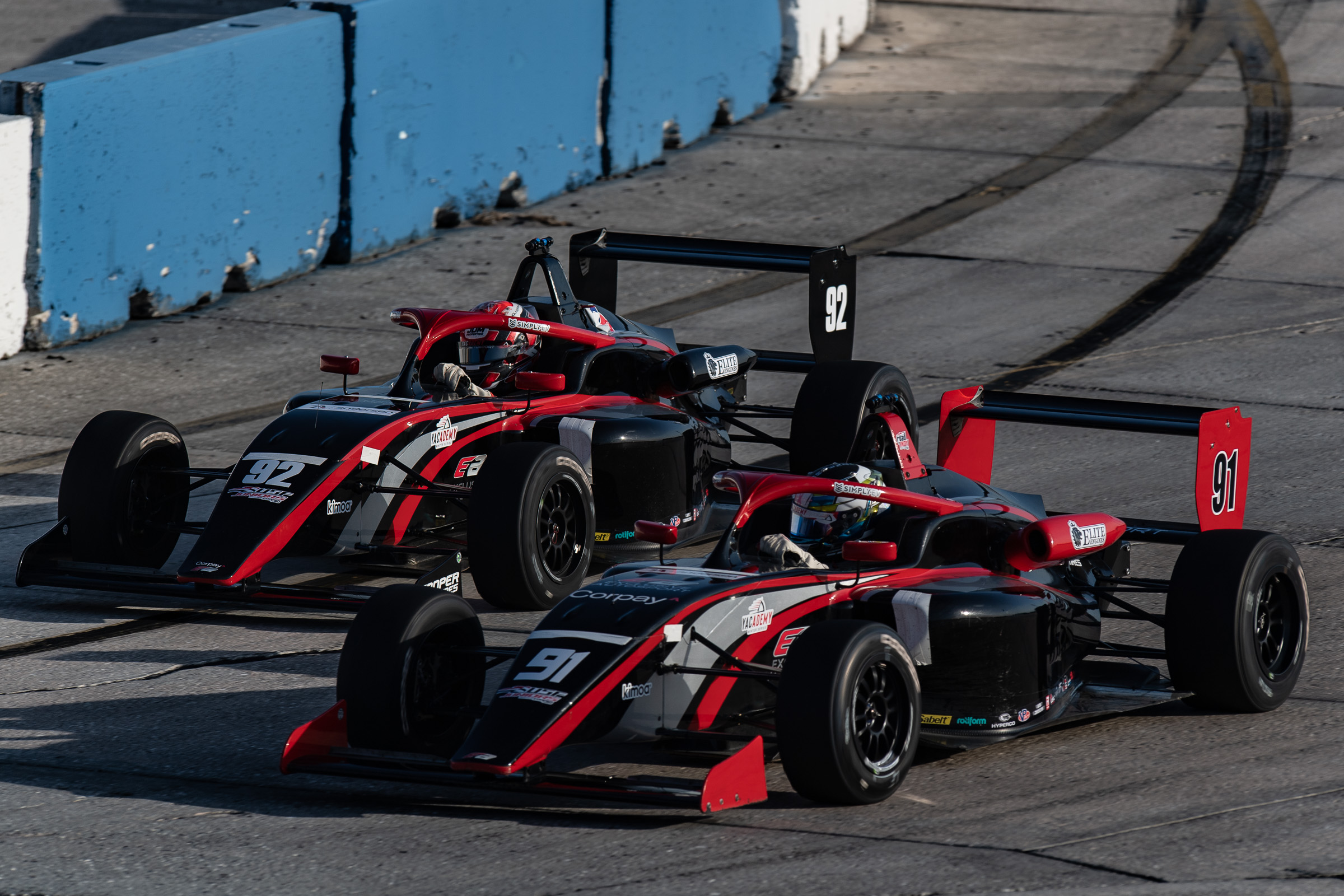 Jubilant Douglas wins 2023 YACademy Winter Series
Christchurch's Jacob Douglas has won the two-round 2023 YACademy Winter Series in the USA after winning five out of six races with his Exclusive Autosport team. The single seater series was held over two meetings at two separate road courses attracting a competitive field with many drivers getting prepared for the coming Northern Hemisphere racing season.
"Pretty pleased with how that went," commented Douglas from his home-base in Indianapolis. "It's been great to be able to race, which was the main goal, before we get underway at St Pete's in March."
After a short summer break back home in New Zealand, Douglas has returned to the US for a second season in the 2023 USF2000 Championship presented by Cooper Tires which gets underway 4-5 March on the St Petersburg Street circuit in Florida. Drivers competing in the YACademy Winter Series compete in the USF Junior single seater category which utilise the USF2000 chassis with the same power unit, albeit de-tuned and with a different brake and suspension setup.
"We didn't have the same power down the straights, but the corner speed is the same (as USF2000) as well as the braking points as you arrive at the corner slower. The whole thing has been a great experience and really good preparation.
"I hadn't led a rolling start as well as a restart, of which we had several, which was a great experience. Even last year, I felt rusty going to St Pete's for the first round (USF2000) as I hadn't raced for nearly a whole year since competing in Formula Ford back home in New Zealand. Now having done six races, I feel fully prepared."
Douglas started on the front row of the opening YACademy race at the Sebring International Circuit in Florida and won ahead of Ethan Ho, and his Exclusive Autosport teammate Joey Brienza.
"Sebring was really good," said Douglas. "My teammate Joey Brienza was there. He had really good pace last year and is an experienced driver so a really good reference point for the first meeting although he didn't race in the second round.
"Sebring is a really cool track, probably one of my favourites. The racing was really competitive right from the start when we went four-wide into the first corner. Joey took the lead and I held second and eventually reeled him in, got passed and was able to get away for the win.
"I led from pole in the second race which unfortunately finished under safety-car conditions (yellow). In the final race Joey and I again had a great battle of which I came out on top with a third win.
"The second round was held on the road course at the Hometead-Miami Speedway. It is an easier and more straight-forward track, but the tyre degradation is horrendous. Again, this was a great experience as it was about managing the tyres across qualifying and the three races.
"I got the fastest lap in qualifying and won the opening race. However, we finished with a brake issue which we were able to change for Race 2. This put us on the back-foot as we didn't have a chance to bed the brakes so opted to start on old tyres. It was also a reverse top-six grid start so had some work to do and finished in second with some rear wing damage.
"We were able to win the final race after having to start P3 because of a 30sec post race penalty for the contact in R2. We were on new tyres so was able to get into the lead and drive away for the win."
"It's been a great experience and preparation for the season ahead. I think if we can piece it all together then we have the pace. The team and I have been working really hard in the off season so really looking forward and ready for it.