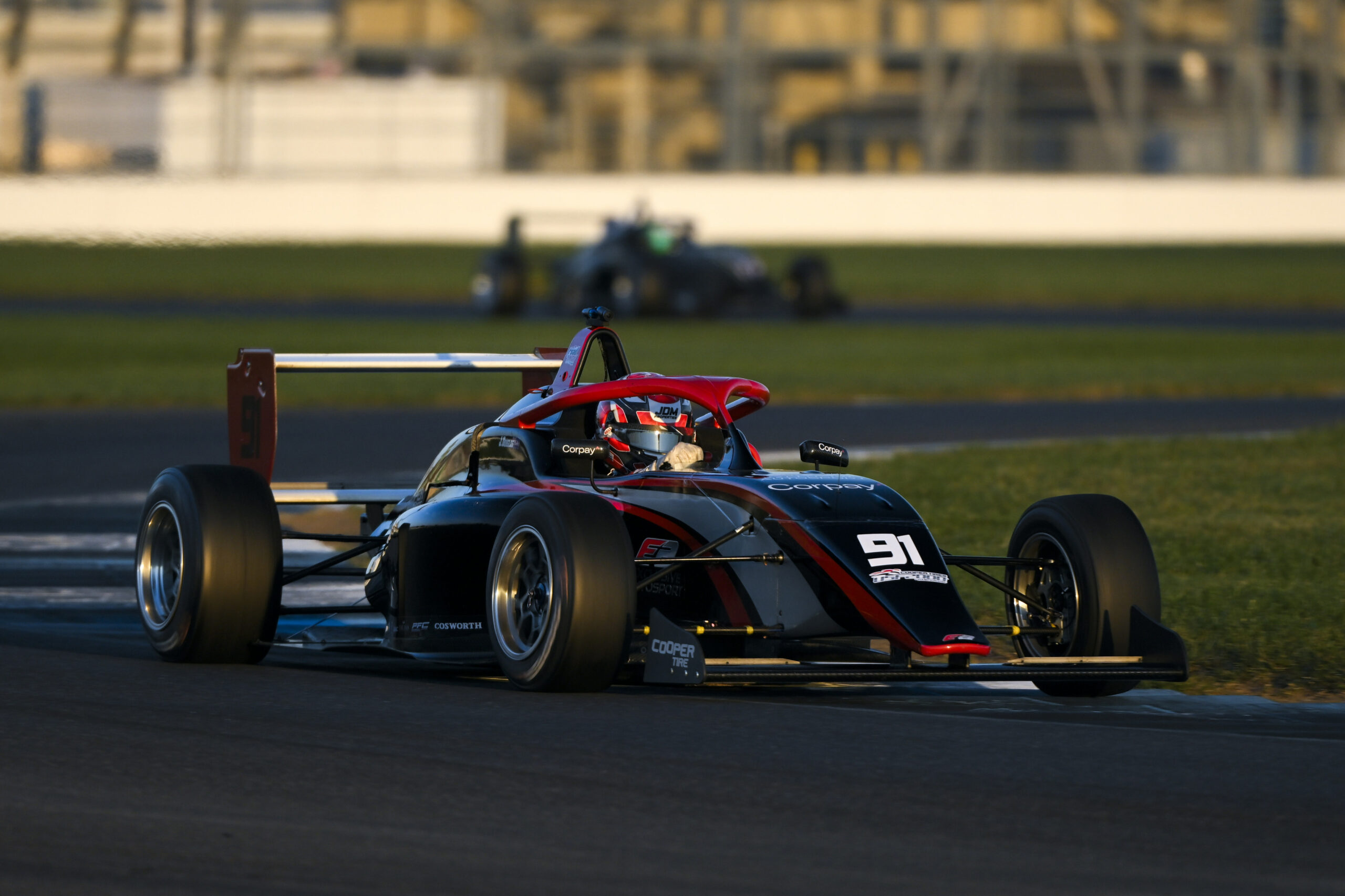 Jacob Douglas confident looking forward to the 2023 USF2000 season in America
Christchurch's Jacob Douglas shortly arrives back home after competing in the 2022 Cooper Tires USF2000 Championship in the USA. It's been a period of rapid learning for the 16-year-old, gaining experience in the American single seater motorsport category which has set a foundation for his return to compete again in the 2023 season.
"It's been a great experience so far and pretty cool to be involved in," commented Douglas. "It's definitely been a steep learning curve.
"Having been to so many different tracks (in the USA) and competing on them, I feel that it has set me up well for the 2023 season."
The 2022 schedule included 18 races at eight separate tracks in seven different States as part of the Road to Indy, the pathway for young drivers to reach the IndyCar Series and the Indianapolis 500 race, in which fellow Kiwi drivers, Scott Dixon and Scott McLaughlin, compete.
"I feel I'm driving better and working really well with my team engineer," said Douglas. "We've wrapped up end of season testing with some pretty good times and the feeling that we had made some real progress in getting ready for 2023."
Douglas will stay with his Exclusive Autosport team for the 2023 USF2000 season.
"I've been really happy with the team. They are like a home away from home which I am really thankful for. I've got a lot of confidence looking forward to 2023. I know the team, the car, the tracks and what it takes to be competitive right across the whole season. Having been through a steep learning curve this year, I can now concentrate on the key improvements needed to be competitive."
Michael Duncalfe, Team Principal, has been able to observe the differences in Douglas over the 12 months.
"We've seen a huge change in Jacob both on and off the track," commented Duncalfe. "His maturity off the track has grown ten-fold with the amount of study and preparation he's put in both physically and mentally. He's been working incredibly hard and we have seen a huge transition over the last 12 months.
"The amount of effort that he has put in, you rarely see that in new drivers and for the team around him, it can be quite inspiring."
Duncalfe has also seen an on-track change in Douglas from when he first arrived late in 2022.
"New drivers are learning so much and are thrown right in the deep end. The USF2000 category is so competitive and many don't realise this. Jacob has had to learn the car, both the mechanical and aerodynamic grip, the tracks and the team, while also competing at such a high level.
"I think we have already seen what Jacob can do. He has run in the top three and will be coming back with potentially a really strong year. I never like to go into a new season with expectations as there are so many things out of our control. However, his first season does set a foundation for 2023. There are less variables, and we can work with both his strengths and weaknesses."
Douglas will have Christmas at home in Christchurch with family and friends but won't necessarily put his motorsport aside for too long.
"I'm looking forward to getting back in the kart in Christchurch and will also do some testing in our FT50 single seater while in New Zealand. We may even compete in a few races over the summer before returning back to the States.
Douglas will head back to the States in the New Year to resume testing with his Exclusive Autosport Team before the 2023 season gets underway at St Petersburg in Florida, 5 March 2023.