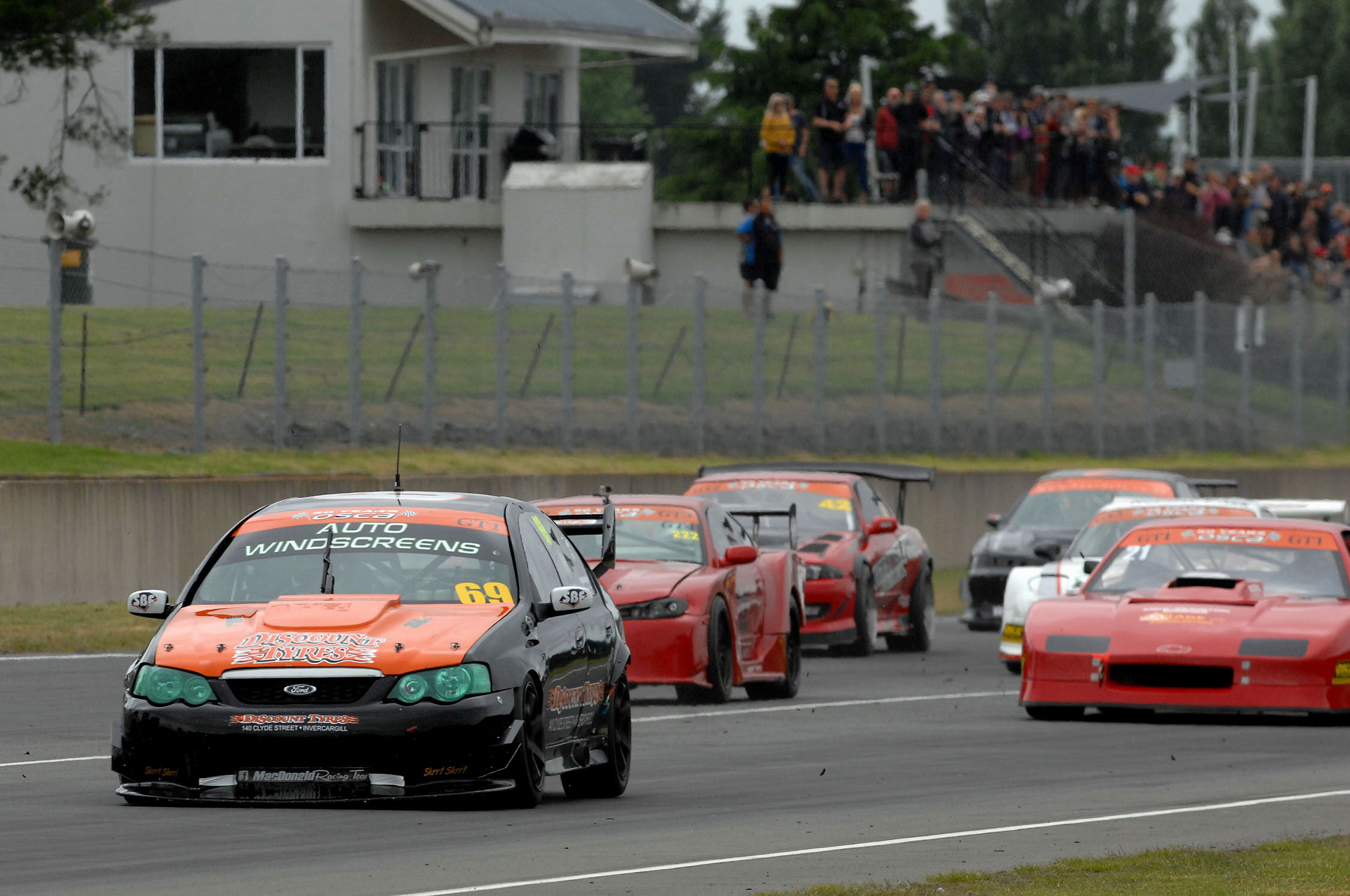 HUGE WEEKEND OF MOTOR RACING AT TERETONGA PARK
The mighty OSCA Super Saloons will headline the action at the last motor race event of 2019 at Invercargill's Teretonga Park this weekend – 7/8 December. A great programme of racing presented by Downer will feature over the two days.
The OSCA category allows competitors plenty of freedom to build and design their cars and the result is a wide variety of machinery from American and Australian V8's to high–tech Japanese and European cars.
Invercargill driver and two-time Class 2 BNT V8 Champion Liam MacDonald is one of the leading competitors and will be a top contender at his home circuit in his Ford Falcon. Other locals include Pierre Neame of Winton in his Ford Mustang, Kyle Dawson of Invercargill in his Nissan Skyline, Andrew Cundall (Toyota Levin) and Jeremy Skeggs (Mazda RX7) plus former Invercargill driver Laurie Knowler, now resident in Clyde, in his Brennan Camaro. The field will be full of fascinating cars plus quality drivers such as Ashburton's Michael Gallagher (Mazda RX7), Neville Stowell (Timaru) in his Nissan Skyline, Temuka drivers Gary Duncan and Stan Moore, Matt Edgar of Wanaka and Johnny Waldron of Alexandra.
The South Island Formula 1600 Championship pays its first visit to Teretonga Park for the season and expect the racing to be ultra-competitive at the front of the field with names such as the recent winner of the Wigram Cup and current leader of the NZ Formula Ford Championship James Penrose of Christchurch, Cameron Freeman of Mosgiel, Cantabrians Jack Noble-Adams and Zac Christensen in the field. Southlanders Noel Atley and Dave McKenzie will go well in Class 3 in their older cars and another Southlander, Stephen Heffernan, joins the grid in his Van Diemen. Three North Island competitors – Grant Campbell, Tony Graham and Tony Fitzpatrick make the journey south for the event.
The SS Cup field is a good one with two locals, Bradley Dawson of Invercargill and Dayle Kirby of Winton, joining the field. Local drivers are prominent again in the Pre 65 Saloons with Wayne Tuffley (Mustang), John Smolenski (Ford XP Falcon), John Mackley of Wallacetown in a Ford Anglia and David Robertson Invercargill in an XP Falcon all in the field.
Other classes on the programme are Pro 7 Saloons where Invercargill driver Wayne Elliott will feature plus Mini 7 South and NZ Six Saloons.
The Noel McIntyre Drainage Clubmans Saloons will be very competitive as usual with a range of machinery such as locals Dion Dawson in his Saker GT, Brendan Mason in his Chev Camaro and Dunedin drivers Brian Scott (Chev Corvette) and Adam Cullen (Nissan GTR) among others.
Pre sale weekend passes are available at Auto Centre, Tweed Street, Invercargill and E Hayes & Sons Dee Street, Invercargill up until Friday 6 December at a cost of $20.
A weekend pass purchased at the gate is $25, a Saturday only pass $15 and a Sunday only pass $20. Children 14 & under accompanied by an adult are free.
The action gets under way from 10.30am on Saturday and 9.00am on Sunday.