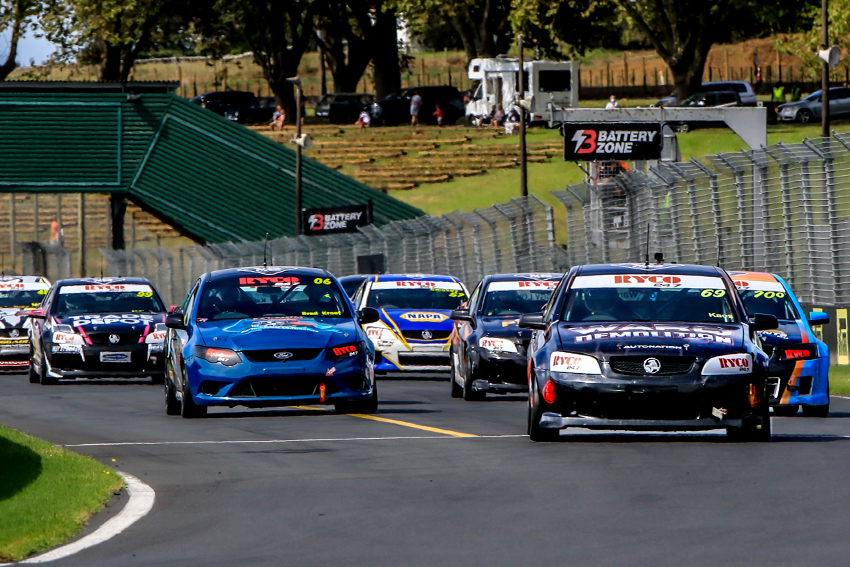 Huge field of V8 Utes for the final Ford vs Holden clash at Pukekohe
Fierce rivalry between Ford and Holden has kept fans and race teams feuding for decades. The RYCO 24•7 V8 Utes championship has been the one motor racing category to keep the legendary grudge match alive and this weekend it all comes to a head. A bumper field of fifteen V8 utes has assembled for 'The Flying Farewell' – the last motor racing event ever and the final Ford vs Holden showdown – at the iconic Pukekohe circuit.
The pace is set to ramp up as a number of race winners from previous years will be rejoining the championship for Round Two. Glen Collinson, a proven race winner and runner-up in the 2019-20 season, is back in a Ford FG ute. Last-minute hiccups prevented him from making Round One of the RYCO 24•7 V8 Utes series at Taupo, so Glen will be hungry to make his mark on the championship. Simon Ussher in the United Movers Ford is also back after being missing in action from Round One. New to the series is D1NZ drift sensation Blair Gribble-Bowring – watch how he performs when the smoke clears and his wheels stop spinning.
One racer who was present during Round 1 – albeit with wrenches in his hands rather than a steering wheel – was Jake Stoneman. Jake handles race preparation for several utes in the championship. Yet it's his skills as a driver which could see him in the winner's circle this weekend. Jakes steps away from driving a Ford, as in previous rounds, to driving Peter Ward's championship-winning Holden – a ute which Jake has been keeping in tune and on the podium, season after season.
Brad Kroef leads the series after his three wins in Round One, followed by Greg Kroef, Phil Ross and Stu Monteith. Being Pukekohe's last ever motor racing meeting after sixty years of action, the RYCO 24•7 V8 Utes will be turning on a show worthy of the occasion. Once again, the Yokohama Prizedraw will provide one driver with a set of four Yokohama Advan AO48s – you'll recognise the lucky winner by the huge Yokohama logo on his tailgate. There'll also be a bright blue Aussie race ute on display in the pits wearing "For Sale or For Lease" signage to entice aspiring drivers looking to join the championship.
During the three-day Pukekohe event. the RYCO 24•7 V8 Utes will have plenty of track time. Practice sessions are scheduled for 11.30 am and 3.25 pm on Friday, March 24th. Qualifying is 10.10 am Saturday morning, with Race One at 2.13 pm. Then on Sunday, Race Two kicks off at 9.47 am with the final Race Three and weekend decider at 1.54 pm.