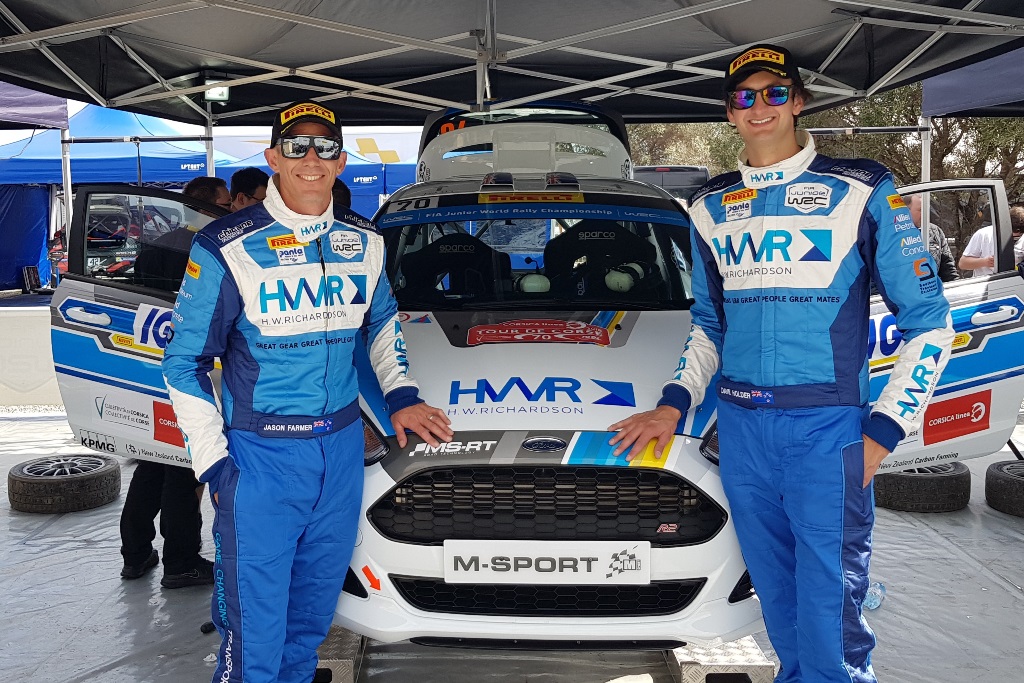 Holder and Farmer ready for gravel of Portugal Rally
Kiwi rally pairing Dave Holder and Jason Farmer head to the testing gravel stages of Rally de Portugal, starting 17 May, with the odds slightly more in their favour.
Holder and Farmer, from Mt Maunganui and Hamilton respectively, have always rallied on the gravel roads of New Zealand. With the first two 2018 FIA Junior World Rally Championship events run on snow and tarmac, they've been well out of their comfort zone. But rallying on gravel is something the pair are more familiar with and while they're not taking it for granted – given the well-known challenges of Portugal's often rocky, rutted special stages – it's one less thing they have to learn while at the rally.
One of 14 JWRC entrants in Portugal, Holder says he's not underestimating the challenges.
"We are aiming to finish, as we have for the first two events, but this time we'd like to finish in the top five of our class," says Holder. "We think that's realistic given that it's another new rally for us, and everything that means in terms of doing a good job writing pace notes during recce. The others in our class are also at a different level compared to the level of competition we have in New Zealand.
"We've just got to relax and drive the rally, one day at a time. We're back on the right surface now and with the experience gained in Sweden and Corsica, the stress levels of what goes on around the event get less each time."
Earlier in May, Holder and Farmer made the most of the opportunity to drive a two-wheel-drive car at the International Rally of Whangarei, in New Zealand. The car, a Ford Fiesta R2, was similar enough to their JWRC-spec Ford Fiesta R2 EcoBoost rally car to offer Holder an excellent chance to work on developing his left-foot braking skills. They also worked hard on their pace note writing during the two-pass recce (Whangarei is the only New Zealand event to use the two-pass recce).
"Whangarei was pretty much the perfect the lead-in to Portugal," says Holder, having set a number of new 2WD stage records and finishing ninth overall.
"Our two goals – left foot braking and refining our pace notes – went really well, although it's fair to say Whangarei is a rally I know well so we could write good notes that worked really well during competition. Now we're in Portugal, somewhere we've never been before, so it's still a challenge to write good notes during recce this week."
The decision to change his driving style to incorporate left foot braking, after almost eight years of competition using his right foot to brake, is one Holder believes is needed for greater speed in the longer term. "I wouldn't say I've mastered it yet, but we managed to be fast, as well as nice and safe, so I was happy with that."
Coming out of a familiar event they enjoy also offered Holder and Farmer a welcome change of pace after the intensity of the first two JWRC rounds when they had so much to learn, absorb and adapt to.
"In many respects, Whangarei was quite relaxing, among competitors we know well. Compared to WRC events, there was a lot less to do which allowed us to concentrate on our own developmental goals. We didn't have any pressure, being separate to the main competition, but you can't help be a bit competitive with a faster team or two. We were really happy to set some 2WD stage records, especially one on Sunday in the wet."
Looking ahead to the Portuguese event based near Porto, in northern Portugal, the Kiwis face 358.19km of competition, broken into 20 special stages and connected by nearly 1,574km of touring stages. The event opens on Thursday evening at the picturesque Guimarães Castle before a 3.36km blast around Lousada rallycross circuit. Friday takes them toward the Spanish border for three stages repeated both morning and afternoon, and then back to Porto for two super special stages in the city centre. The longest leg of 154.64km, on Saturday, takes them east into the mountains with another repeated loop of three stages. The rally concludes on Sunday with five stages, including two runs on the famed Fafe stage which attracts tens of thousands of spectators. That is itself is going to be an exciting experience for Holder and Farmer.
Holder adds: "The commitment to undertake this JWRC campaign can't be underestimated, and I'm thankful to Jason and his family for their support, our sponsors and supporters, and my wife Adina."
Holder acknowledges the continued support of HWR Group, Mt Wheel Alignment, Chicane Racewear, Magnum Compliance, Farmline Machinery, Mt Bikes, KPMG Tauranga, Cooney Lees Morgan, Bell Booth, Thurlow Building & Construction, Monit Rally Computers and Amplified Customs.
More information about Holder's world rallying journey can be found on the website, www.daveholderrally.com or their social media channels: https://www.facebook.com/DaveHolderRally/, https://twitter.com/DaveHolderRally and https://www.instagram.com/daveholderrally/.
2018 Junior WRC calendar for Holder and Farmer
Rally Sweden, 15-18 February
Rallye Tour de Corse, 5- 8 April
Rally de Portugal, 17-20 May
Rally Finland, 26-29 July
Rally of Turkey, 13-16 September
Source: Kate Gordon-Smith/Relish Communications
Photo: Adina Holder