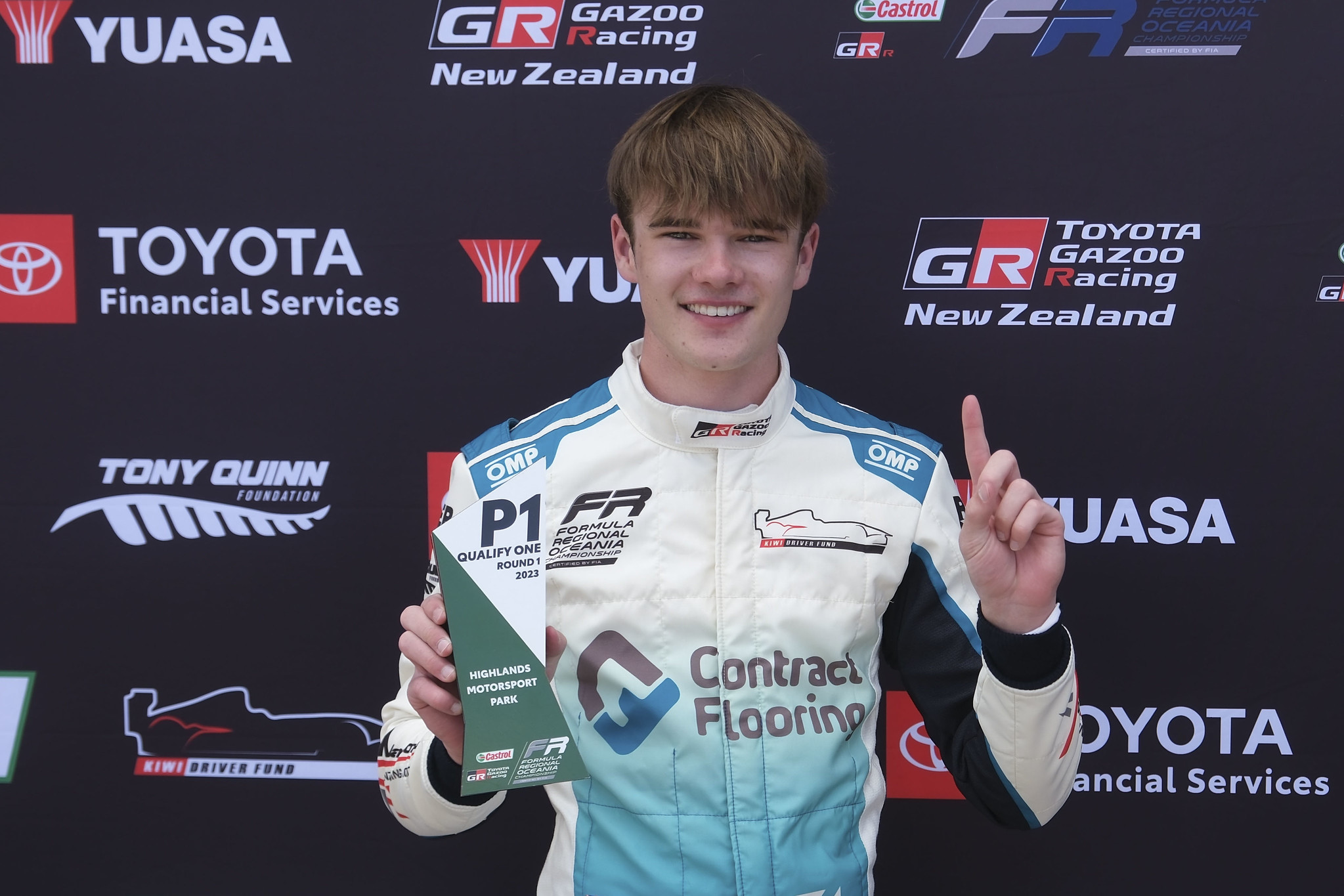 Hedge edges the rest to take Highlands pole position
Kiwi sensation Callum Hedge maintained his testing pace at Highlands Motorsport Park to take an impressive pole position at the first round of the 2023 Castrol Toyota Formula Regional Oceania Championship.
Track conditions were near perfect as the field swept out onto the picturesque Highlands circuit for the first of two 15 minute qualifying sessions scheduled for the first weekend of racing in the championship.
With a couple of laps of the challenging and technical 4.1 km circuit behind them, the times started to tumble and it was Austria's Charlie Wurz who posted the best time as the field completed their first flying laps. His 1.29.341 was soon eclipsed by both Friday pace setter Hedge on a 1 minute 29.166 and American Jacob Abel on a 1 minute 29.297. Wurz fought back immediately to lower the mark to 1 minute 29.133.
Hedge then put in a lap which left most of the pit lane speechless. His 1 minute 28.435 was seven tenths quicker than anyone at that point and Wurz's best response next time around was still four tenths shy. Impressive Australian newcomer Ryder Quinn also got into the 1 minute 28s as did David Morales.
Deep into the session Hedge went even faster, taking two tenths off his mark to secure pole position with a 1 minute 28.295 lap.
For New Zealand fans who have followed Hedge's impressive rise through the ranks, it was a familiar picture as the 18 year old languished low in the order before emerging at the top of the time sheets with a stunning lap.
"Yeah, the way I warm the tyres is a style I have used since I was racing in Toyota 86s several seasons ago. I've carried it through the categories and it does work on this car too," he said afterwards.
"I knew the second lap was better but I locked up at one point and that cost me a tenth so I'm pretty plesed with the time. The car gives me alot of confidence and I'm gelling well with the boys in my team at M2 Competition."
With Hedge locking out pole position, it was Morales who ended up best of the rest with a solid 1 minute 28.489 to take the other front row spot for Saturday afternoon's first race. A late effort by British racer Josh Mason elevated him to third place on the grid for Kiwi Motorsport while Wurz had to be satisfied with fourth and a spot on the second row.
Australian Ryder Quinn, with only two racing seasons behind him, was also impressive in qualifying maintaining the form he showed in testing to claim fifth fastest time, while another young Kiwi rising star, Formula Ford graduate Liam Sceats locked out sixth place and a third row starting spot.
United States star Jacob Abel was fast early in the session but faded to eventually claim the seventh fastest time, with countryman and leading Giles Motorsport driver Ryan Shehan, Australian Tom McLennan and first of the two very fast women in the field, Chloe Chambers, completing the top ten.
The first race of the new-look championship – which this season will reward its champion with 18 Super Licence points – will get underway on Saturday afternoon. Eighteen laps of Highlands Motorsport Park later, the new look series will celebrate its first race winner.