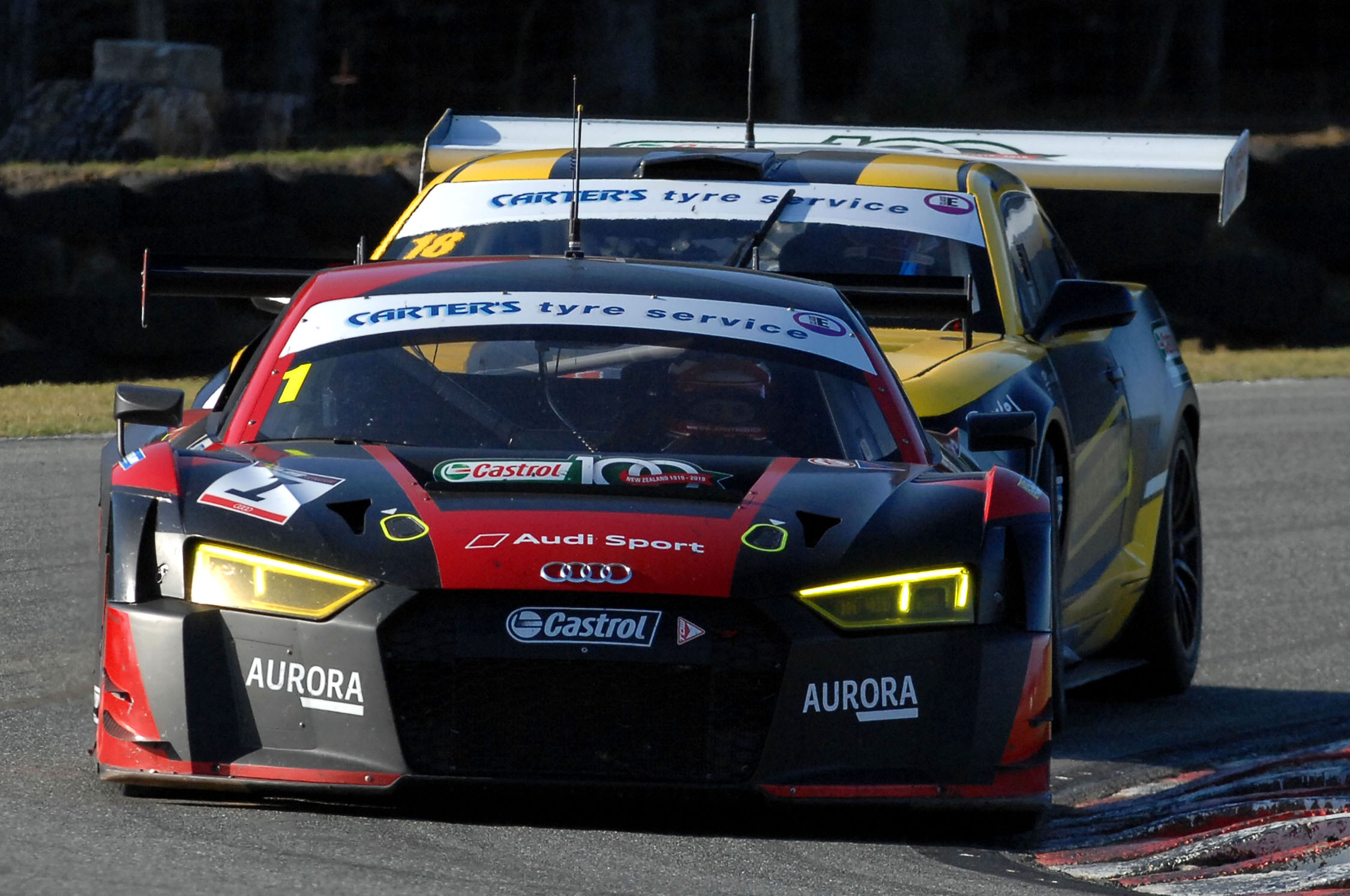 Foster and Reid favourites as Three Hour South Island Endurance Series gets underway
Current Three Hour South Island and national champions Neil Foster and Jonny Reid (Audi R8 LMS) head into the opening round of the 2020 South Island Endurance Series as favourites but against some formidable competition. Teretonga Park in Invercargill hosts the first of three rounds this Saturday (12 September) and competition for overall and Class titles is expected to be fierce.
Last season Foster and Reid won three of the four rounds beating home the Dale Chapman/Marc Doran/Andrew Waite Audi R8 LMS GT3 Evo with a third Audi of Christina Orr-West and Ben Byers third. While the Chapman Audi won't be on track this season, Orr-West has teamed up with local Brendon Leitch (Audi R8 LMS) and this combination will be seriously quick. Add in the Chev Camaro GT3 of Simon Gilbertson and John McIntyre plus the debut of the Alex Riberas/Darren Kelly Aston Martin Vantage GT3 and we have a series that could prove difficult to predict.
Gilbertson and McIntyre proved last season that they were one of the quickest combinations on track but were let down by reliability issues. Continuous development and testing over the last 12 months could see them on top of the podium on Saturday.
Local D1NZ champion Darren Kelly teams up with the very quick Spanish driver Alex Riberas who joins the grid with a wealth of international GT racing experience. Riberas has competed in both the IMSA and Blancpain GT Sprint Cup Series' and with Kelly and a brand-new Aston Martin GT3 could be the 'dark' outsider for overall and Class titles.
Five separate titles are also up for grabs with the main top contenders competing for the GT3 Class E honours.
Last season's Class D (GT) champions Graeme Rhodes and Paul Rickerby (Ford Falcon SuperTourer) return but will be up against the fast Porsche Cup Car of Anthony Leighs and Paul Kelly. Also in the mix will be the Porsche GT3 Cup S car driven by locals Scott O'Donnell and Allan Dippie.
With just one Class C (>3501cc) entered, Cameron Davies and Flyn Mitchell (Maxda RX8) just need to finish to take maximum points.
Class B (2001-3500cc) may well be a battle of the TCR cars with last season's champions Barry Moore and Tim Mackersy (VW Gold GTi TCR) returning to defend their title. However, they will come under fire from both Rhys Gould/Jaden Ransley (Hyundai TCR i30N) and the new pairing of Rowan Shepherd/Loch Fitzgerald-Symes (Audi RS3 LMS TCR). Also in the mix will be the Seat Supacopa Leon of Grant Askew/Cole Askew and the BMW M1 GTR of Matthew O'Donnell/Lindsay O'Donnell.
Three faithful competitors return to battle Class A (0-2000cc). Mark Taylor and Vaughan Moloney (Honda Integra) finished second in
Class in 2019 and should stay ahead of Terence Phillips/Darryl Phillips (Honda Civic) and the Peugeot 106 Rallye of Tim Stanton/Leyton Tremain.
Unfortunately, under COVID-19 Level 2 restrictions, there will be no spectators at Teretonga with team numbers also kept to a minimum.
"We are thrilled to get the Series up and running with competitive fields," commented Series secretary and co-ordinator Cate Paddon. "In some ways it's back to basics, keeping things simple for drivers and teams. A number have elected not to run at the first round because of consideration to travel and business commitments which is quite understandable in the current environment. We have plans in place for this weekend and fingers crossed we will go to Level 1 before the next round in Christchurch."
Southland Sports Car Club Race Committee Chairman, Bevan Gerrard says, "The club, the South Island Endurance Racing Drivers Club and Motorsport NZ are all keen to do the right thing to see the country back to Level 1 as soon as possible. We have the most supportive and passionate motorsport spectators in the country and we value their support and look forward to having them back at the circuit as soon as we are able to do so."
The second of three rounds take place at the Mike Pero Motorsport Park in Christchurch 3 October with the finale at Timaru International Raceway 17 October.