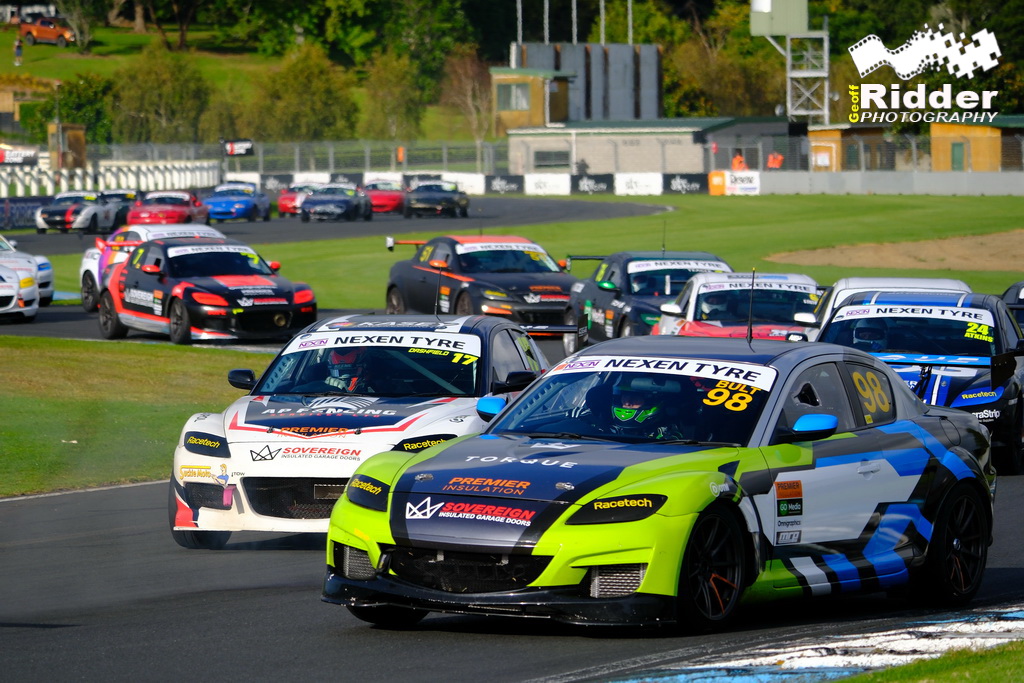 EDWARDS CONTINUES TO LEAD NEXEN TYRE MAZDA RACING SERIES
Tauranga driver Rex Edwards continues to lead the Nexen Tyre NZ Mazda Racing Series North Island Series after the latest round at Pukekohe Park Raceway in South Auckland at the weekend.
Edwards was the fastest qualifier on Saturday morning, taking the $500 Premier Insulation Pole Award, and then compiled results of second, first and second across the three races to win the round and maintain his points lead from the second placegetter at the round Simon Baker of Wellington with Leo Bult of Auckland third in both the round and the championship.
Edwards and Bult had a massive battle in the first race of the round with Bult grabbing the lead at the hairpin on the final lap to take the win after a race that both drivers thoroughly enjoyed. Baker was third while Auckland drivers Karl Gaines, Warren Crowther and Lance Gerlach rounded out the top six. One of the best performances came from Waihi driver Terry Edwards who after badly damaging his car in qualifying managed to bring it home in seventh place.
Sunday morning's 10-lap top ten reverse grid race saw Steve Brown of Auckland in the early lead before Terry Edwards took over. Crowther then made it to the front briefly before Edwards reclaimed first place until Rex Edwards got through to win from his brother by .810 of a second with Baker making his way through to third. Crowther, Horne and Nigel Edger of Auckland completed the top six. Bult had climbed to eighth place only to drop to twelfth on the last lap.
Rex Edwards had the early lead in the final race before Baker got through to the lead. Terry Edwards retired early on, his car still suffering the effects of Saturday's crash. The race took a turn when Gerlach lost control at Turn 1 and was collected by Horne, who then dropped oil around a good part of the circuit. The incident resulted in a safety car which was still on track as the field took the chequered flag, Baker winning from Rex Edwards and Bult. Warren Crowther capped off a very good weekend with another fourth ahead of Gaines and Aucklander Brad Lathrope in sixth.
The weekend was the last ever motor racing event at the circuit and as series spokesperson, Steven Spear said, "it was a sad way to end a sad day as the final laps of the race and the final laps of Pukekohe were under safety car. It was a great weekend for the series however with a large field of cars and some great racing."
Two rounds remain in the North Island Championship, both at Hampton Downs Motorsport Park. The first, over the weekend of 21-23 April is also the final round of the National Championship, while the North Island Championship will be decided at the North Waikato circuit over the weekend of 5-7 May.