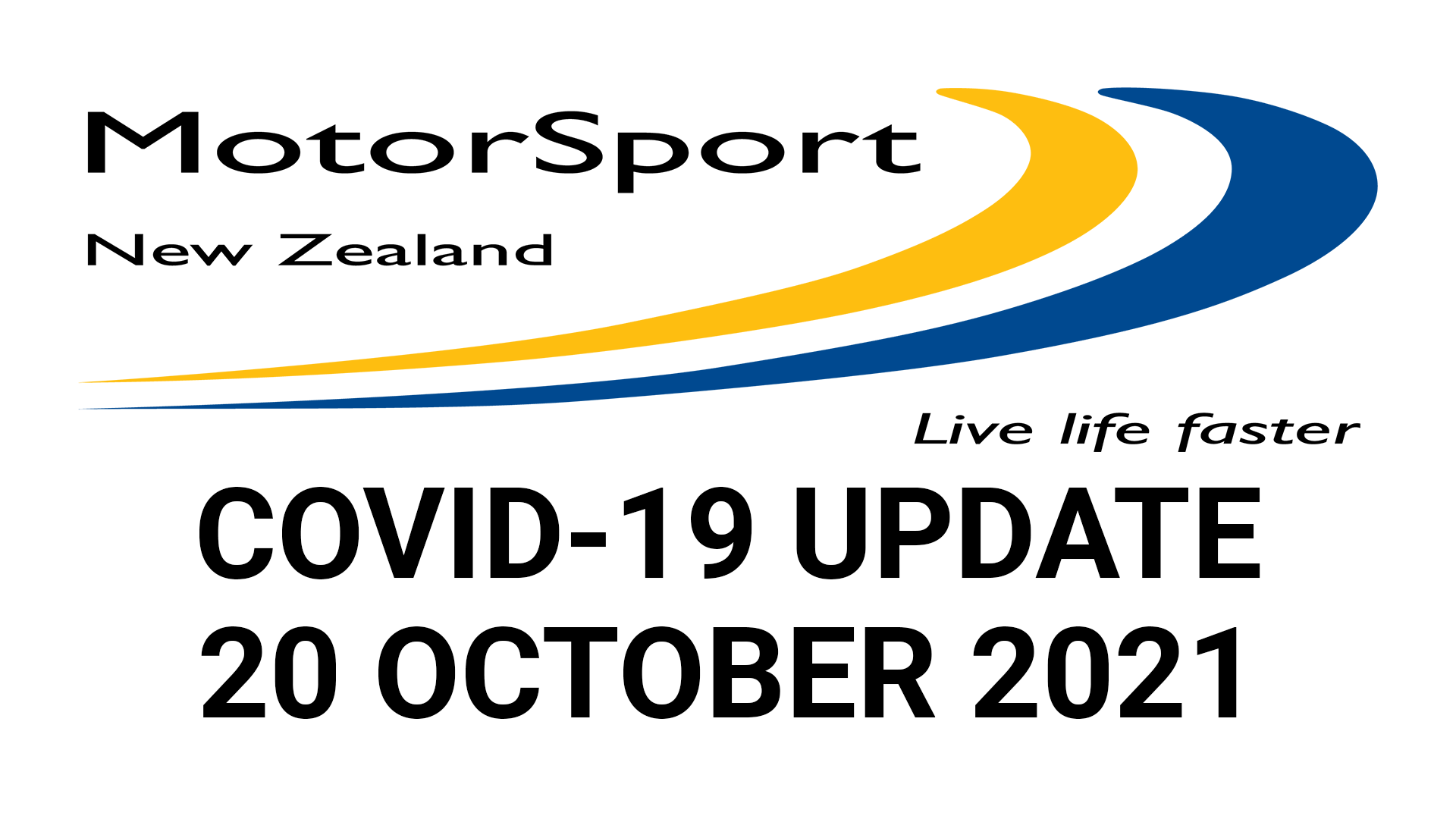 COVID-19 Update – 20 October 2021
The government issued further changes to the restrictions under COVID-19 Alert Level 2. These changes and their effects on motorsport are detailed further below, however MotorSport New Zealand would like to make a few general comments around COVID-19 before hand.
Firstly, MotorSport New Zealand has no additional information other than what is publicly made available from the government. We will continue to summarise the information from the government and update clubs as it is released. Please be assured we are passing on the information to our clubs as soon as possible once we have applied it to the motorsport world.
---
Vaccine Passports:
There has been some rumours circulating that MotorSport New Zealand will require vaccine passports at motorsport events – this is NOT TRUE. We, like everyone else, are awaiting an announcement from the government on how a vaccine passport system will be implemented in New Zealand, specifically around events. MotorSport New Zealand will support whatever steps the government puts in place to allow motorsport events to take place whilst we learn to live with COVID-19.
---
Back in Motion Update: 
There has been a change to the Back in Motion guidelines. The government have now created two different types of venues with different restrictions for each.
Purpose-built venues: a purpose built circuit or dedicated club grounds/venue.
There are no restrictions on the number of people that can attend an event at a purpose-built venue so long as everyone can safely stay 1 metre apart.
Attendees can be seated or standing.
Temporary venues: a closed road where a Hillclimb or Street Sprint is run, or a temporary area where Motorkhanas/Autocrosses are held.
Events that are held outdoors but not at a purpose-built event venue are limited to 100 people in any defined indoor or outdoor space.
Note: A defined space is a space that has walls, fences or partitions that divide it from other spaces. These walls can be permanent or temporary. If outdoors, spaces are divided if everyone in one space is at least 2 metres from those in another space.
The full list of resources can be found on www.motorsport.org.nz/organiser. All competitors, crews, officials, volunteers and event organisers are encouraged to make themselves familiar with it prior to competing or attending events.
For clubs who are holding events this weekend, please get in touch with us if you require assistance in interpreting these new rules to make your event compliant.
---
What's next?
As the government makes further announcements, MotorSport New Zealand will continue to communicate how motorsport can operate under each set of restrictions.
As always, the MotorSport New Zealand team are happy to help out if you have any questions regarding COVID-19 guidelines or procedures or for anything else you need assistance with.
We also remind everyone to visit www.motorsport.org.nz/covid-19 for the latest information regarding COVID-19 and motorsport.