Wesbite: www.highlands.co.nz
Contact info@highlands.co.nz
Address Corner SH6 & Sandflat Road, Sandflat Road, Cromwell
Circuit One
Length: 4.0km
Turns: 14
FIA Grade: 3
National Grade: 1
Circuit Two: (Not Pictured)
Length: 2.22km
Turns: 8
National Grade: 1
Circuit Three (Not Pictured)
Length: 2.96km
Turns: 10
National Grade: 1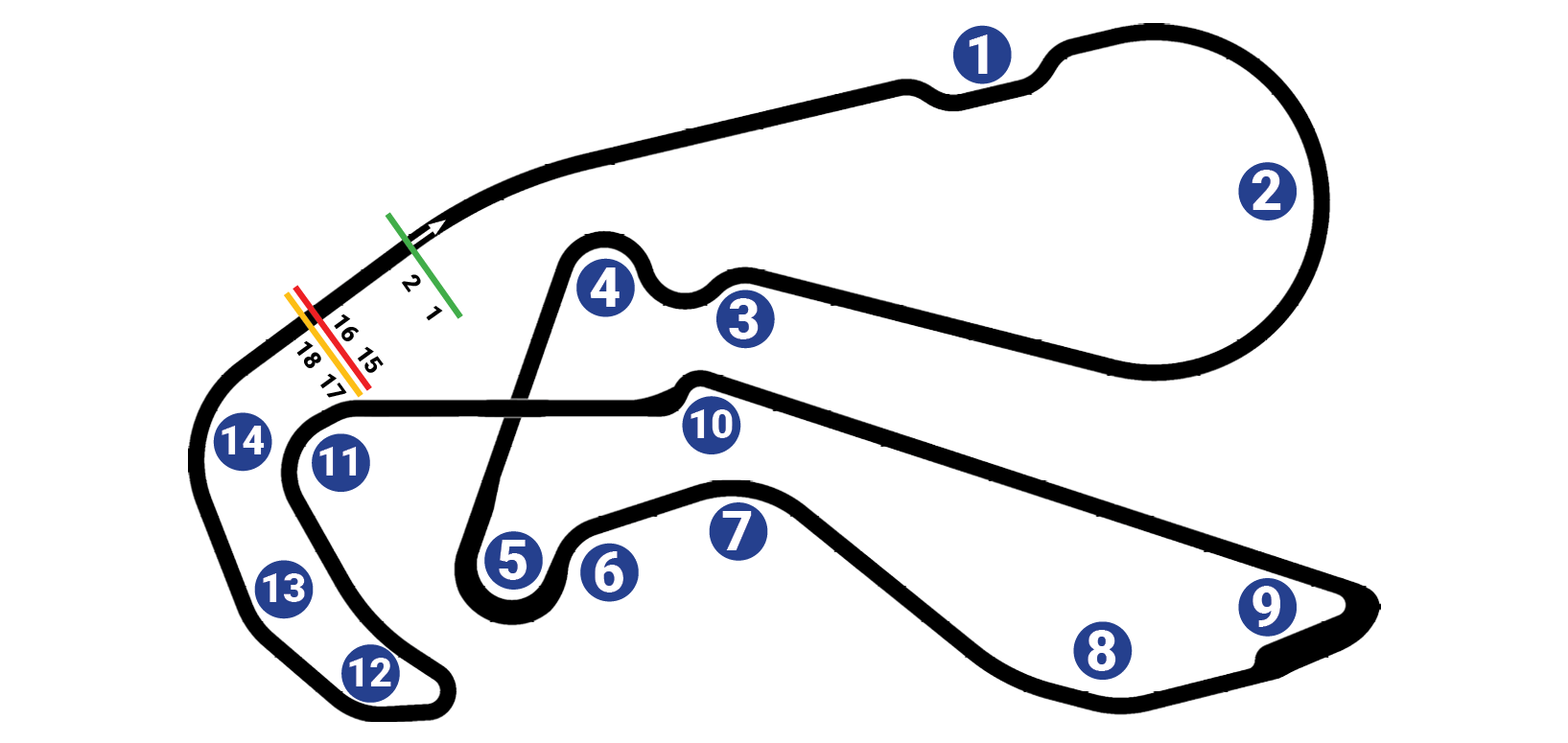 FURTHER CIRCUIT INFORMATION
Max Starters
Circuit One

| Duration of Race | All Saloon, Historic & GT Cars | All Single Seaters & Open Wheel Cars |
| --- | --- | --- |
| Up to 1 hour | 47 | 38 |
| Over 1 and up to 2 hours | 54 | |
| Over 2 and up to 4 hours | 59 | |
| Over 4 and up to 12 hours | 66 | |
| Over 12 hours | 71 | |
Circuit Two

| Duration of Race | All Saloon, Historic & GT Cars | All Single Seaters & Open Wheel Cars |
| --- | --- | --- |
| Up to 1 hour | 36 | 29 |
| Over 1 and up to 2 hours | 42 | |
| Over 2 and up to 4 hours | 45 | |
| Over 4 and up to 12 hours | 51 | |
| Over 12 hours | 54 | |
Circuit Three

| Duration of Race | All Saloon, Historic & GT Cars | All Single Seaters & Open Wheel Cars |
| --- | --- | --- |
| Up to 1 hour | 40 | 32 |
| Over 1 and up to 2 hours | 46 | |
| Over 2 and up to 4 hours | 50 | |
| Over 4 and up to 12 hours | 56 | |
| Over 12 hours | 60 | |
Circuit History
The Highlands Motorsport Park is a world-class motorsports facility located in Cromwell, New Zealand. The idea for the park was conceived in 2006 by a group of local Queenstown car enthusiast who sold the land in 2012 to Tony Quinn when construction of the park began and officially opened on 31 March 2013.
The park was designed by Tony Quinn and his Son Klark and features a 4.1km circuit that meets FIA Grade 3 standards, making it suitable for a range of motorsport events, including international competitions. The park also includes a museum, a go-kart track, a motorsport-themed playground, and a café.
Since then, the Highlands Motorsport Park has hosted numerous high-profile events, including the New Zealand round of the Australian GT Championship, the Highlands Festival of Speed, and the Highlands 101 endurance race. The park has also been used for driver training, corporate events, and private track days.
In addition to its motorsport facilities, the Highlands Motorsport Park is also home to the National Motorsport Museum, which features a collection of over 50 historic race cars and motorcycles and the famous "loo with a view". Highlands Motorsport Park will play host to the 2024 New Zealand Grand Prix.