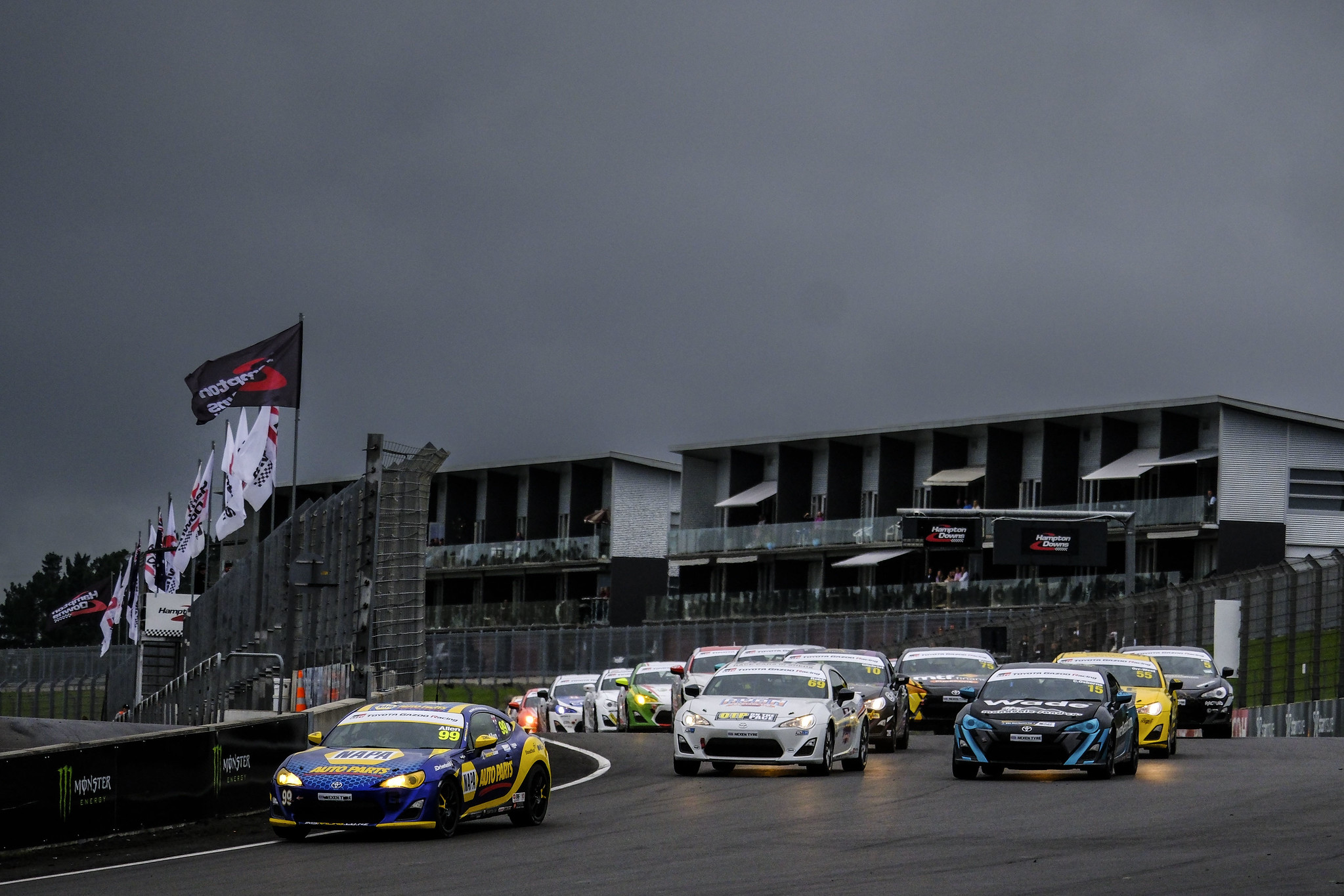 Allen wins Toyota 86 opener – title to go down to Sunday
Justin Allen was an easy winner in a shortened race at Hampton Downs today – winning under the caution after mechanical failure left Christina Orr-West's car stranded in the turn one gravel forcing a late Safety Car.
Brock Gilchrist has a 63 point lead over main challenger Clay Osborne heading into the final two races of the 2023 Championship after Clay finished second and Brock came home in fourth. Hunter Robb's fine third place in his return to the series went almost unnoticed in all of the dramas.
Rain just before the start had the pit crews running around their TR86s right up until the last minute, but the surface was only greasy as the cars took to the track and it dried quickly.
At the start Allen made a great getaway to lead into the first corner but fellow front row starter Fynn Osborne went off into the gravel on the exit and was left stranded in a dangerous position, forcing a red flag so he could be retrieved and a full race restart.
It was all good news for Allen who made another great start and simply disappeared into the distance, clocking some blistering laps early on as he carved out an unassailable lead.
All eyes were on the championship challengers behind him and for a couple of laps Gilchrist had his hands full battling with a number of cars – led by Orr-West – which was hampering his chances of challenging top three Allen, Osborne and Robb. He found his way to fourth on lap three, however, and for the next few laps showed great race pace to close the gap significantly to the front runners.
Osborne too had plenty of work to do to catch Allen and he was closing the leader down when Orr-West's car slowed dramatically in a cloud of smoke after a major mechanical problem. The experienced racer headed off the circuit as soon as she could, which was the gravel at turn one and that was effectively the end of the race with the last two laps under caution.
Allen cruised home to take his first win and was delighted to do so: "The second race start was literally just a routine race start and I got another good one and managed to get a good gap on the first lap when they were fighting it out behind me.
"It was straightforward to maintain it after that even though Clay was catching me it was all under control. I just did my own race and it's amazing to win finally again. I'm over the moon."
Behind the top four, Dion Pitt put in another great drive to fight his way through for a top five finish while Hugo Allan was another to fight his way through a tough mid-field battle to take sixth by the end.
With Orr-West's retirement, John Penny sealed the Masters crown in the 2023 Championship with seventh overall – though a post race penalty later pushed him down the results to 15th – while a bit of extra tyre pressure just before the start for the damp conditions worked wonders for William Exton as he raced home to eighth. Thomas Mallard impressed again with ninth while Tayler Bryant rounded out the top ten.
It's game on for Sunday for the final two races of the championship. Gilchrist will start ahead of Osborne on the grid in the reverse top ten format second race.